As I sit here getting ready to type this out I'm currently bundled up in my favorite blanket listening to the crackling of the fire in front of me and a glass of hot tea sitting next to me. I just uploaded my pictures from my camera to my computer (which is always so hard to narrow them down) and I have so many memories running through my head from the weekend. I can't help but pause for a moment to really appreciate how truly blessed I feel.
Our weekends are usually fun and keep us very busy but this one for some reason felt different. Maybe it's the time of year and being in the Christmas spirit that has me feeling all warm and fuzzy. Or maybe it's because the nuggets are getting a little older and understanding more about Christmas that gets me sentimental. Regardless, we had a fun filled holiday weekend.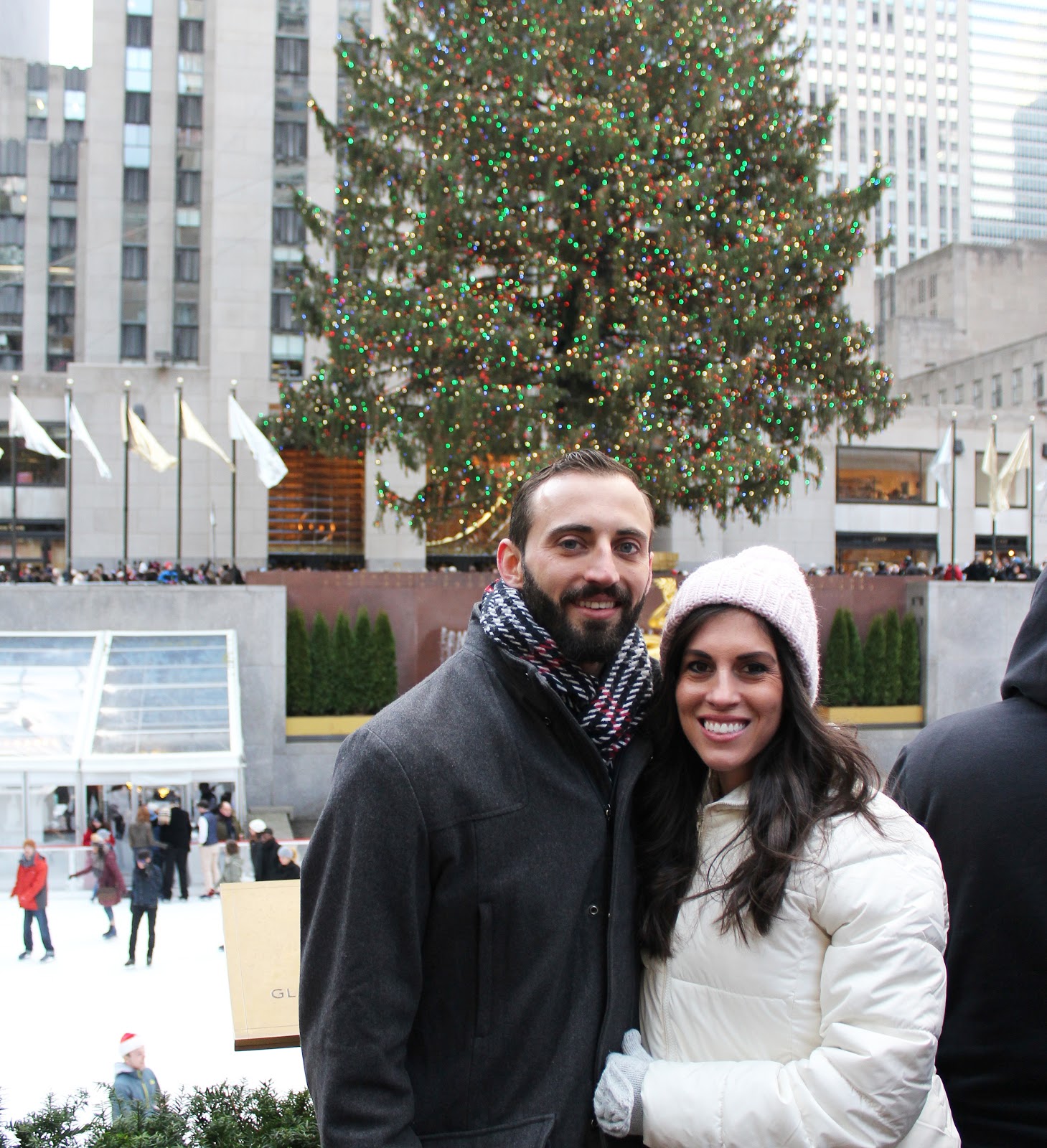 One of my favorite traditions that we've been doing for almost 10 years now is going into NYC for the day with some of my best friends for our annual Rockefeller tree visit. We have fun acting like tourists and doing all things festive and typical. Although, this year we happened to go on the same day as SantaCon which was kind of annoying and entertaining all at that same time. I think it's safe to say though that next year we'll be planning ahead and making sure we go on a different day.
Our visit always starts with a stop by Bryant Park to walk through all the little shops and grab some treats. They have this sitting area where you can order food and drinks called the Southwest Porch, but we always have the hardest time getting a table. This year it happened to work out and we were able to grab one. We enjoyed some chili and mac and cheese along with some great hot chocolate with peppermint schnapps.
We made our way over to watch some of the ice skaters and came across this stand that was selling these desserts called a chimney. It was pretty much a giant churro that you could have made with different fillings like nutella and dulce de leche. I was sold at nutella and knew I had to try one of these things. It was a little messy but really good.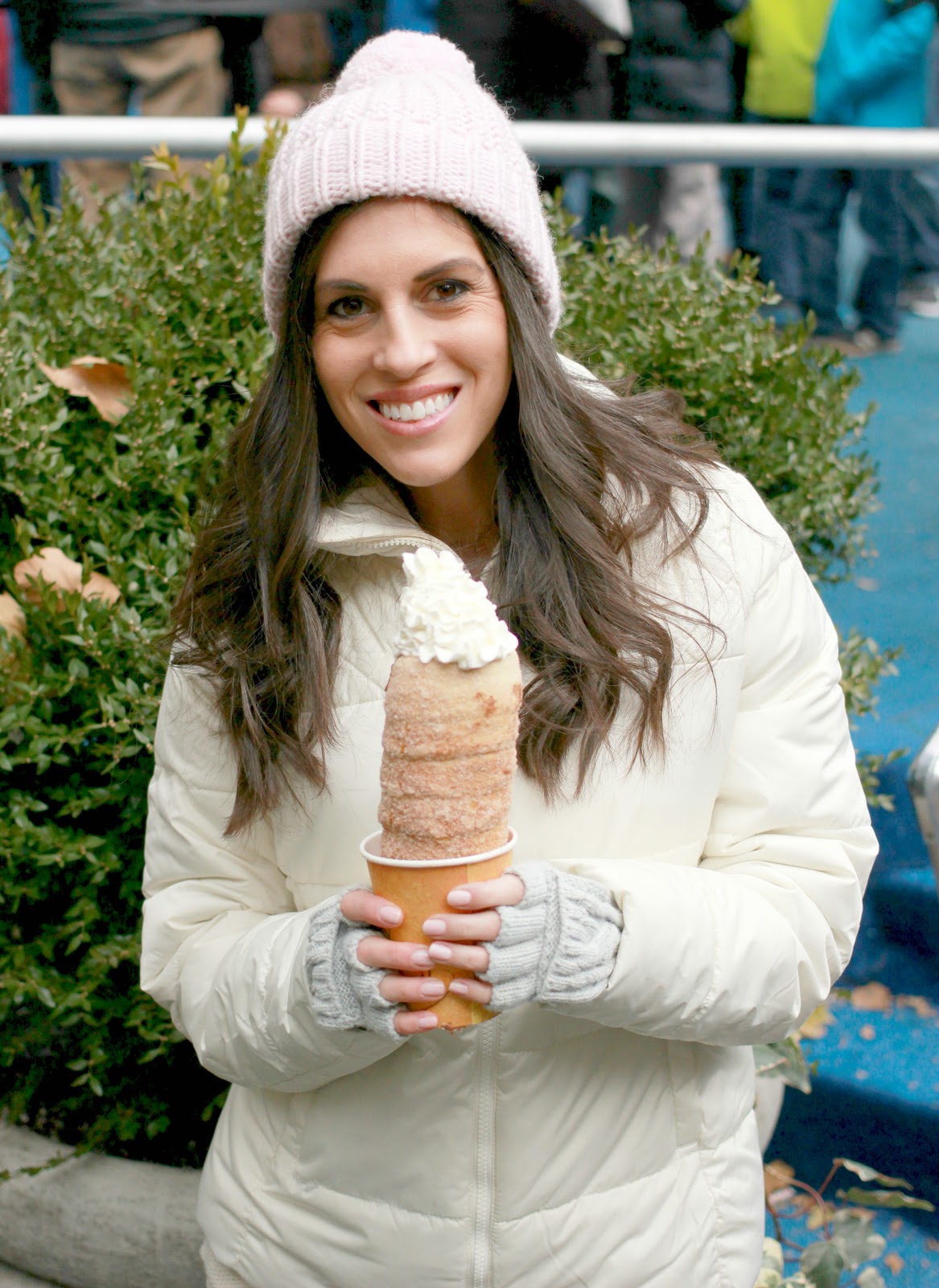 We were hoping to get to the top of the rock but it was pretty cold out and a stop off at the New York Library happened to be a random moment that we really enjoyed. It was beautiful inside and felt like we were reliving scenes from Sex and The City. Well, the guys could care less but we enjoyed walking up the stairs and having a Carrie moment.
Then we headed over to see the tree which is always a must. Navigating through the crowds of people I could do without, but that comes with the territory. I always enjoy seeing the display Saks puts up which was Candy Land themed this year, but I still miss their classic snowflake light display that played to Carol of The Bells.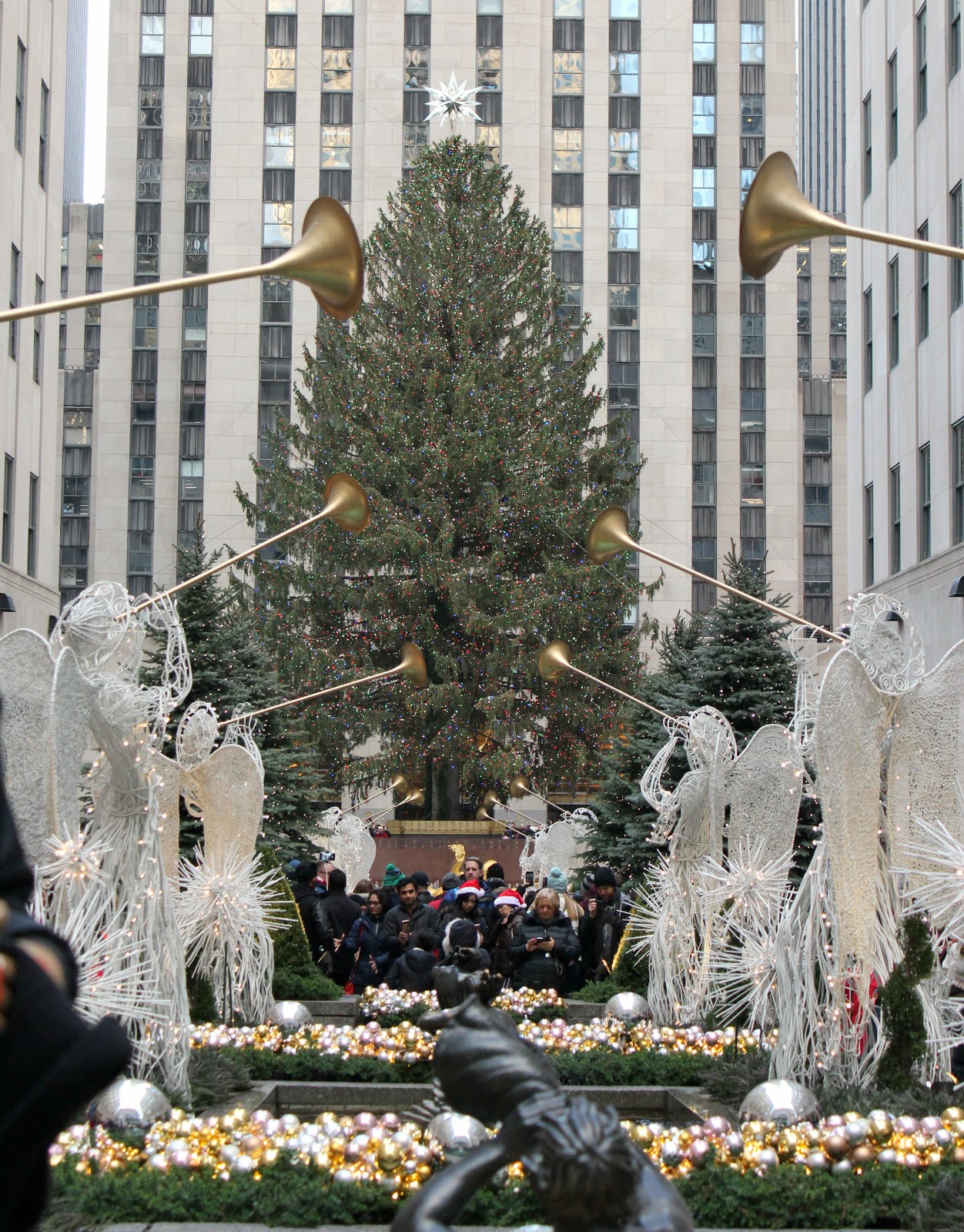 We heard about this place called
230 fifth
that had heated rooftop igloos that we couldn't pass up on checked out. When we got closer to it all we saw was a sea of red santa suits. I felt like my hope of checking this place out was now nonexistent. We all really wanted to see what this was about so my husband talked to the bouncer to find out what the deal was. They said we could get bottle service that would allow us to jump the line and get right in and would get us in an igloo. Seriously? Ok, let's do this. They take us up in an elevator that we're now 20 stories high and when the doors open it wasn't at all what I thought it would be like. I felt like I was back in my college days at a club that was hosting 18 to party 21 to drink. They lead us through a sea of santaconers (I'm sure that's not a word but it will work for now) to the smallest looking side table with three chairs where we would've been sitting knee to knee in the middle of all the santaconers for our apparent bottle service. We all stopped in our tracks and said wait a minute, this is not what we were told downstairs, you want us to cozy up at this end table in the middle of santaville, and wait, where are the igloos? The guy was really nice and explained it must have been a misunderstanding and that they can't provide bottle service on the roof. We told him after all of this we no longer wanted the bottle service and he told us to just go check out the roof.
When we got up there it was still filled a lot of santaconers but it wasn't anything like it was down stairs. When we turned the corner there was an amazing view of the Empire State Building that made everything worth it. They were actually playing Christmas music up there and you could get spiked hot chocolate drinks and enjoy the scenery. We caught the sunset, snapped a few pics, and enjoyed some drinks before we made our way over to dinner. Now, I'm sure if it wasn't for santacon and you checked this place out on another day it would be a much better experience.
We were hoping to get a table at Rolf's but we knew it was probably a long shot. When we got there the line wrapped around the corner and it was an hour and a half wait just to get inside. The door man wasn't the friendliest and told us to start calling in October for reservations. We told him we had been calling since the middle of November but the phones were off the hook (true story) and he said well that's not October. So, next year we'll show them, I'll be calling in September to book our reservations. I wish I could have gotten a pic of this place because the small glimpse that I got from the window looked like it was magical in there. I mean Christmas decorations every where. We decided on a place down the street called
The BluBell Cafe
which did not disappoint.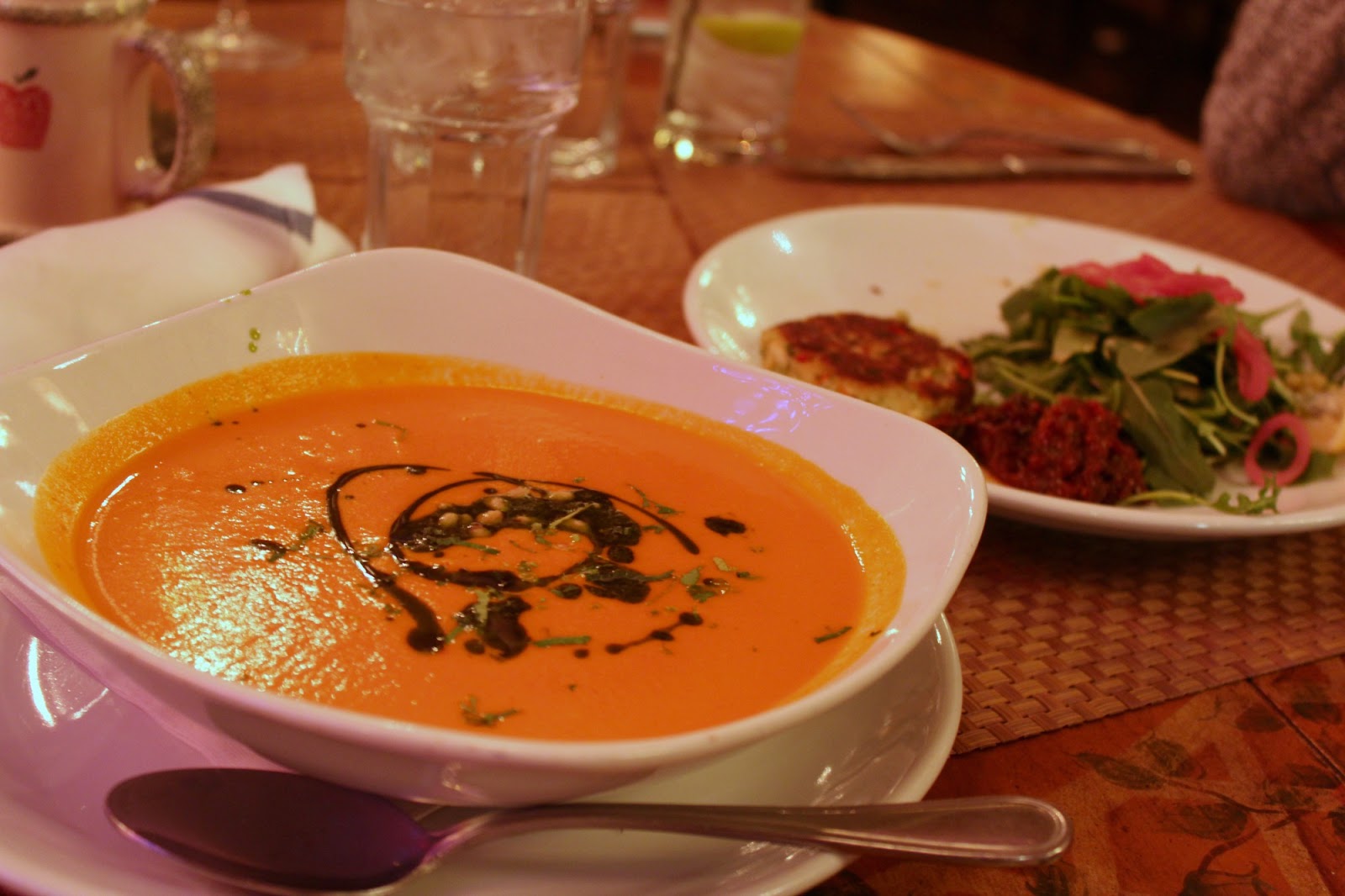 The next day we took the nuggets on a Santa train ride with two of our other best friends and their kids. Instead of all exchanging gifts this year we decided to do an experience together. I am so happy we picked this because it was the best time.
Not only did the kids have a great time but we all had a great time. The train was an old steam train with beautiful cars and detailed wood work. The boys loved looking out the window and hearing the whistle blow. Once the train started Santa came through and stopped to take a picture with everyone and gave each of the kids jingle bells. There were elves that sang and read stories and then came around and gave everyone candy canes. I'm happy to report we were all told that we made the nice list.