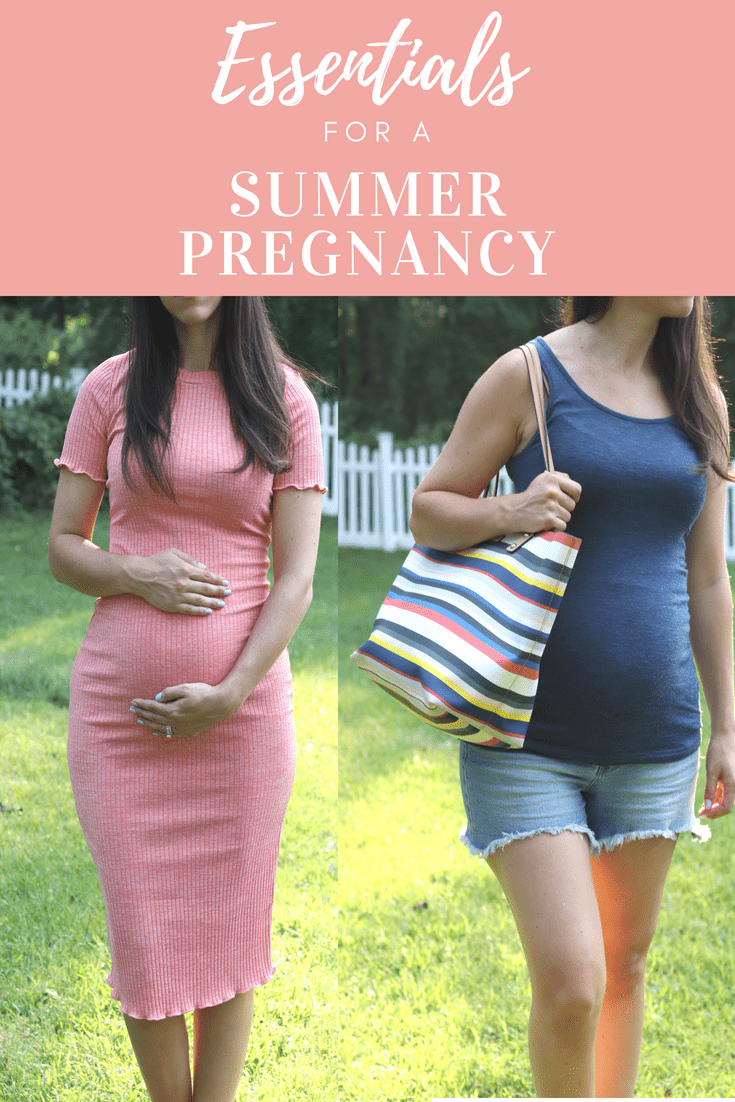 With this being my third pregnancy going through majority of my time in the summer, I've learned a thing or two about what works best for me during this season. Some will argue that the summer is the worst time to be pregnant and some will argue that it's a good time to be pregnant. I can only speak to what I know, and I would say it's not as bad as you would think.
I'm sure each season has it's up and downs, but the summer for me feels convenient. I'm actually a little nervous that baby boy is due in the fall because I'm not sure how it will be wearing a jacket or trying to fit into boots and jeans when that time comes. But for now, I'm sharing some summer essentials that have helped me beat the heat and keep my baby bump staying cool.
1. STAY HYDRATED:
I learned early on that I need to keep water with me for whenever I need it. Especially if I'm going to be outside, that's just a no brainer. But even so, it's come in handy when I'm out running errands, driving in the car, where ever, really. I like to drink mine out of a stainless steel cup because I have this thing with plastic, and I happen to think it keeps it cooler longer.
2. ALWAYS LOCATE A BATHROOM:
I've been in too many situations where I've resorted back to my toddler days of doing the potty dance and needing to go, like right away. If you're out and about it's a good idea to scope out the bathrooms and know where the nearest one is. If you'll be in the car for awhile it's a good idea to know when a rest stop is coming up or a place where you can stop off and use the facilities. Trust me, especially if you are towards the end of your pregnancy, you will be going a lot more often.
3. SUNSCREEN:
This one is also a no brainer to me but you'd be surprised at how many people I've talked to recently that don't wear sunscreen. It just blows my mind. In general we try to use products with less chemicals and it's something I've always paid more attention to especially when I'm pregnant. I'm not one to typically burn, but my hormones change when carrying a baby and I tend to burn a lot easier than I ever would. I even keep some in my car and in our stroller just in case I need some unexpectedly while we are out.
4. A GOOD PAIR OF SANDALS:
For me sandals are my bff in the summer and an even bigger bonus when I'm pregnant. Thankfully I haven't really experienced swollen feet, but I know it can happen. Who wants to try and stuff their feet into restricting shoes. I also think it's good to have a sturdy pair of sandals with straps, because I don't know about you, but I can get clumsy when I'm waddling this belly around.
5. COMFORTABLE DRESSES:
This is a huge one for me. This is where the convenient part of being pregnant in the summer comes in. You can just throw on a
comfortable cotton dress
(mine is c/o of PinkBlush) and put on your sandals and you are good to go. I also love pieces that can easily transition from my office to a weekend look. A
maxi dress like this one
is also perfect and can still leave you feeling stylish and summery. For me, sometimes when I'm pregnant I feel more confident in
form fitting dresses
instead of everything feeling baggy and extra.
PinkBlush
has so many different options for everyone that it's my go-to shop for maternity wear.
6. A GOOD PAIR OF MATERNITY SHORTS:
I say a good pair of shorts because I've gone on the cheaper side with them before and they left me nothing but uncomfortable and constantly pulling them and the belly panel up. A lot of the comfort of shorts rests in the elastic waistband which can make all of the difference. I have been living in
these shorts
(c/o of PinkBlush) and can't say enough good things about them. When you find a pair that is comfortable and hugs in all of the right places, it's a total win. I still love jeans with a good distressed look and think
these
are the perfect mix of maternity and trend.
7. GET IN THAT WATER:
It's no surprise over here that we are a family that loves being by the water. I think that's another reason why the summer doesn't bother me as much when being pregnant. If you have access to a pool, lake, or beach, take advantage of it. I get it, you might not want to jumping for joy to get in a swimsuit with your body feeling different than you're used to (it's not always easy for me either), but it's the summer, rock that body and get in that water.
8. A PEDICURE MAKES ALL THE DIFFERENCE:
I need to take my own advice here because I have been slacking with keeping up with getting pedicures. I have been doing them on my own lately because as of now I can still reach my toes somewhat comfortably. Once that changes, I will be getting pedicures more often. There's something about having a fun or bright color on your toes for the summer that makes those sandal and flip flop days even better.