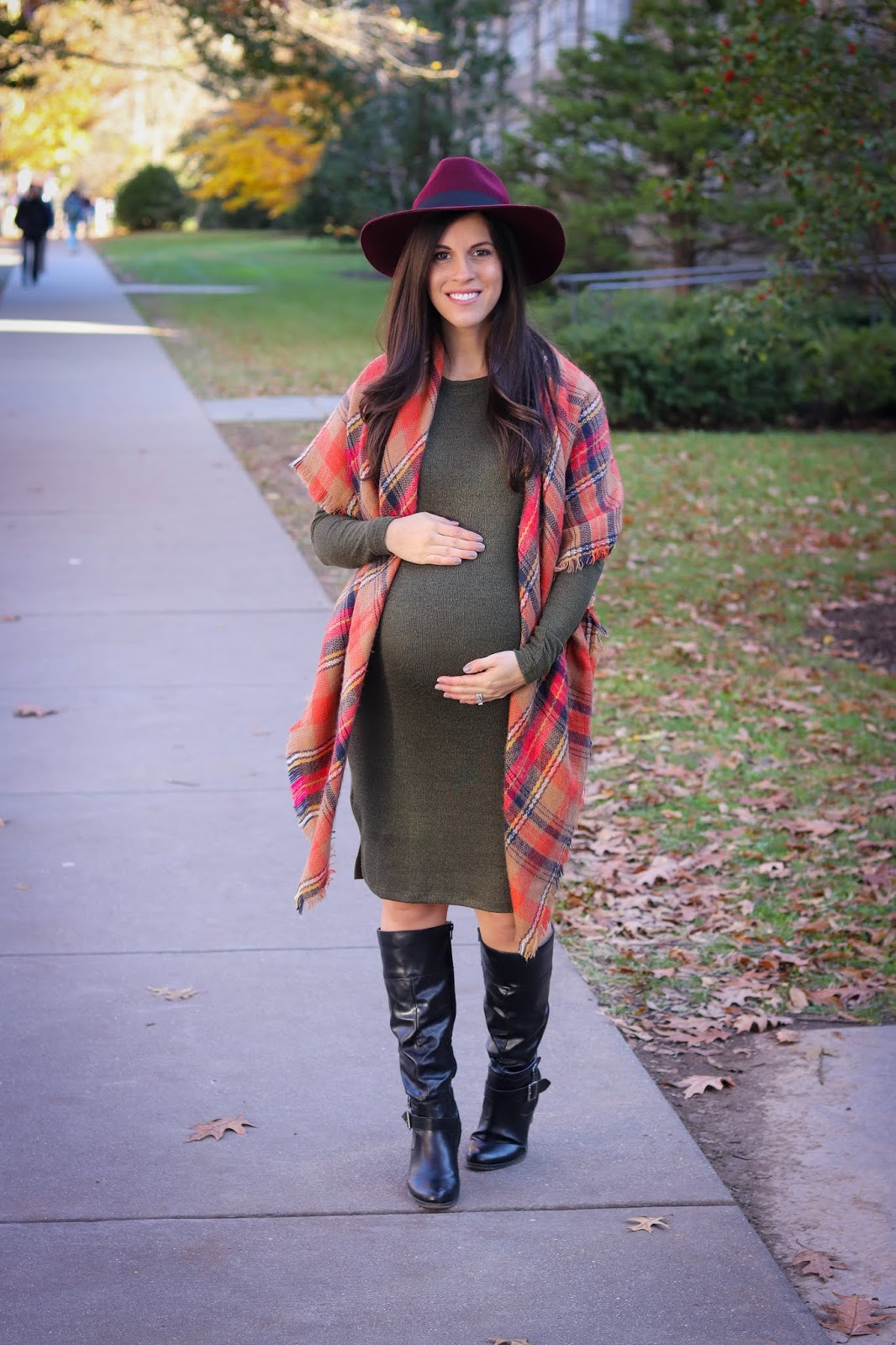 I'm not exactly sure what I had in mind when I thought about fall outfits while being pregnant. I think I envisioned these really cute looks frolicking through a pumpkin patch and having the best temperatures to do it all in. To be honest, I think being pregnant in the summer is actually easier. I understand there is that whole heat factor that comes into play, but the simplicity of throwing on a maxi dress and flip flops is so convenient.
Of course this all depends on where you live. For some parts, your fall might feel like my summer and not really get too cold. Regardless, it hasn't been the easiest for me in the home stretch. I'm surprised that I'm actually saying this, but I kind of miss sharing outfit posts with you all.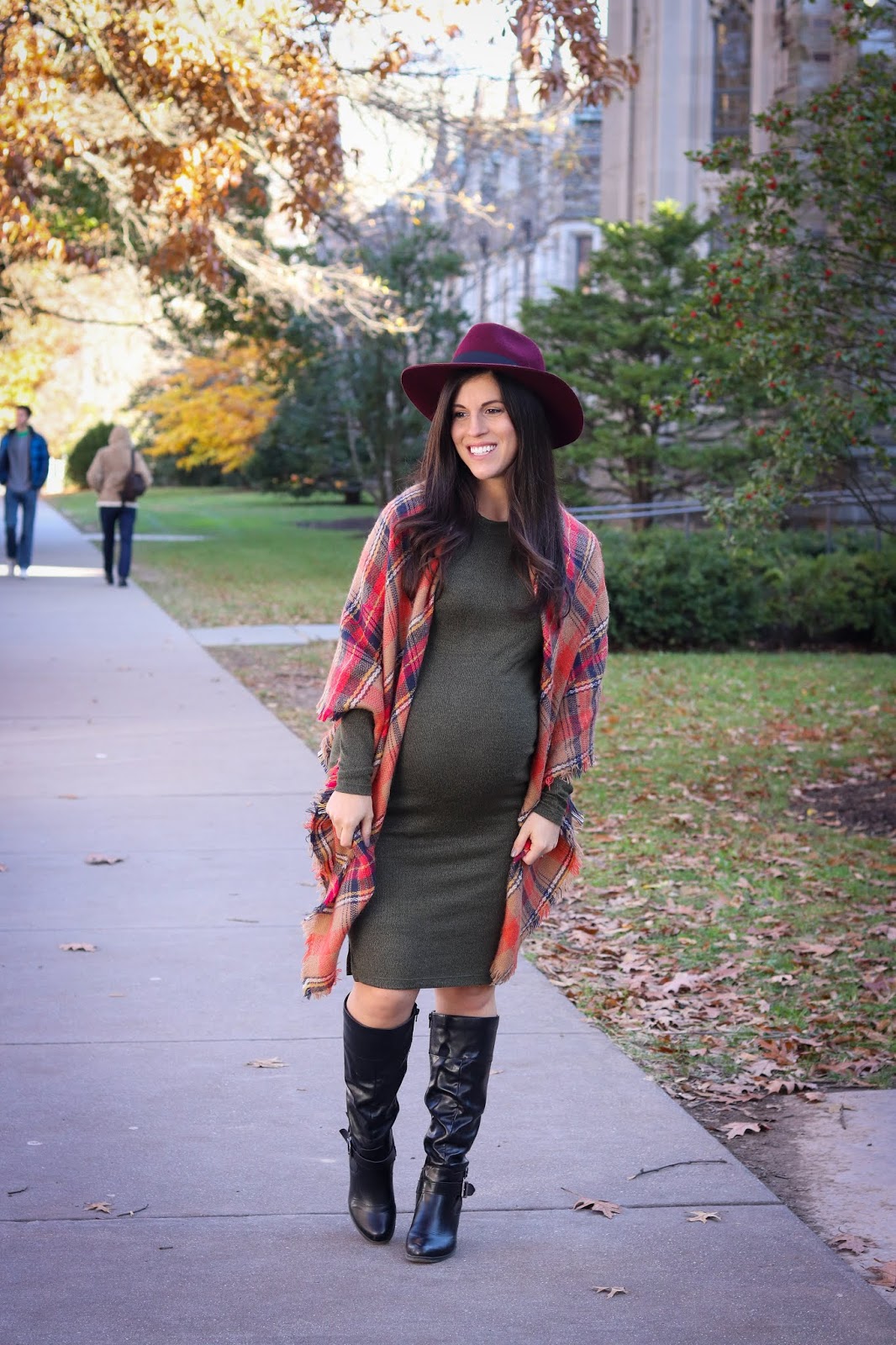 I also think if you're around the 5-7 months mark of being pregnant, the fall might be a lot more enjoyable. I'm at the point where I have very few things that I really feel comfortable in, there are days where my boots feel too tight, jackets make me look huge, and finding outfits for work have been a challenge. Yes, of course leggings are life when you're pregnant but you still need tops appropriate to cover certain areas, because not all leggings are created equal or have the quality that pants do.
This post contains affiliate links in which

I get commission for purchases or clicks made at no additional cost to you

. Thank you for your continued support.
Alright, enough about that. Let's talk about an outfit that I really do enjoy and have tried to get away with wearing it, umm pretty much every
other
week. I've switched up my boots, added different scarfs and accessories, so I don't really think anyone has noticed too much, or they're probably just being nice and not saying anything. I picked up this
olive color midi dress
(sold out but also available in grey,
burgundy or teal
) and it is so comfortable. I will seriously wear this after I'm pregnant if it works out.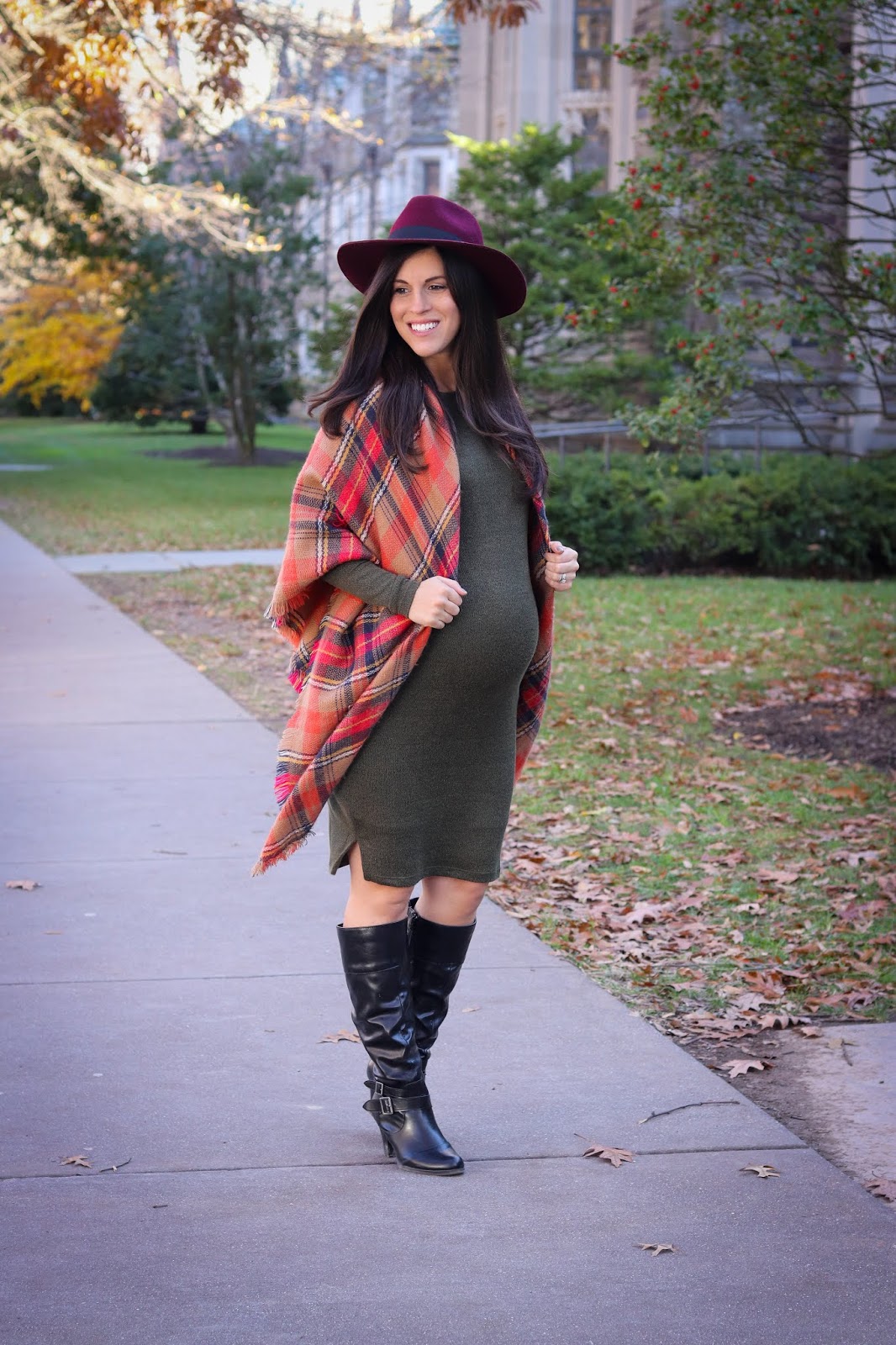 I love a good
blanket scarf
in the fall and you all know my love for hats runs strong. Eric and I went shopping the other night, and the amazing husband that he is knows that I don't need anymore in my collection. But, I didn't have
one in this color
and he replied by saying, it looks great on you just get it.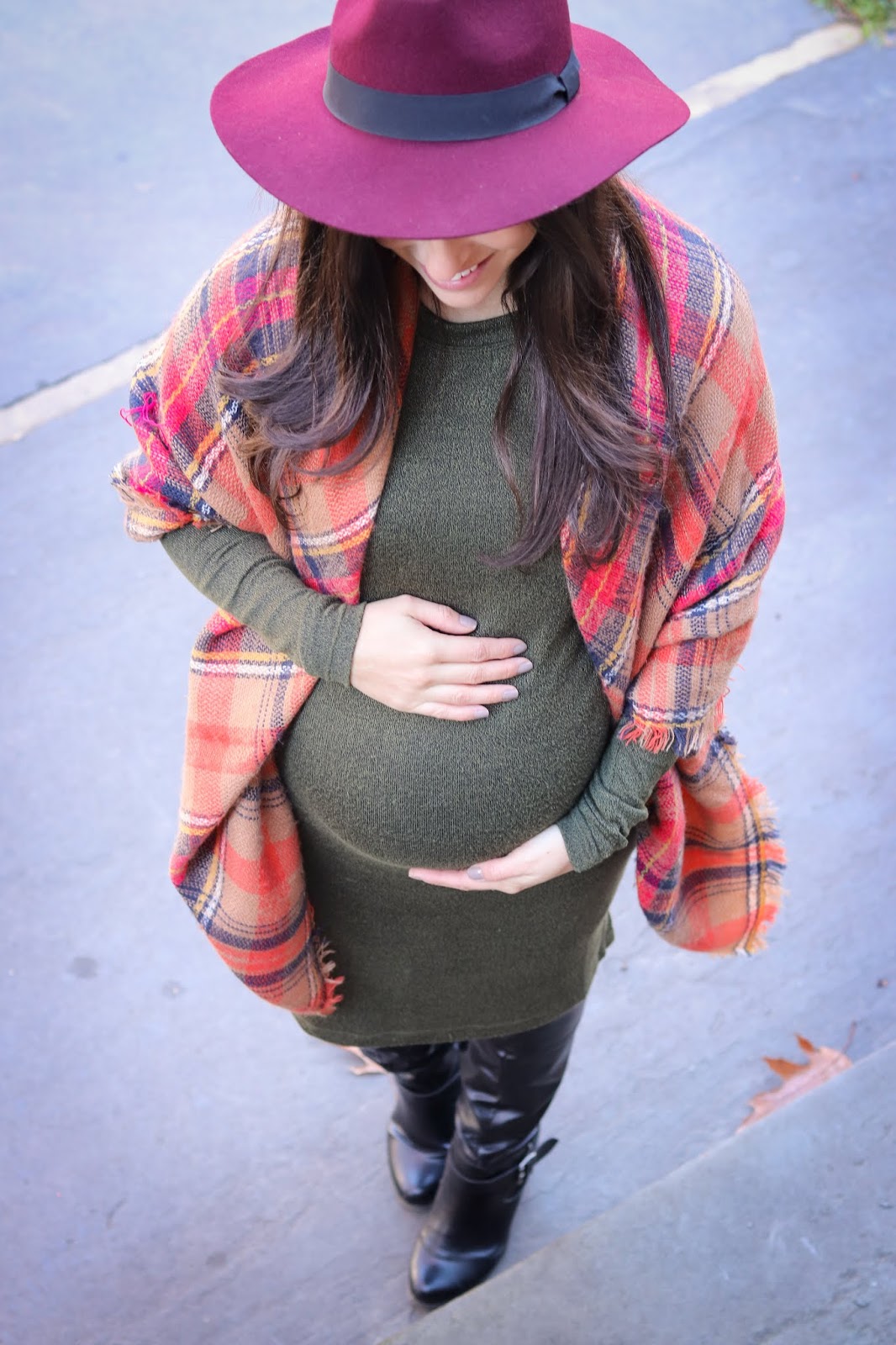 Over the weekend we decided to stop off in Princeton to grab some lunch after church and check out some of the shops. It's such a great town with so many cute places. I couldn't resist snapping a few pictures in front of the University. Random fact, my sister's fiance graduated from Princeton and my grandfather used to work there back in the day as an accountant at the same time Einstein was there.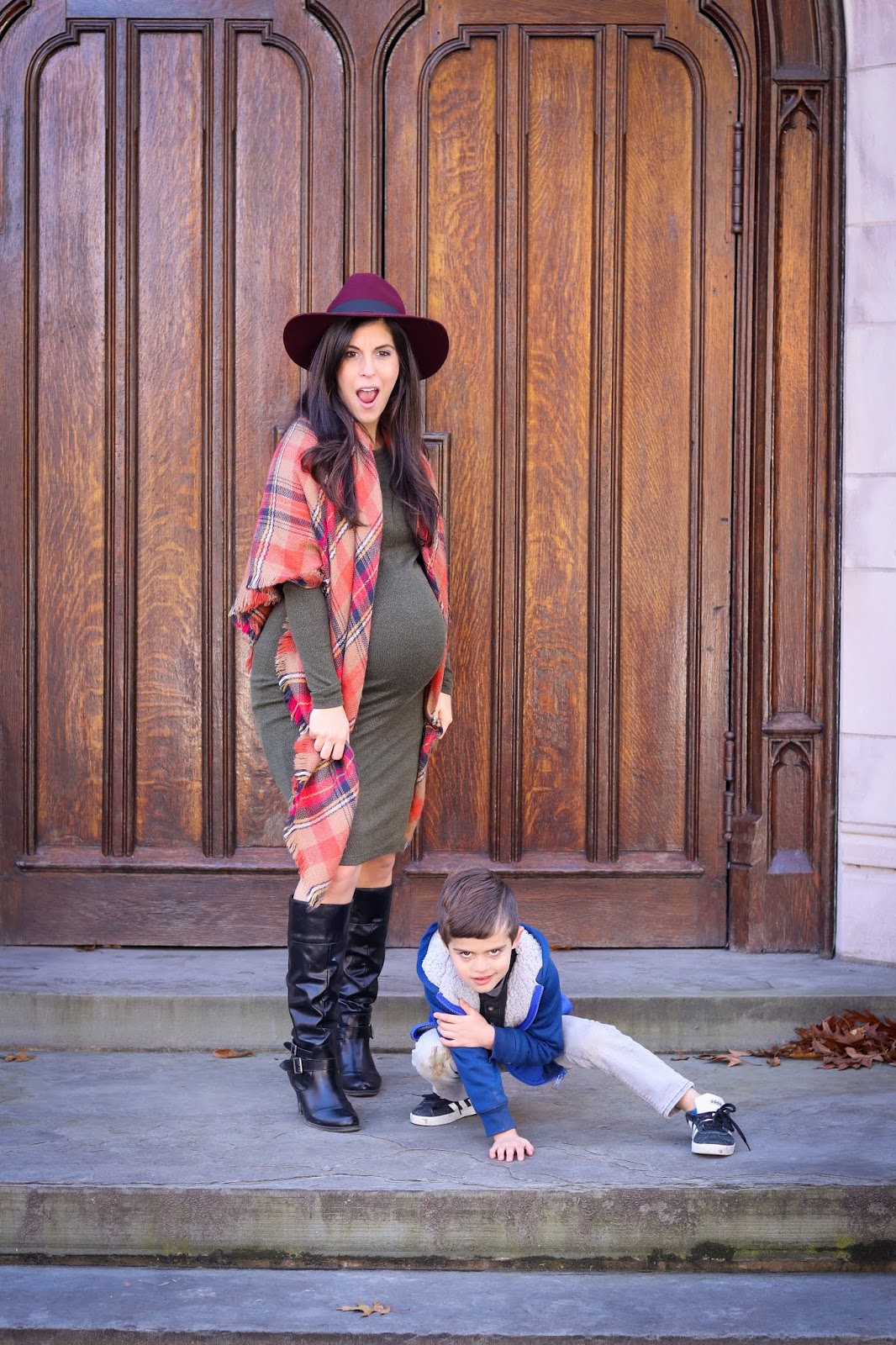 The boys had fun playing on the steps in front of the old doors, but then we caught them jumping off and running to hide behind the bushes. The knees of their jeans were filthy and I kept finding little twigs stuck to the hood and collar of their jackets. Boys will be boys. A was so adorable when he snuck up beside me to take a picture and hold my belly. Melt my heart.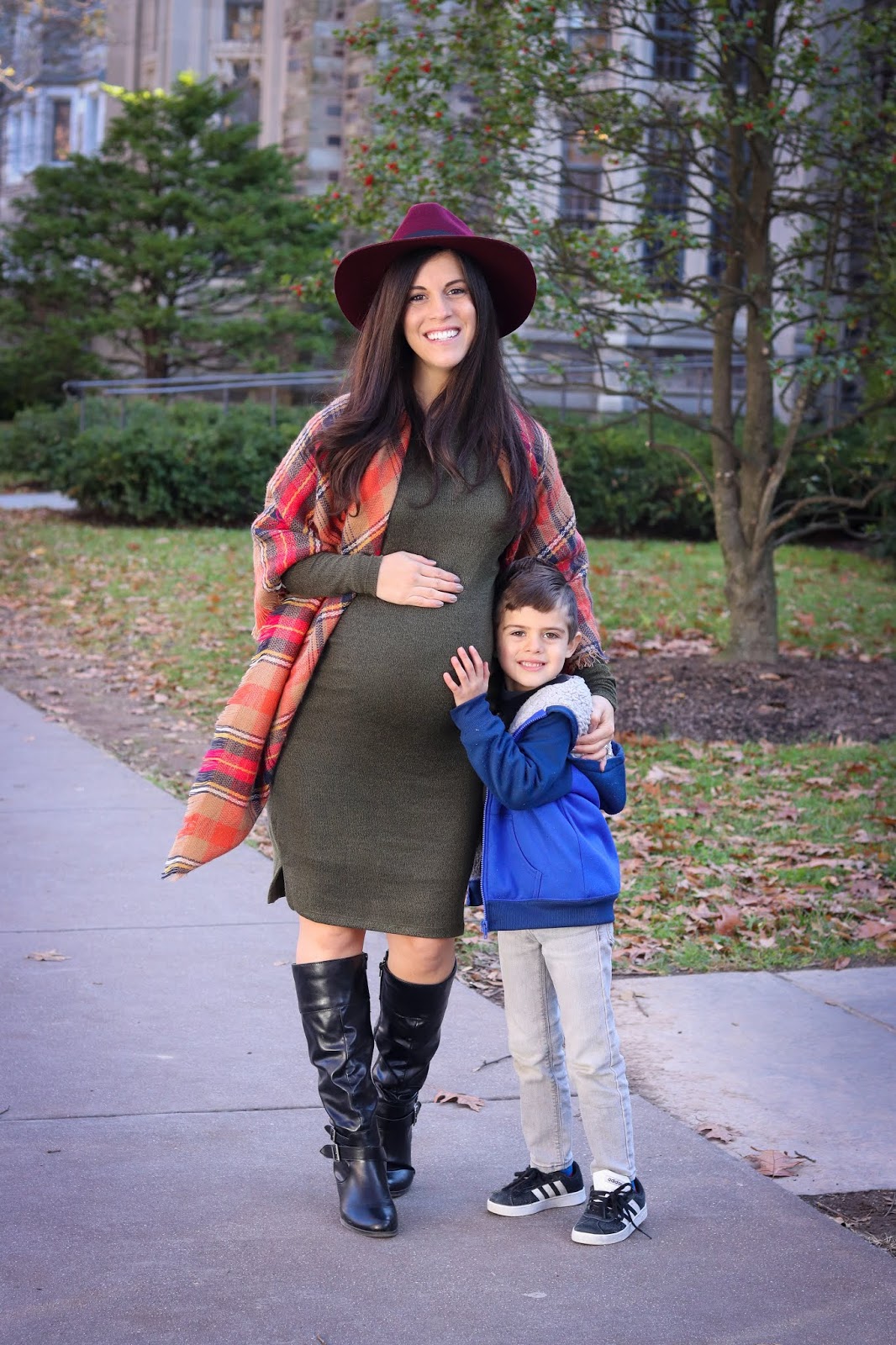 We joked around that maybe one day one of the boys will want to go to Princeton and how cute would it be to have a picture of them playing there when they were young. Hey, you never know, right?
SHOP LOOK HERE