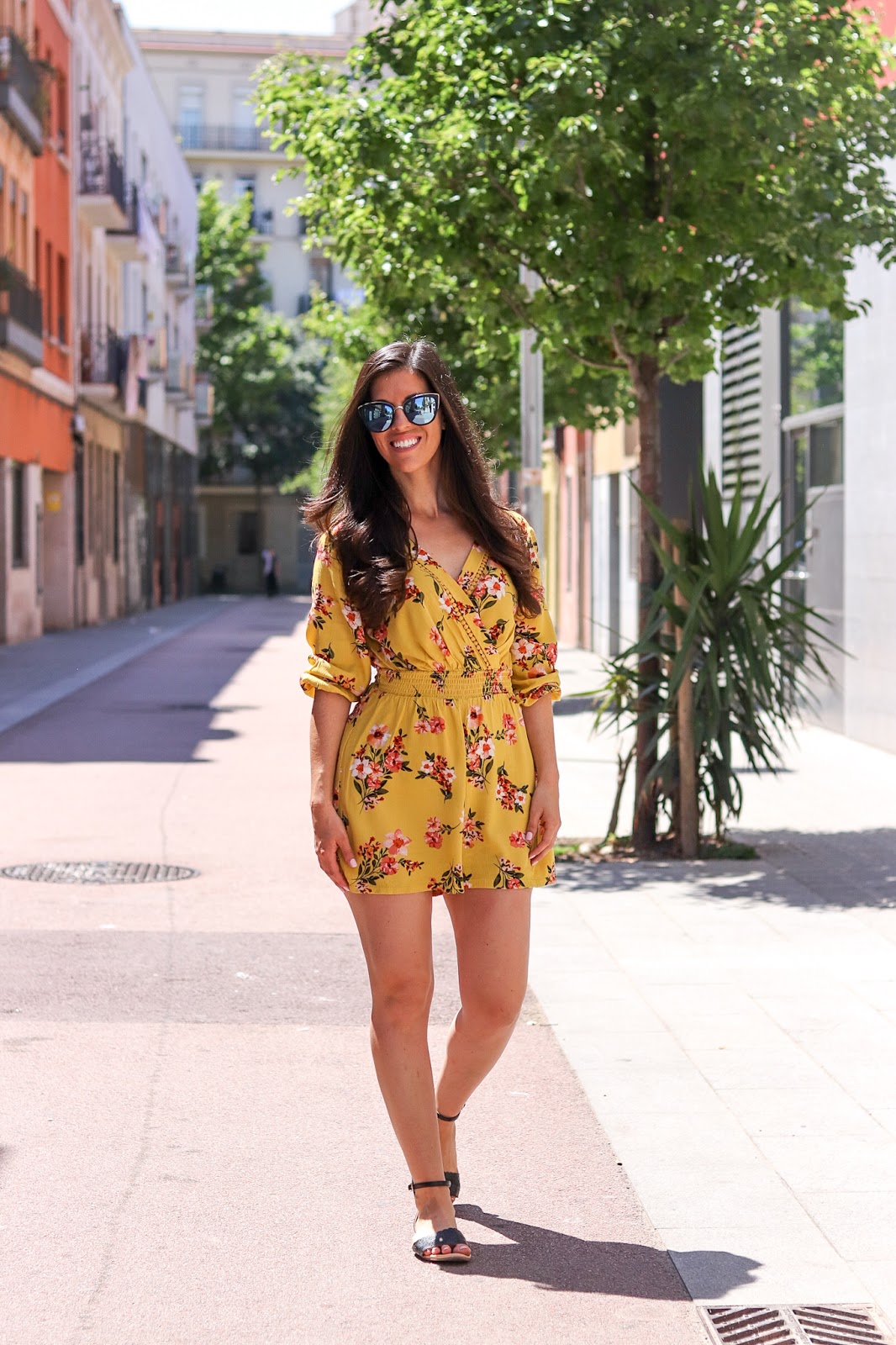 Remember how I mentioned it seemed to be the season of all things rompers and jumpsuits for me? Well, I wasn't lying. There seems to be so many cute ones out lately that it only makes sense. I think what I love most about rompers and jumpsuits is how effortless they are. I don't need to worry about picking out my top and bottom and they're a quick throw-on.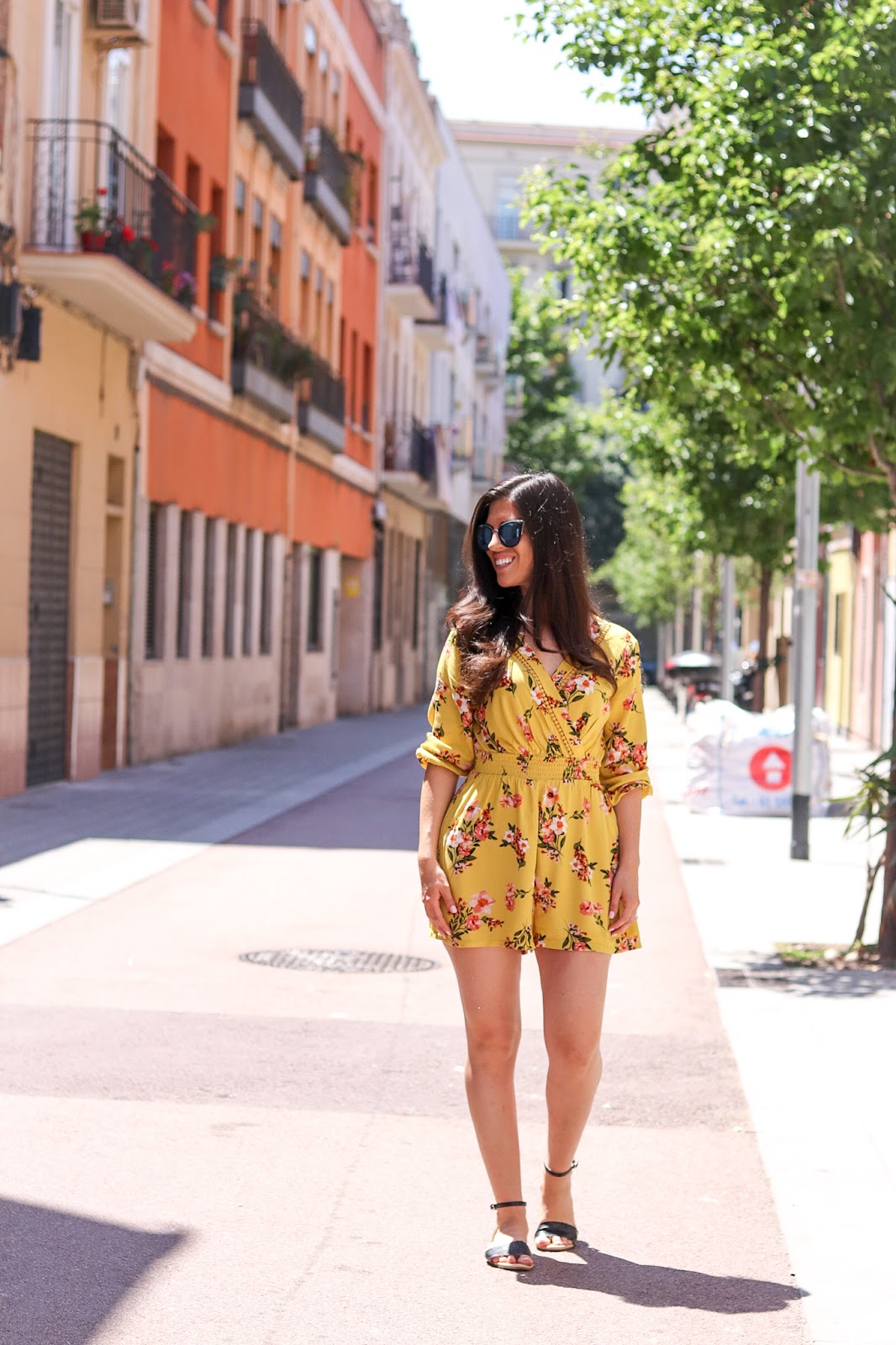 I also really love them for traveling because they're so easy to pack. I should have included them when I put together
my essentials for packing when traveling to Europe.
Speaking of Europe, these pictures where taken when we were on our trip to Spain. If you followed along in my insta stories or read more about
our family trip to Barcelona
you might have noticed that if I wasn't wearing a swimsuit I was usually in a jumpsuit or romper.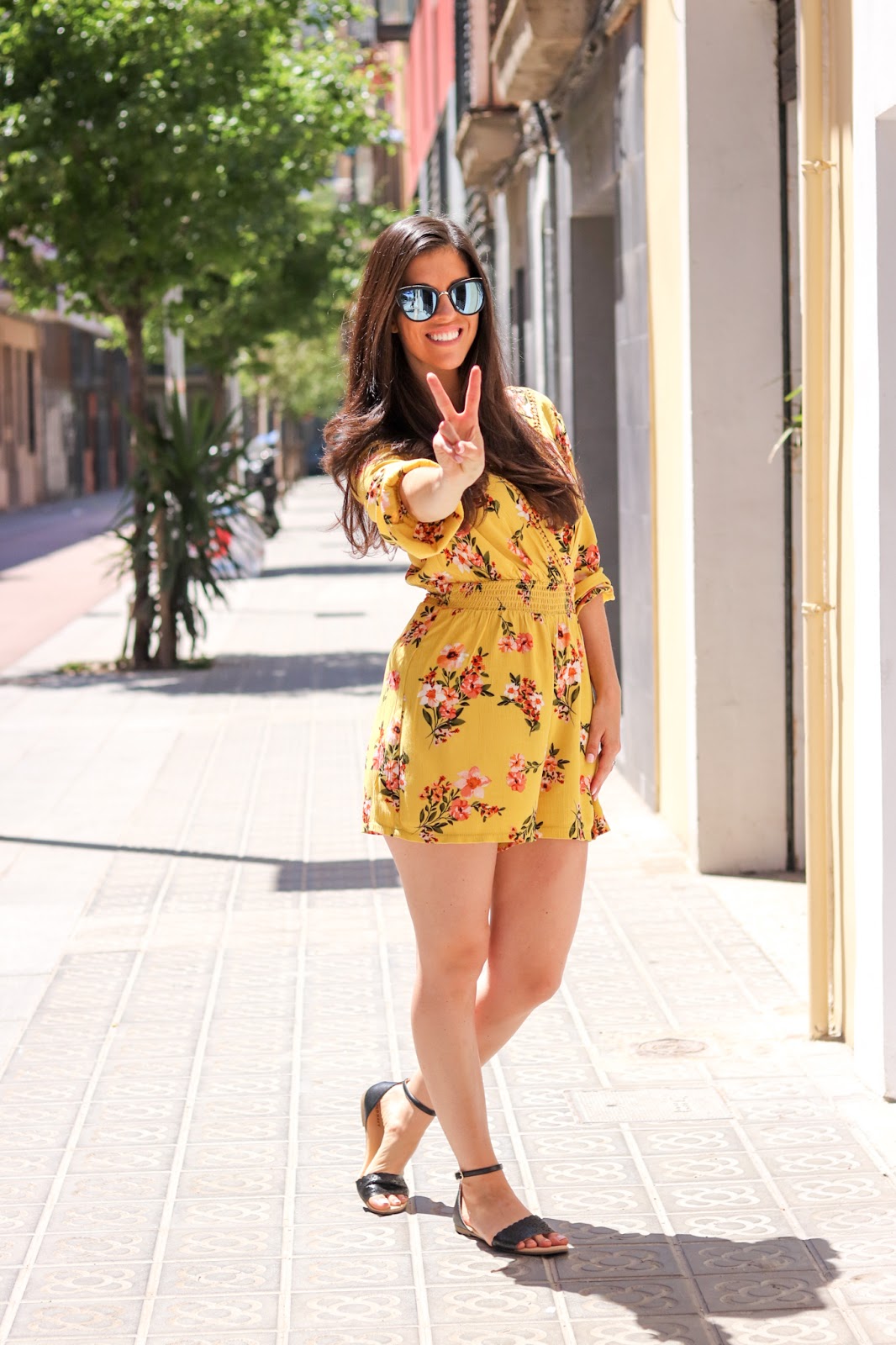 I picked up this yellow floral romper on a whim from Kohl's right before we left. I originally ran in looking for a zip-up swimsuit (which they didn't have) for the baby and of course this caught my eye on the way out. I wasn't sure if I would end up wearing it or not. Not because I didn't like it or anything like that, more so because the weather was a bit iffy at times and I wasn't sure if it would work. The last few days ended up beautiful, and I was so happy I packed it, because shorts were necessary. When it got a little cooler at night it was perfect to throw on a jean jacket.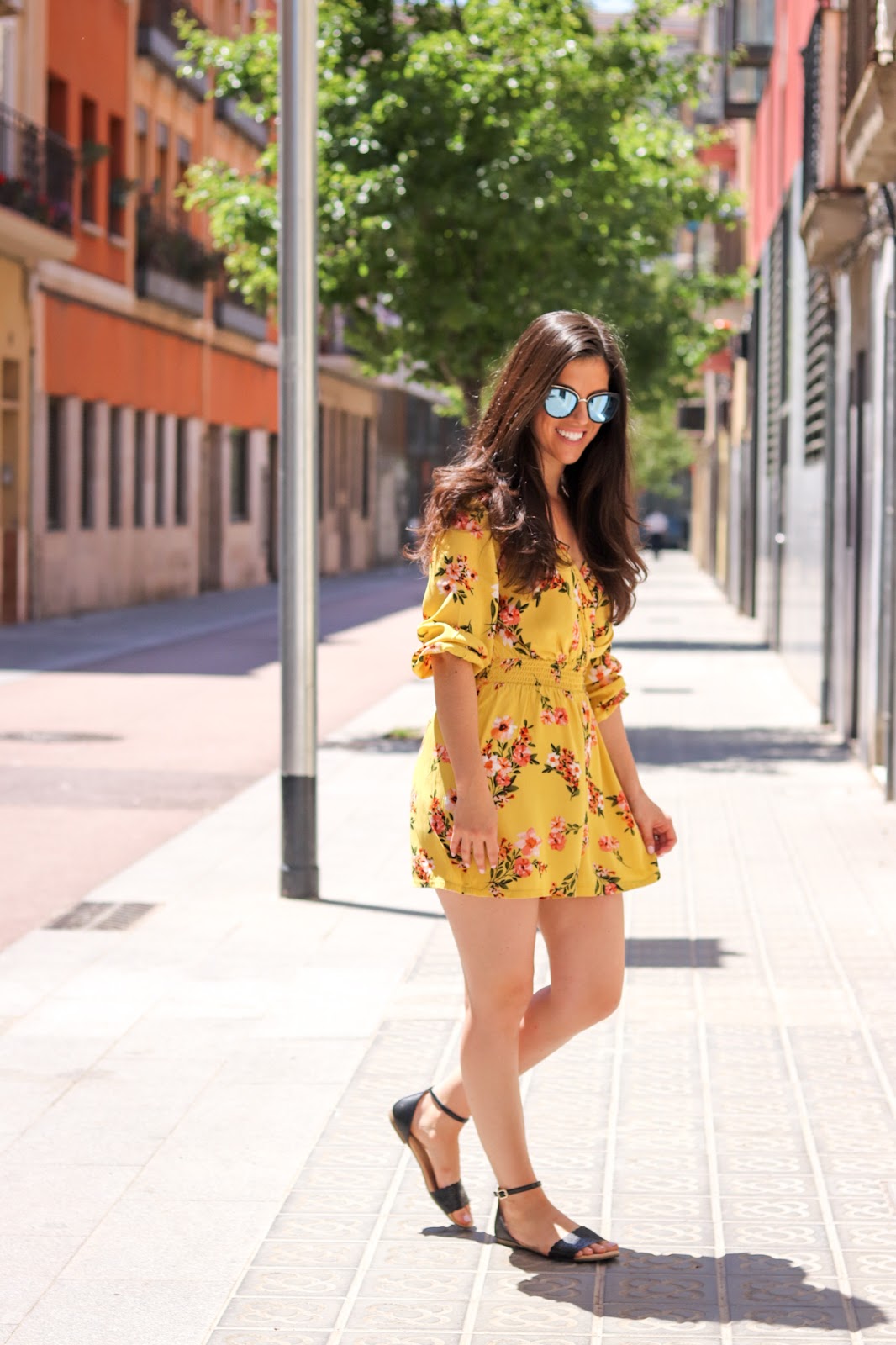 I've mentioned before that yellow was neverrr a preferred color for me. I don't really know why. I just wasn't feeling it. Or maybe because I never found a lot of things that I liked in that color. Rewind to a few years ago and it felt like mustard was the color for fall. I ended up falling in love with it and haven't really looked back.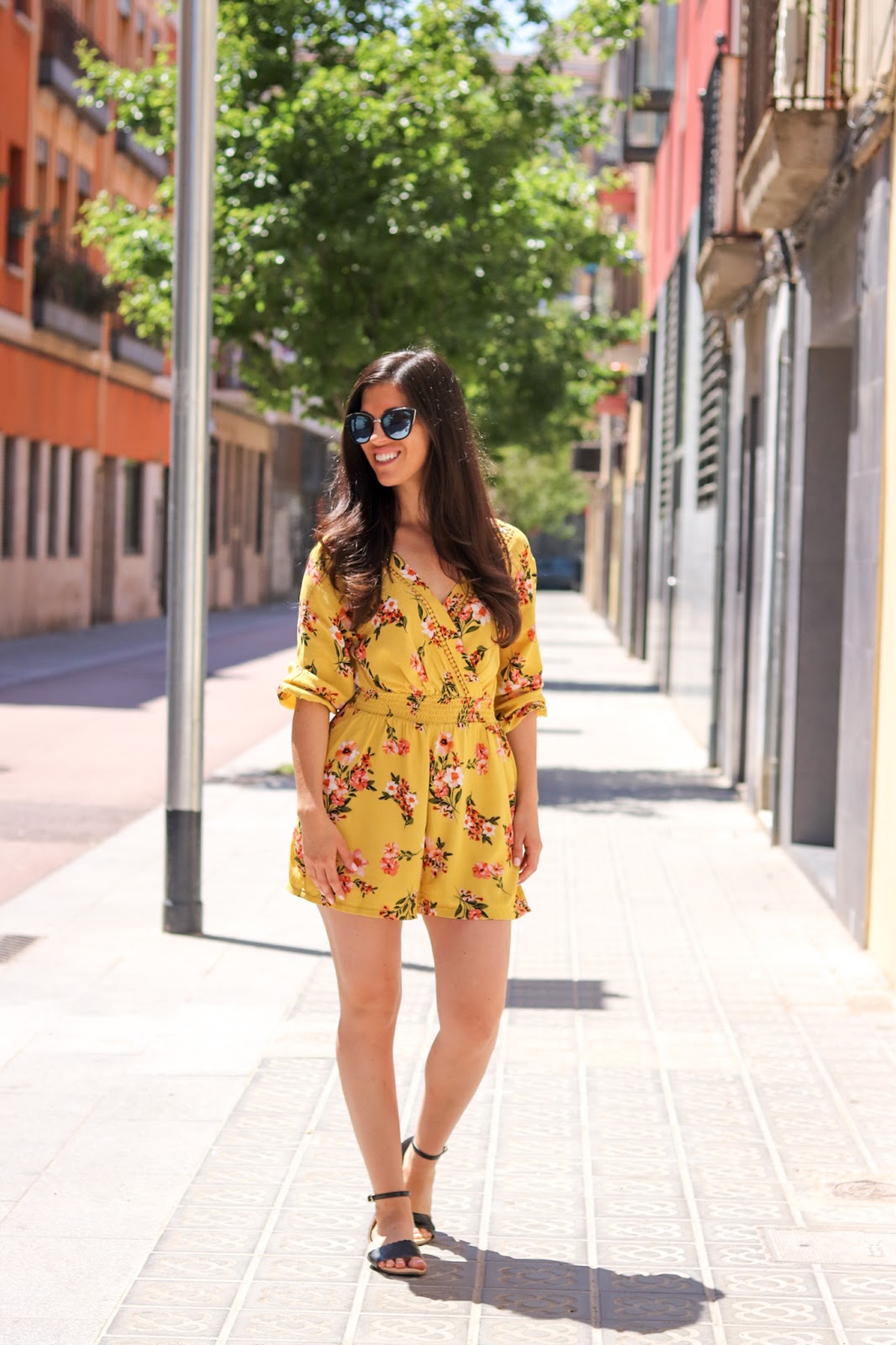 I really like the floral print on this and the detail at the waist which gives it a defined look. Although, I'm not really sure my hips need any more attention drawn to them. It's light and flowy which is great for summer. I can also see this transitioning over to early fall and would be great with a hat. I love pieces that you can wear through the seasons. I've worn this with sandals for a casual look and also switched it up with a pair of wedges for an easy going out look.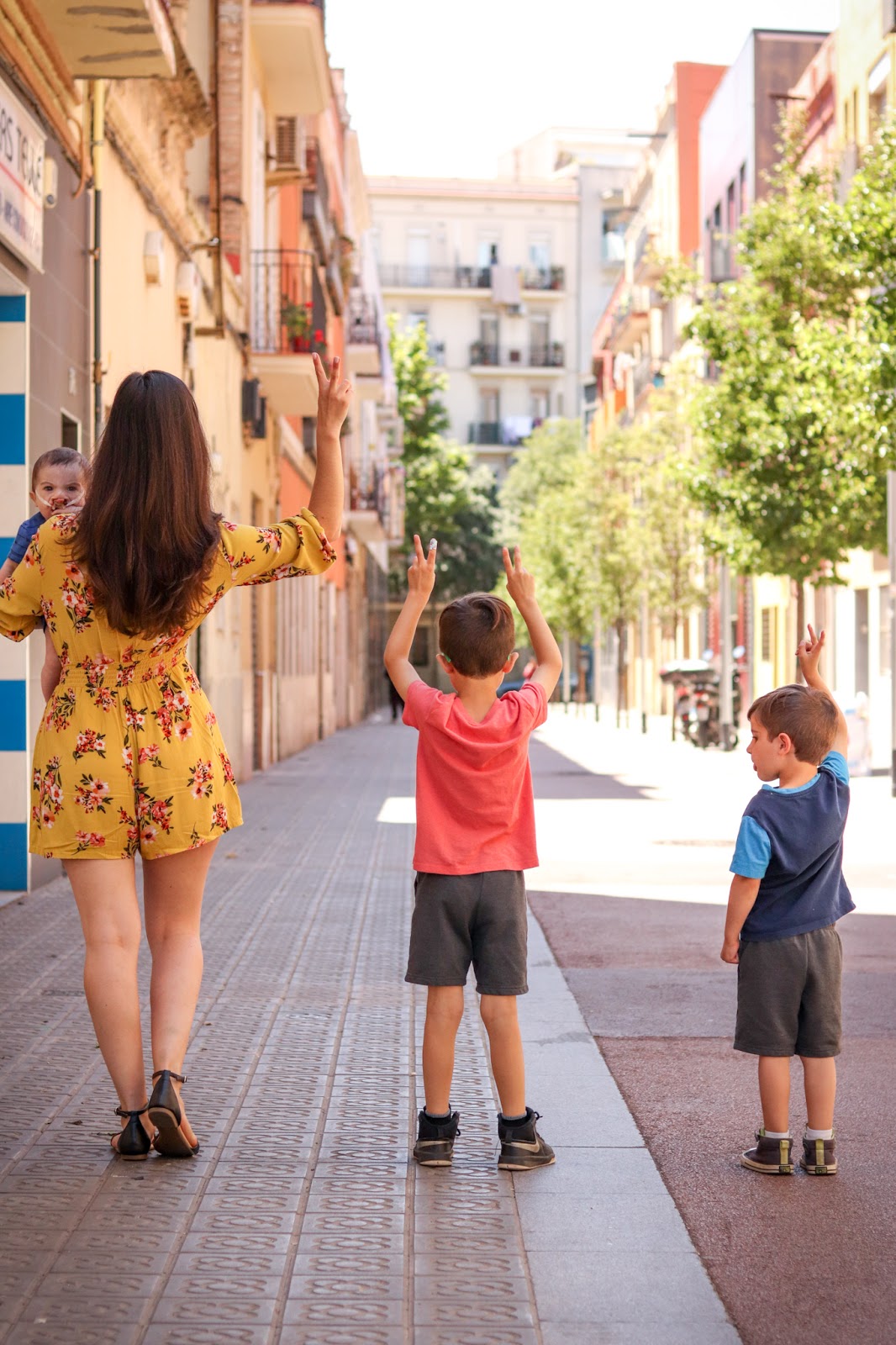 A tradition that we started has been taking a picture with the boys making a peace sign on our trips. Kind of like a farewell, see ya later, peace out, until next time…pic. I have to tell you, this one was a little more tricky with baby C on my arm. My hair kept blocking his sweet little face or he was pulling at my hair and trying to eat it. The boys would turn and look at him if they heard me telling him, oh don't play with mommy's hair, and then they got to a point where they said their arms hurt. At that point, I've learned to just work with what we get (perfection or not) and cherish the moment and memory that we created. I always enjoy the backstory to the picture anyway which makes the silliness of wanting images like this seem better. Sometimes I wonder if I wasn't a blogger would I think of pictures like this? I'm not really sure what the answer to that would be. I know that before blogging, or instagram, and any other social media platforms were really around, my camera was always in my bag as I was growing up. I think being a blogger has just helped me to be more accountable for capturing more of the images I want and keeping up with traditions like this.
SHOP SIMILAR LOOK


This section contains affiliate links in which

I get commission for purchases or clicks made at no additional cost to you

. Thank you for your continued support.