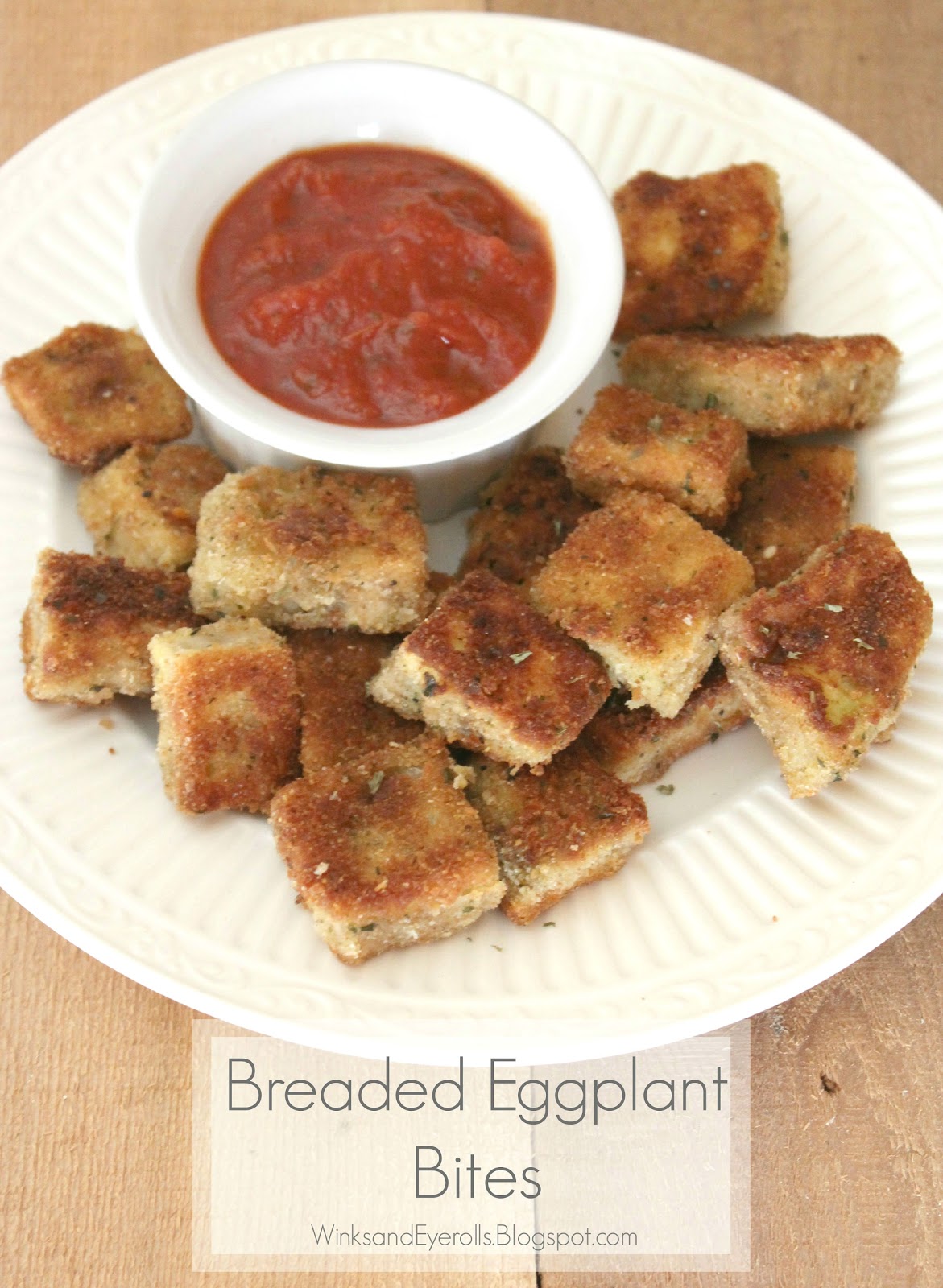 Eggplant seems to be one of those vegetables that we get stuck preparing only a few ways that we know how. Eggplant parm or grilled eggplant. While we aren't complaining about either of those options, after we went to our local farmers market last week, we picked up a few fresh organic eggplants and wanted to try something a little different.
Back in the beginning of our blogging days, you know the posts that had horrible pictures, you didn't really know what you were doing, and couldn't understand why no one was sharing or commenting on your content. Don't leave us hanging, you know we've all been there. Anyway, we made some breaded okra bites (read if you dare) and decided to do something similar with our eggplants.
2 medium eggplants or 1 large eggplant
1 1/2 cups of Italian style breadcrumbs (may need more depending on the size of your eggplant)
Additional Italian seasoning, pepper, and parsley. Optional, we like to add even more spices to our breadcrumbs for extra flavor
Directions:
Peel the eggplants and dice them into about 1 inch cubes. In three separate bowls add in one for breadcrumbs (and additional seasonings if you'd like), one for eggs (whisk them, we also add a dab of milk), and one for flour.
Bread the eggplant cubes, start by dipping them in flour, then the eggs, and then the breadcrumbs. In a large frying pan add in about 2 1/2 inches of oil. On medium heat let the oil warm up. Side note, we do not have a deep frying thermometer so we eye balled it. But if you do, the heat should be around 360 degrees Fahrenheit.
Once oil is heated place eggplant bites into the frying pan and cook until each side is golden brown. On a paper towel lined plate or cookie sheet transfer the cooked eggplant bites to cool and remove any excess oil. For taste, you can also sprinkle them with salt or extra parsley for garnishment. We used a good old jar of marinara sauce but if you're savvy at making your own, go for it!
These were a hit with our family and there's always a fun appeal about getting to eat certain foods with your hands. For the more sophisticated a fork does just fine.