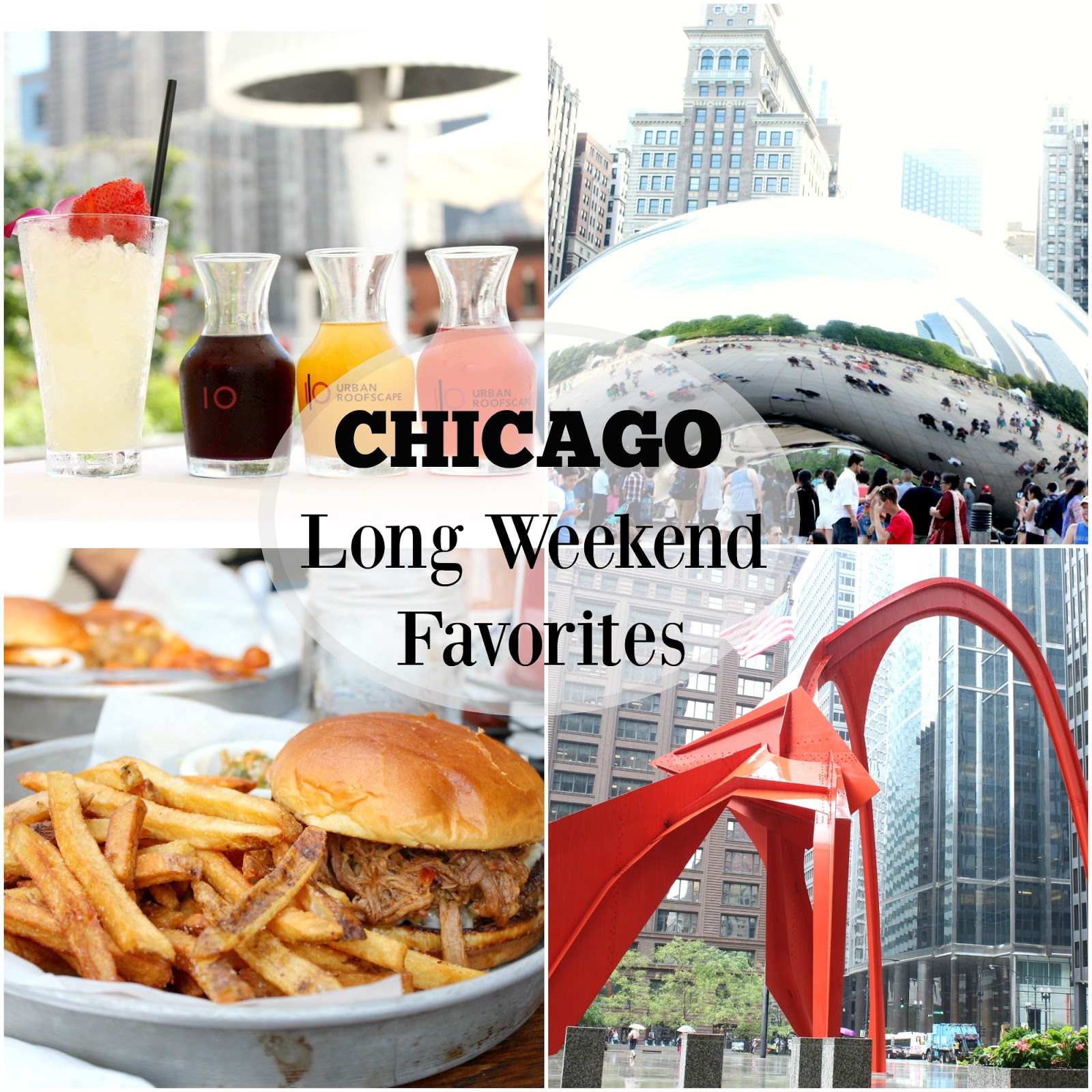 It's no surprise that my long weekend in Chicago has been a highlight of my summer, so far. I shared my full recap {
here
} but wanted to provide some highlights for a long weekend in Chicago in case you don't feel like scanning through my recap and hearing about my soaking wet shorts from kayaking.
Here's the thing, there is so much you can see and do in Chicago. Even though this was my third time visiting the windy city, every experience has been different and I've come across something new that I love even more.
I think it's fair to say it would be really hard to conquer all of Chicago in an extended weekend. Before you know it you're having so much fun and then you look up and your trip is over. But regardless, you can still see plenty and have an awesome experience in a short amount of time. It's really all what you make of it.
SIGHTS TO SEE
If you're up for exploring the city more in detail other than just strolling around, you might enjoy checking out some of these awesome sights:
The
Skydeck
at the Willis Tower (formerly Sears Tower)
The famous Bean at
Millennium Park
The Chicago Riverwalk
Navy Pier
The Art Museum
Wrigley Field
Lincoln Park Zoo
Magnificent Mile Shopping
LET'S DO THIS
One of my favorite parts of our trip was kayaking on the Chicago river. If you have a few hours to spend and you are an adventurous person I would highly recommend it! If not, no worries, there's other options as well:
Kayak Chicago
Chicago River tour or architecture tour
Divvy Bikes
GET IN MY BELLY:
Everyone knows a trip isn't complete without some awesome food. Chicago has so many great food options it's really hard to pick where to let your taste buds run wild:
A deep dish slice is a must no matter where you go, but Giordano's is a fan favorite and my brothers go to spot.
Holy deliciousness! Lou Mitchell's blew us away with probably the best breakfast I've ever eaten. Everything from their french toast, to eggs, to the sausage was mouth watering. Thank God there's a lot of walking going on in the city because we basically cleared our plates.
I have to say that everything on Randolph St. in the west loop looked and smelled amazing. This was one of my favorite sections of town and if I was a local I could definitely see myself eating there often, I mean, basically all the time. We ended up checking out Haymarket's Pub & Brewery and it did not disappoint. My brother and I got this sandwich called the riot which is a signature of theirs. This sandwich was packed with so much flavor and seeing what was on it, smoked pork shoulder, Italian sausage, mozzarella, apple-bacon bbq, seasonal giardiniera all on a brioche bun (hey don't judge) there's no way it could have been anything less than mouth watering. What can I say, this girl eats.

There are so many brunch spots to pick from in Chicago but we knew we wanted a place with a view. And a view we sure got! We decided on I|O Urban Roodscape at the Godfrey Hotel. We spent hours here sipping drinks, enjoying chicken and waffles, an amazing breakfast burger, and even put in a double order of their fries (hey, I said don't judge). There was something about those fries. They were crispy on the outside yet soft on the inside.
TRANSIT:
One of the other things I liked about the city is you can purchase a 24 hour subway pass for $10 which allows you to jump off and on endless amounts of time within that 24 hour period. Or, even better yet you can purchase a three day pass for $20. It was a great option for us to get from one part of the city to the next without spending a ton on taxis. And It's kind of a thing to ride above ground on the Chicago subway.