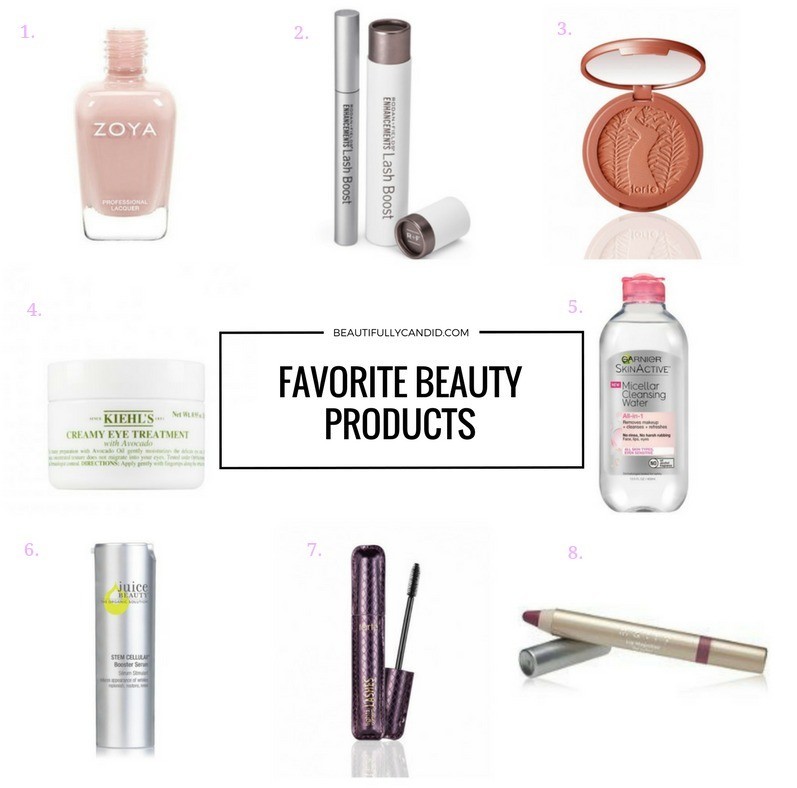 We're here for another girl chat link up and this time we're talking about favorite beauty products. These are always some of my favorite posts to share since I get to have some fun with all of you and some of my favorite blogging friends
Lizzie
,
Danielle
,
Lindsay
, and
Emily
.
We all have our go-to products that seem to continue to make their way back into our routines and leave us feeling all kinds of pretty. But for awhile, I found myself constantly trying new things because so many of them failed for me. I was always looking for those miracle products when I really think I just needed to find products that all worked well together and worked for me.
Whenever I have my nails painted, which seems like more of a rare occasion these days, you will most likely find me wearing a color from Zoya, and more than likely it will be the color Brenna. I get a little more adventurous with fun colors over the summer but for the most part I keep them neutral.
Everyone is always commenting on how amazing my little nuggets eyelashes are—and they are. I mean, these boys have lashes for days. Well mama wants some lashes too! My good friend Syrena who sells Rodan & Fields, mentioned their lash boost to me and I knew I had to try it out. Lash Boost nourishes my lashes and brows allowing them to appear longer, fuller, and darker. And don't worry ladies, your eye colors won't be changing anytime soon like comparable products. What I also love about this is you don't need a prescription, just a friend who sells it. You can contact my girlfriend Syrena, and she has been so gracious to offer you a $15 discount if you mention beautifully candid in your email! [email protected]
Since we're speaking about lashes, I'm going to jump to my favorite mascara. I mentioned some weeks back that I hit up the Ulta 21 days of beauty sale and stocked up on Tarte's lights, camera, lashes. Combine this with my R&F lash boost and people have been asking me if I got lash extensions. Nope, not this girl, just some awesome products to really make them stand out.
Some of my other favorite products include Kiehl's avocado eye cream. This is a great moisturizer that I am seeing results from, and I love that it doesn't migrate into your eyes. I also picked up Juice Beauty's stem cellular booster during the 21 day sale. It's great at leaving the rest of my face feeling hydrated and smooth. I've been using it for about a month now and I also notice a difference in helping with some of my fine lines and wrinkles.
When it comes to some of my everyday makeup products you will find me wearing Tarte's seduced or celebrated as my blush choices. My eye makeup is always a mix of different colors with majority coming from my Naked2 pallete, and my lip color is usually finished off with Mally flushed. Then, to take it all off I grab my micellar water which is one of my favorite things ever. This makes taking my makeup off so easy and the best part is with my sensitive skin it doesn't cause breakouts.
1. Zoya-(love colors here and here) | 2. R&F Lash Boost-(email my friend Syrena, [email protected]) |
3. Tarte-(here and here) | 4. Kiehl's-(here) | 5. Micellar Water-(here) |
6. Juice Beauty-(here) | 7. Tarte Mascara-(here) | 8. Mally Lip Magnifier-(here)
Now it's time for some link up fun! To link up – just grab our graphic, link up, and let's get to chatting! Make sure to stop by a few others in the link up for an extra bit of girl chat!

And don't forget to follow your hosts!