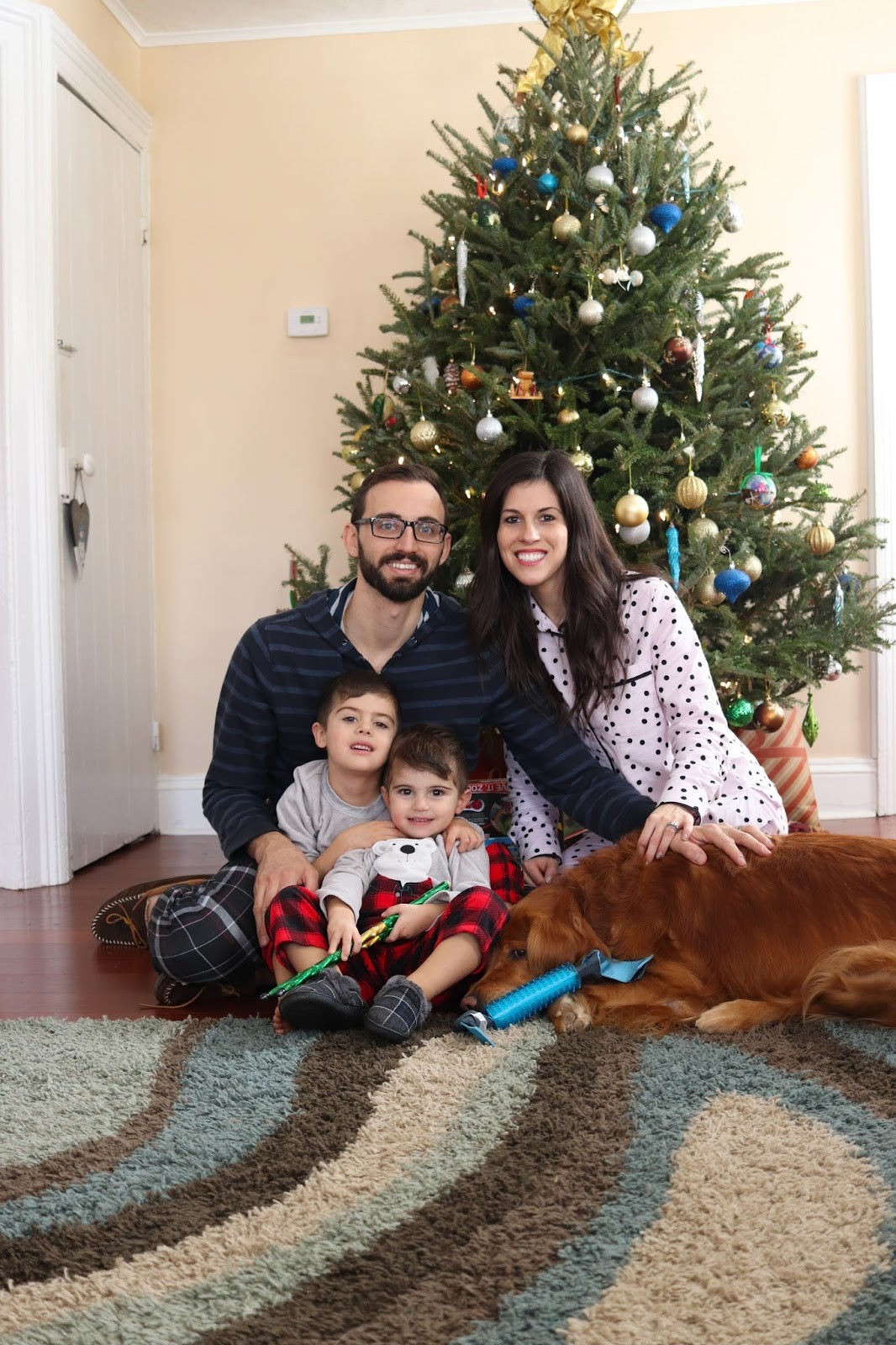 There is something so special about this time of year that brings out the kid in all of us. Unfortunately as quickly as it comes it also leaves. As I'm getting this post together, I'm stuck behind my desk at work reflecting on our memories and envisioning those smiling faces. Since this is our busy season, we aren't supposed to take time off from work which makes it extremely difficult for me around the holidays and always tugs at my mama heartstrings, really hard. But enough about that, this is a happy post about our Christmas celebration.
This year we decided to host Christmas Eve at our house instead of Christmas day. Christmas day always feels so rushed, and then there's that dreaded cleanup, and before we know it the day is already over. Unfortunately our family is all spread out, so it's not so easy for everyone to just hop in the car and come on over for a little while. For the most part, everyone loved the idea of Christmas Eve and even asked if we could do it like this every year. I loved that everyone could come over earlier and hang out for however long they wanted and still have Christmas day to visit with others or relax and do things on their own.
The nuggets were so wound up the night before Christmas that I seriously think it was the latest they have ever gone to bed. I'm talking jumping up and down like little monkeys, screaming, having 10 million excuses why they needed a drink for the 100th time, and I even used the, if you don't go to bed Santa won't come tactic. I told the boys they needed to stay in their rooms in the morning and wait for mommy and daddy to come and wake them up. Well, that turned out to be a mom fail. A took it so literal that he ended up wetting the bed and cried for me in the middle of the night because he thought he couldn't leave his room. Womp, womp.
The next morning things kicked off pretty early. Thankfully our clock had a seven in front of it so I was ok with that. I mean, does anyone with little kids really think they're going to be able to sleep in on Christmas? It also snowed a bit over night and was a really pretty sight to wake up to a white Christmas.
A family tradition of ours that we have done ever since I was little, is read Luke chapter 2 before we open any of our gifts. For us, it's the perfect way to start the day and reflect on why we celebrate Christmas and pray together as a family. I also like to think it adds another message in there for the boys about learning patience.
If you caught my insta stories then you might have seen how excited little nugget was for his drum. There is a whole back story to this that I will try to make short. Eric ordered him a mini drum set over a month ago that is still not here. The night before Christmas I asked the boys what they thought they were going to get and A said Paw Patrol things and little nugget said his drummer (that's what he calls drums). I ran down stairs and told Eric that we had to do something because that's all he really wanted and was so set on getting it. Eric plays the drums but his set has been packed away in storage since we moved into our investment house. He ran out back and rifled through our storage to get his snare drum out and wrapped it up so he would have something drum related to open. Let's just say that saved the day. Little nugget's reaction was so adorable! He played that thing almost all day and we can't wait to see his reaction when his set finally arrives.