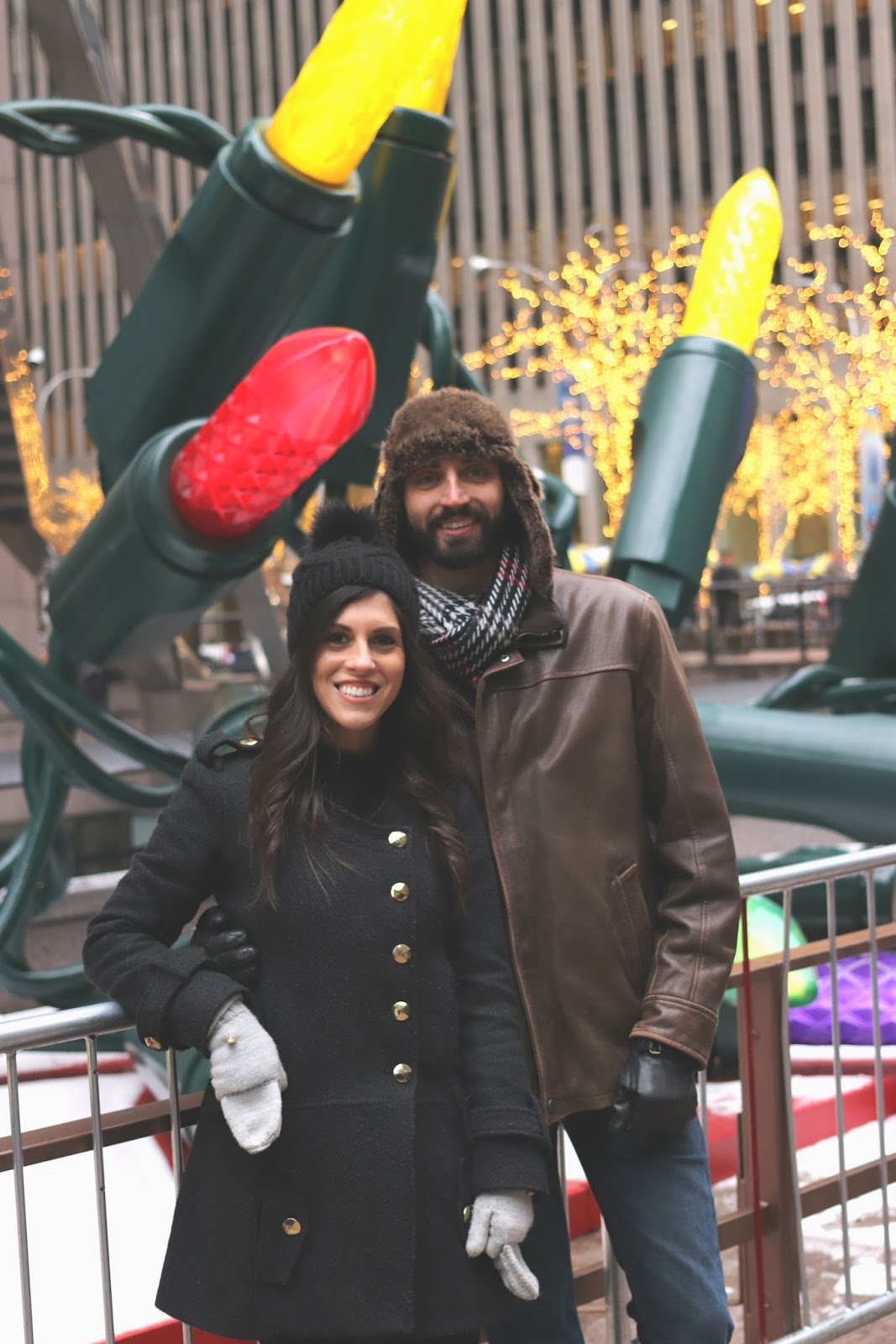 One of my favorite things to do around this time of year is our annual NYC day with some of my favorite couples. My best friend and I have been going into the city to see the tree, catch a show, and enjoy all of the festive fun for almost 10 years now. Over the years we've changed it up a bit and will add in some new adventures, and every time we always enjoy ourselves and pencil it on our calendars for next year.
I think the blogging world has given me a whole new appreciation for being so close to the city. I know it's one of the greatest cities in the world, but after hearing how it's on so many people's bucket lists and they wish they had a chance to visit, it really makes me feel thankful to be able to experience it all. There is something so magical about every time we go and even more magical around this time of year.
This trip started off like all of the others with our first stop being in Bryant Park. It was extra crowded this time around but that's typical for a weekend. The weekends always seem to work out better for us with our schedules, but I would have to imagine visiting on a week day would provide a whole different experience.
After we grabbed some food and saw the tree in Bryant Park, we made our way over to sixth ave to see the giant Christmas balls and the giant string of lights. It was freezing the day we went so adding in some extra layers paid off. Eric even wore two pairs of pants and I had on two shirts under my jacket.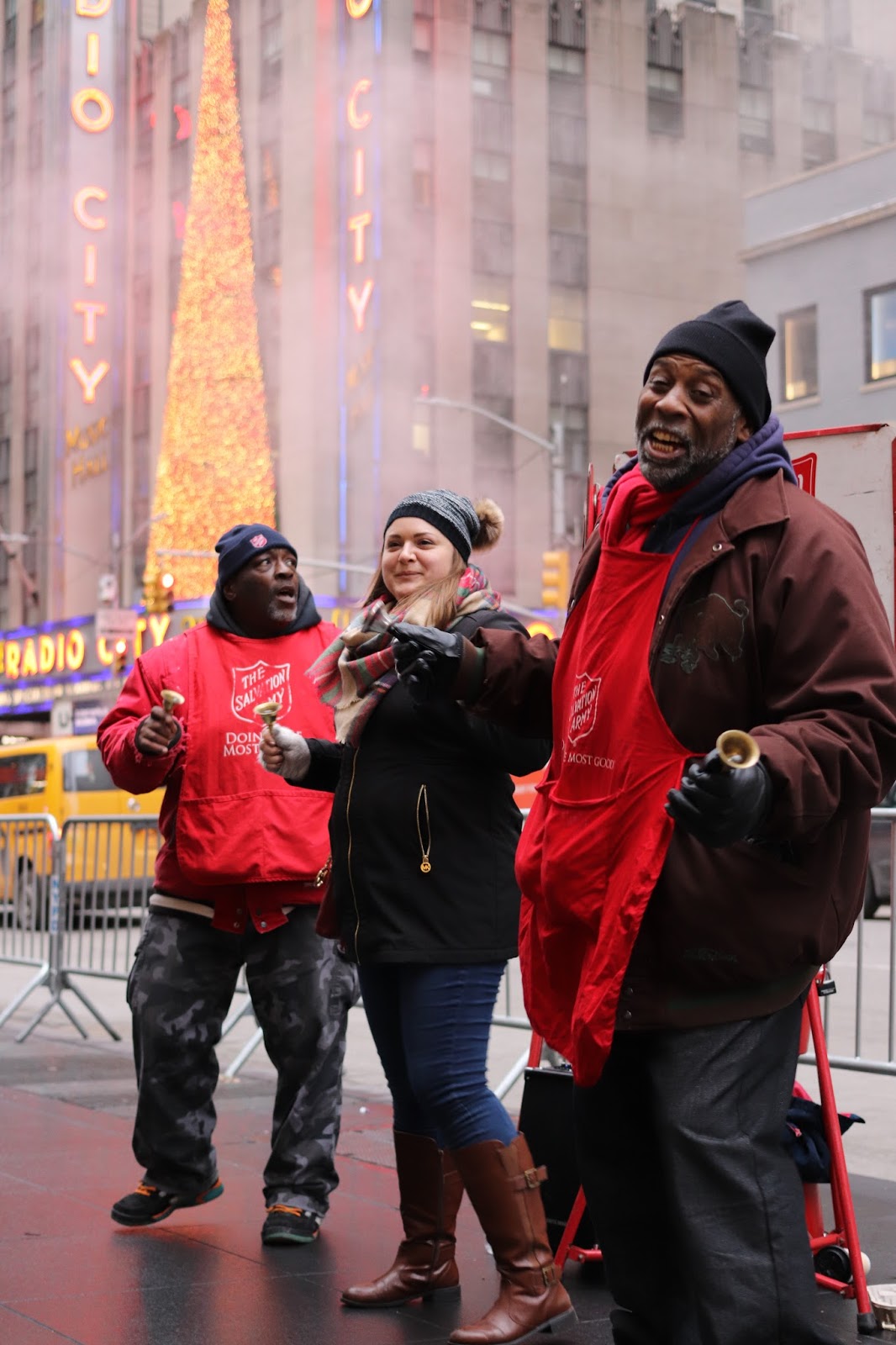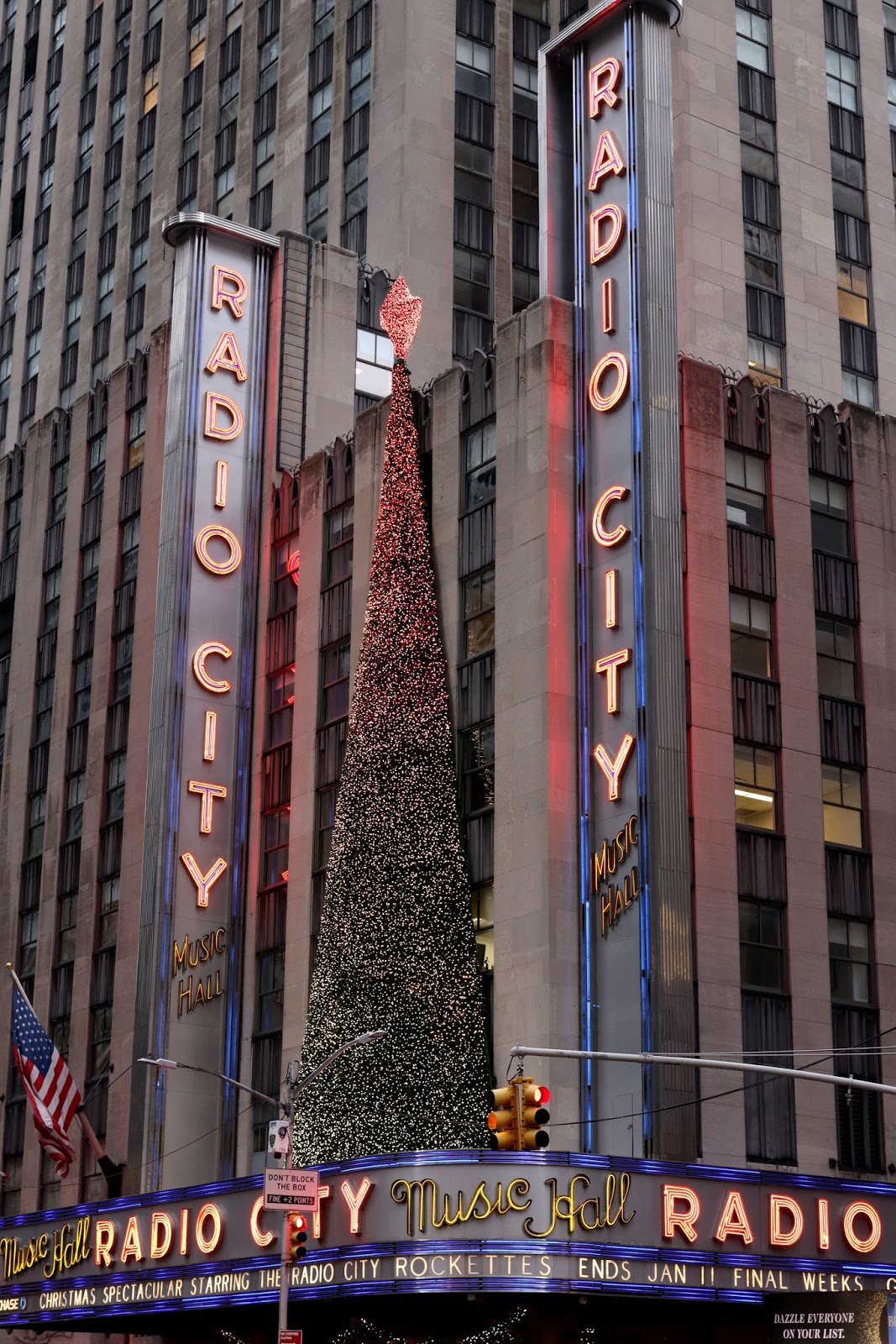 There was a Salvation Army bucket right out front of where we were and my friend Judy got in the Christmas spirit and joined in with the guys. They even gave her a bell and my girl tore it up! I couldn't help but snap a pic of her.
We made our way over to Rockefeller Center plaza to see the tree. Even after seeing it year after year it always brings a new feeling of excitement and joy. This year, we went at dusk which makes for some darker pictures (I am not a flash photography kind of girl) but you can really see the tree lit up which is also a very different feel than seeing it in bright daylight. I think it adds a little something extra to the moment.
Once we were done at the tree, we headed over to grab some drinks and dinner in Greenwich Village. If you remember from
last year
we tried our luck at
Rolf's
which didn't work out how we had hoped. They told us to call back in October, which I certainly did, and this year they told us they don't take reservation over parties of four during the season. Seriously? I think I am officially done with trying to get into this place unless something amazing happens and it all works out.
We did some research and found out that Pete's Tavern is also decorated around this time of year and is actually one of the oldest bars in the city. It felt like Christmas magic when you walked in there. I am really glad we got to check it out and grab some drinks. We ended up at Olio e Piú for dinner and it was the perfect way to end the day with great food and great friends.