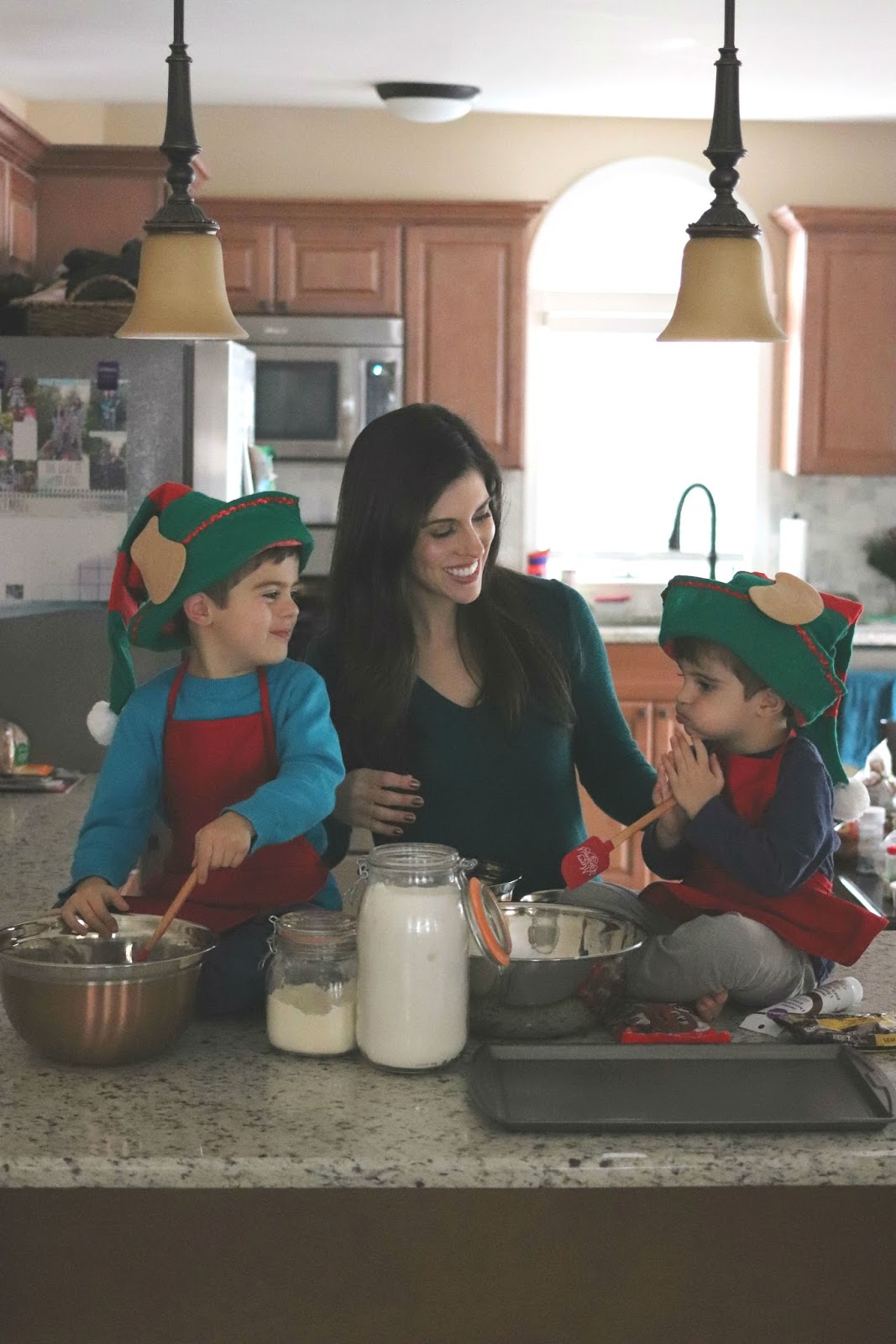 I have always loved baking around this time of year and sharing our sweet treats with others. Now, it's even better getting the nuggets involved and seeing their excitement with helping and their creative ideas. They might add some extra (ok, more like a lot of) cleanup into the mix, but it's all worth it.
This year we tried our luck at our first gingerbread house. I have always wanted to do one but for some reason it wasn't something we ever did growing up, and Eric and I never tackled one on our own. It seemed like the perfect time to introduce the new tradition to our family and who better to introduce it to us than Alvin. When the boys woke up the house was laid out and ready to start being constructed.
I let Eric and the boys take the lead on this one and I assisted by holding things in place or passing things when needed. After our poor little house collapsed not once, but twice, we decided to go a different route and hot glued the thing together. We already knew we wouldn't be eating it so this seemed like a great idea to make sure it wouldn't keep toppling down.
After our house was secured we did a little more decorating but of course not without the boys sneaking in some tastes of those gumdrops and sprinkles.
Alvin also brought the boys these cute mugs that have a picture inside of them that you color and then put back into the mug. They've been enjoying some hot chocolate in them and of course their favorite topping, marshmallows.
It was a fun morning and something we will definitely be doing again.
The next day was baking day with my mom, and sure enough, Alvin left some more goodies. This time, it was matching aprons for the boys and that silly little elf decided to make some sugar angels himself.
We were missing my sister who couldn't make it but we are already looking forward to next year and another great baking day tradition.
I happened to have two of the cutest little baker helpers around. Can I just keep them this small and bottle this up forever?!
I'm thinking next year we need a whole baking weekend because we still had our chocolate covered pretzels that we didn't get a chance to do. Eric and I really wanted to get the boys involved with this so we decided we would do it another night. Eric and I have been making chocolate covered pretzels since one of our first Christmases together and always enjoy making a night out of it. This year, we had two of the best little topping smashers around. I mean, telling two boys they can smash and crumble things up, that's a no brainer.
Then, they thought it would be funny to sword fight with their pretzel sticks. Let's just say we have a variety of pretzel sizes for anyone to try.
These pretzels are always a hit in our house and we are excited for our family to try some new flavors we did this year. Here's to making the holidays a little sweeter and creating new memories in the kitchen.