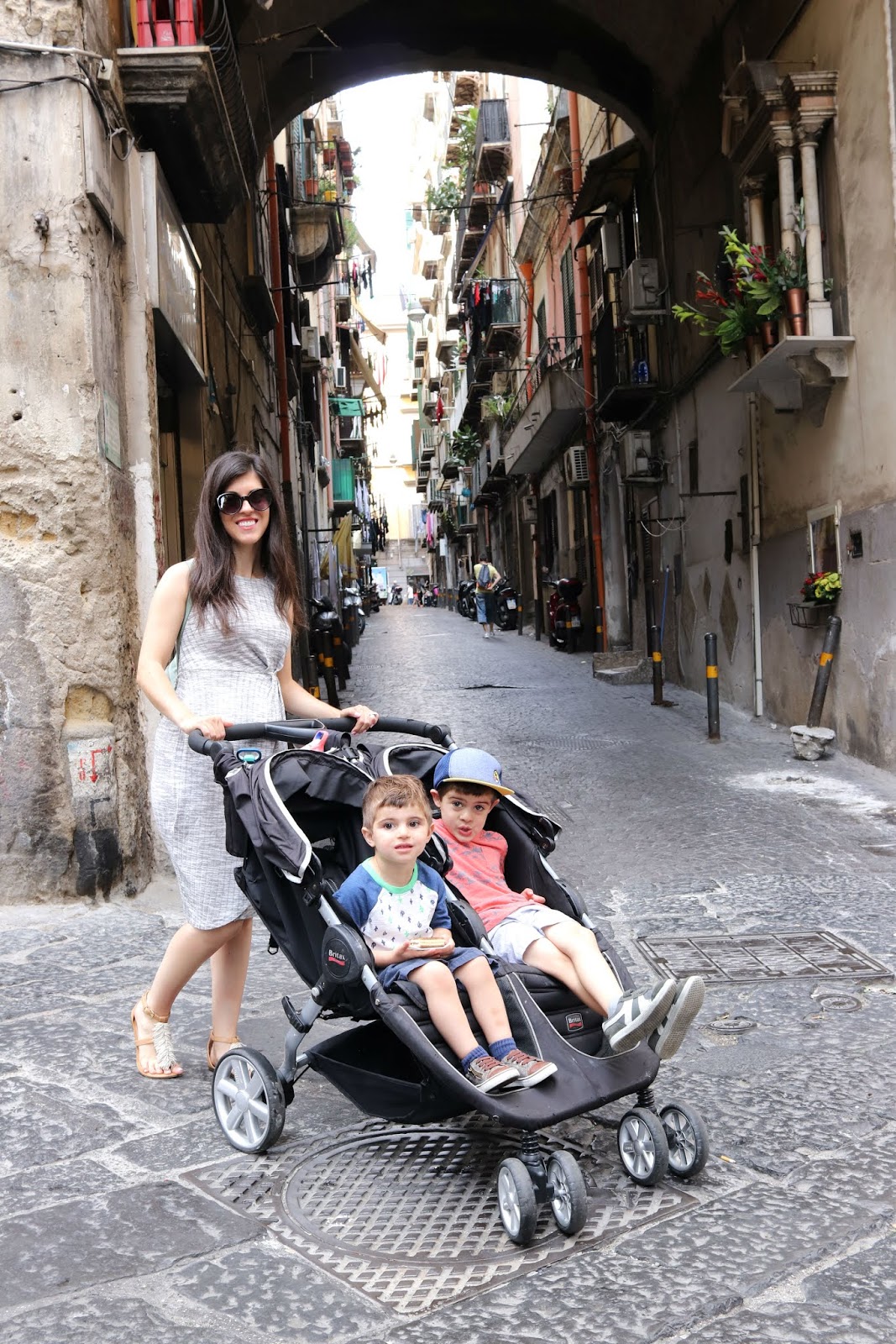 I'm finally getting around to putting some posts together about our Italy adventures. You see, sorting through hundreds of pictures, being pregnant, and wanting to soak up all the summer fun after work—leaves less and less time for this little space. But don't worry, I'll be here as frequent as I can.
The beginnings usually a good place to start, so let's start there, shall we? We headed to the airport to catch our overnight flight and thankfully things went smoothly there. We're really lucky that our airport is a major hub for almost all European travel, so it's really easy to find direct flights that leave at night and within 7 hours or so you're at your destination. The boys did great on the plane and both slept for the most part.
We flew into Rome since that's where we were leaving out of and would be returning our car there. After we gathered our luggage we went to pick up our rental car. I kept joking around with everyone that watch, we'll get some tiny Fiat that looks like a clown car. I kid you not, what did they try to give us? A Fiat, that didn't fit anything more than the stroller, the boys, and I. Looking back we crack up about it because I don't even know why we wasted 20 minutes trying to get the kids seats in, squeeze our luggage in, all to have Eric sit in the driver seat (with it pushed all the way back) and his knees went above the steering wheel. I told him to get out, get out, GET OUT! Because there was no way he would even be able to drive this thing. He went back to the desk and got an upgrade which ended up being so much better for us.
We popped the address of our Airbnb into the gps (all which was in Italian) and navigated our way to Naples. It was only supposed to be about an hour and half drive and all on the main highway, but I guess a lot of the exits going into Rome created a ton of traffic. What should have been an easy drive ended up taking almost three hours. The boys napped most of the drive and it was nice for Eric and I to have some quiet time and be able to chit chat. We laughed a lot about that tiny car and already starting our trip off with some crazy story.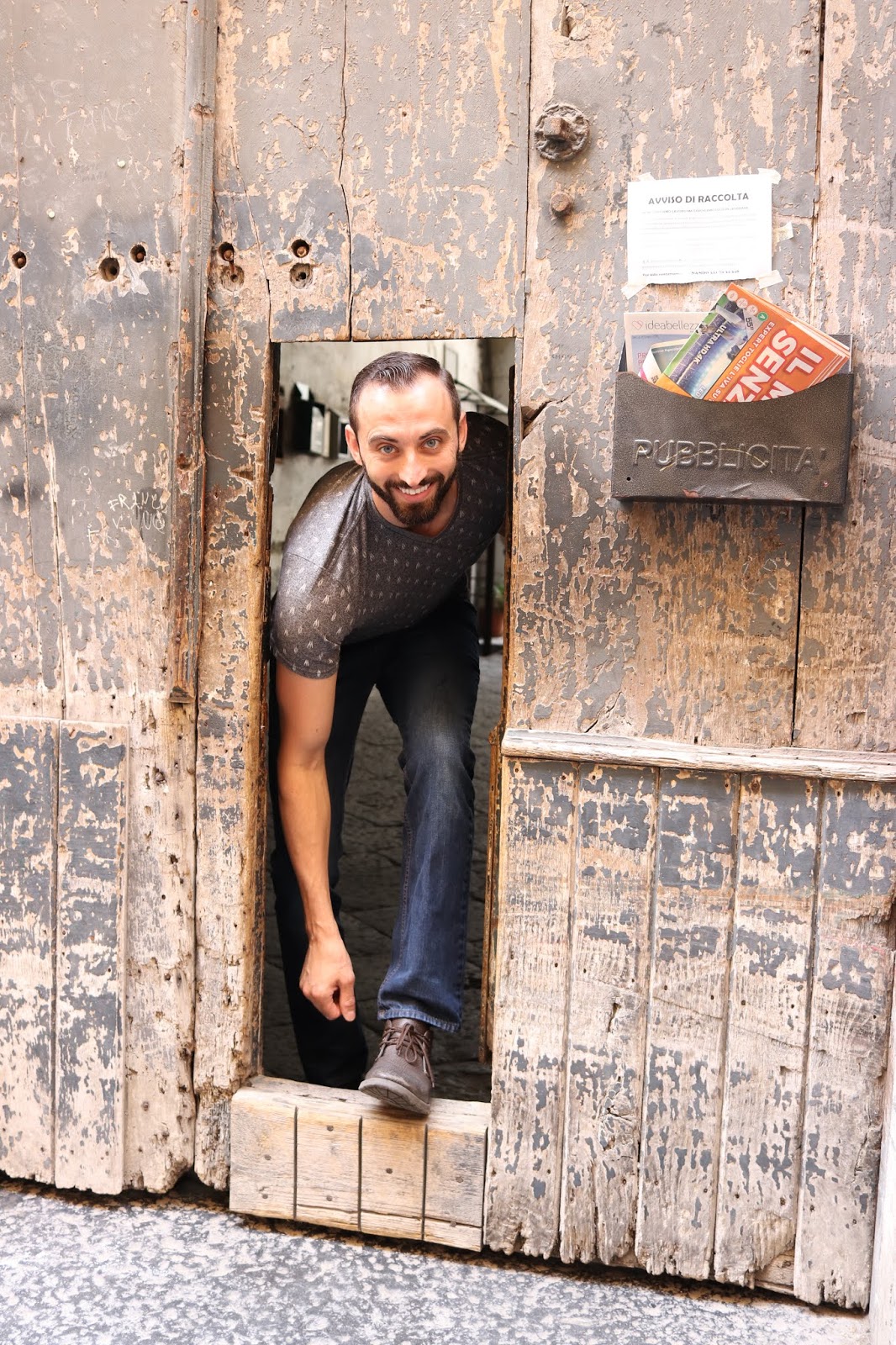 We finally got to Naples and got situated where we needed to be. I've seen small doors in Europe but the ones in Naples were tiny. It was so funny to watch Eric go through them. It wasn't the only access, there were bigger doors that opened up, but I guess these were considered quick access? Let me back up a bit with the whole tiny door and car situation, Eric is over 6 feet tall, so him working with all these little spaces was funny in itself. We headed out to dinner on the Via Partenope that was a street along the water with a bunch of restaurants and hotels. It was our anniversary so we were looking forward to our first real meal in Italy and indulged in all the pasta and pizza.
The next day we wanted to do some exploring, so we had the boys hop into the double stroller and we navigated that thing on those cobble streets like pros. We got a lot of stares along the way because I'm not sure double strollers are really a thing over there. Ours has seen so many miles and has been to several different countries that it will probably feel weird on our first trip that we don't bring it along.
The streets there were so pretty and so amazing to take in. There was a shop for everything and tons of small businesses. There were no huge retailers that were your one stop shop. If you needed your meat you went to one store. If you needed your bread, you went to another. From what I've observed, much of Europe is like that with the exception of some areas. In all my packing for the family I somehow forgot my mascara and needed to buy some. That was interesting trying to communicate that to the locals. After some hand gestures and me talking louder (as if that would help) we learned that a perfumeria is the place to go. Sure enough, that's where all the makeup was, Loreal and all.
We couldn't come to Napoli and not try some of the best pizza in the world. With Naples being the birthplace of pizza, it was pizza heaven. It's very different than the "new york style" pizza we're used to but it was very, very good. The dough is probably the biggest difference and the ingredients being really fresh. Their sauce was not salty, the mozzarella is fresh buffalo mozzarella (no processed cheese), and they are made in these amazing wood burning ovens. We chose to venture to L'Antica Pizzeria da Michele which if you do some googling is arguable the best pizza in the world. There was a line out the door and people had these little tickets with a number on them, much like if you were in a deli line at the grocery store, waiting to be seated. Lunch time seems to be a big thing in Italy. The streets are flooded with people on their breaks enjoying the treasures of their city mixed with tourists trying to visit their top spots.
After seeing the line I thought our hopes of getting our hands on a slice were long gone. With two toddlers and a hungry husband, we were not waiting hours. Oh, and one thing in Italy, there really are no quick meals. Eating is an event. You enjoy it, take your time, and don't plan on being in and out. I went into the pizzeria and asked what our options were and found out that you can order pies to go. Perfect! We placed our order of two margherita pizzas and waited maybe 15 minutes for them to come out of the oven. This place had a system down and probably had at least six pizzas going in the oven every minute. The only downfall, they don't use paper products here, at least we didn't come across any. Like in Italy, at all. Every restaurant uses glass dishes, cups, regular utensils, cloth napkins, so nothing other than some paper napkins here and there—those pizza boxes were the only things coming out of this pizzeria with us. Oh wait, I lied, there are paper gelato cups. We walked over to a local park to indulge in our coveted slices. By this time our pizza had cooled down and was the perfect temperature to take that first bite. It was all the cheese and saucy goodness we had imagined. Now, can I honestly say it was the best in the world? I won't argue it, but I will say, because I'm so used to being around some amazing slices, it's really hard to narrow that down.
After our bellies were full, we loaded up the car and headed on the hour drive to the Almafi Coast. Thankfully this time traffic was not an issue and the drive felt short. The driving in Naples, well, that's another story. Let's just say I am so thankful for Eric's driving skills and getting us around safely. Naples, you sure were an adventure, and I'm glad you kicked off the start of our Italy trip.