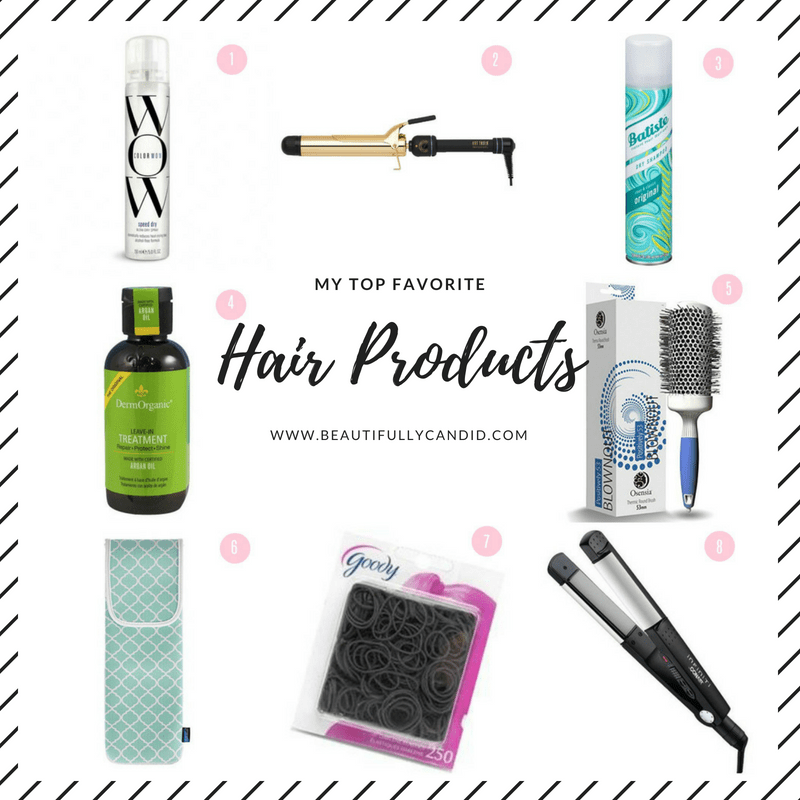 It's sad to admit but my hair is an area I definitely don't give enough attention to. I enjoy doing my hair, and attempting (attempting being the keyword there) new hair styles, but you see, there's this one little issue—time. It's not always on my side. Especially in the mornings when I'm getting ready for work.
At this point I wash my hair 2-3 times a week, and on those mornings when I do, I leave myself enough time to blow it out. If I'm attempting any type of styling that will involve curling or any other added effort, it's usually done on the weekends.
I do have a few key items and products that have been my go-to that help tame my luscious locks. At last that's how my hair is now. After I had my second son it was falling out like crazy and really lost its luster. I'm scared to see what happens this time around, but I'm hoping for the best.
Let's take a look at some of my most used and favorite hair care products.
This post contains affiliate links in which I get commission for purchases or clicks made at no additional cost to you. Thank you for your continued support.
1. WOW SPEED DRY SPRAY:
Aside from using my typical shampoo and conditioner, which I switch it up from time to time so that was too hard for me to label a favorite, I do like to use this speed dry spray which does cut down on my drying time. I have a lot of hair, and pretty thick hair, so it can take me around 15 minutes or so to blow dry. This definitely helps with that and I also feel like it leaves a little extra shine to my hair.
2. HOT TOOLS CURLING IRON:
I have several different Hot Tools products and different size barrels that I use. When I have shorter hair I usually stick to my 1 inch wand and then if I let my hair grow out I will reach for me 1 1/2 inch wand. It also depends on the look I'm going for and how tight or loose I want my curls.
3. DRY SHAMPOO:
If you're a blogger or a frequent reader in the blogger world, then hearing about Batiste dry shampoo is no surprise. I think it's one of those products that was affordable, got a lot of hype, and we all went for it and were pleasantly surprised. I still need to try the one for dark hair, but I think I've gotten a better handle on using the original and really working it into my hair before just brushing it through. Also shaking your bottle before spraying it always seems to help me a bit. I usually let my hair go on the second day of not being washed (I think it actually looks the best then) but by the third day, I am dry shampoo all the way.
4. DERMORGANIC LEAVE-IN ARGAN OIL:
Particularly in the winter my hair tends to get really dry. My ends are always the first to show it and even in the spring coming out of the winter it's still trying to find its way. I've gotten into the habit of using Argan Oil in my hair throughout the year to help offset the damage in the winter and keep it more consistent. I love the shine this gives me and you can use it on either wet hair or I will run a small amount over my dry hair to also help combat frizz in the summer. A little bit of this also goes a long way. It's one of those products that I mainly replace yearly.
5. ROUND BRISTLE BRUSH WITH CERAMIC BARREL:
I've been using a round brush for my hair for as long as I can remember. I've had the same one for years and have a hard time parting with it. Eric's glued the handle for me three times because it's definitely seen its day, but it gets the job done and I'm so comfortable using it. I found one very similiar to mine
because there are certain things I love about mine. For starters, the bristles, they work through my hair the best and I can't do brushes that have those round little balls on the end of them (they always tangle my hair). I also love a barrel that's ceramic and heats up when I blow my hair out so that I can also style it at the same time and not have to go over it with extra heat from a straightener.
6. CURLING IRON/STRAIGHTENER TRAVEL BAG:
While this might not necessarily be considered a hair product, a travel bag like this
has been a staple for me. It's perfect for of course traveling, but even for just throwing it in an overnight bag when visiting and staying with family or friends. I usually keep some of my tools in there and then pull them out as I need them.
7. BASIC RUBBER BANDS:
This is kind of funny to admit, but if you've been following my blog for a while now then you might remember a few years ago Eric grew his hair out and had a little man bun thing going on. You know, when that whole craze was really big. But who can blame the guy, we all jump on these crazy blogging trends from time to time, so why not try out a man bun. Anyway, one day I realized I was missing my hair ties and saw that he was using them. They were not the right size for him, so the nice supportive wife that I am went out to the store and picked up these basic elastic bands for him which worked out so much better. Well, jokes on me because I ended up loving them, especially for doing braids or half-up hair styles that other bands just looked to big for or didn't give it the same feel.
8. CONAIR STRAIGHTENER AND CURLING IRON:
So I've had this straightener for years that also has a built-in curling iron to it. It's my quick go-to if I need to touch up some stubborn pieces or if I get my hair cut with some angles and want to style the front a bit. It will curl my whole head and give it a great look, so I guess I technically have three different curling irons that I could work with. Of course I don't nearly use all of them as much as I could. I've really tried to minimize the use of heat on my hair. I have naturally wavy hair so in the summer I can also let it air dry and put a little hair spray in it and wear it a bit more wild. Either way, this is the straightener I use and it gets the job done.
Now it's your turn to join in on the fun and share your favorite hair products…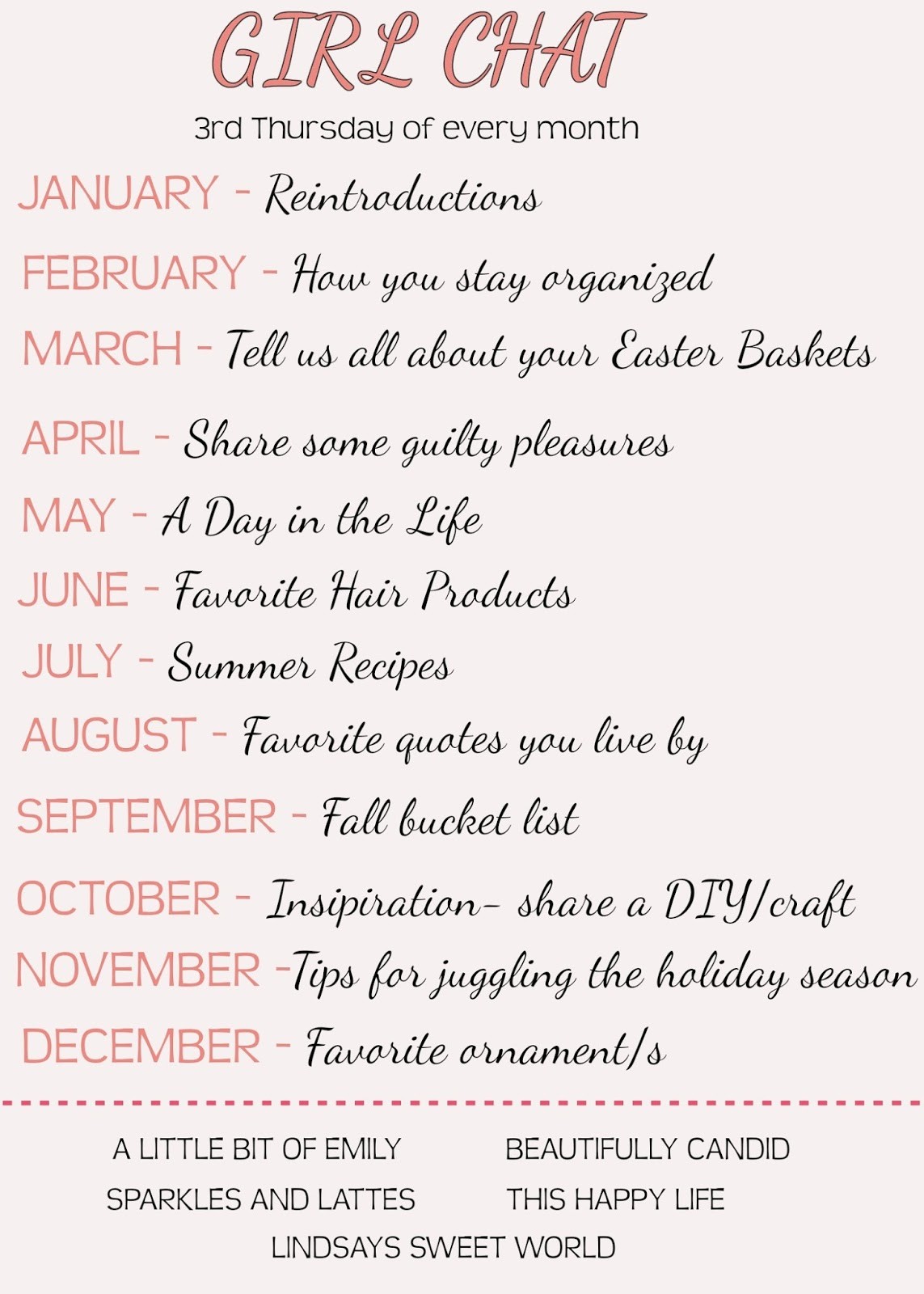 To link up-grab our graphic, link up, and let's get to chatting! Make sure to stop by a few other posts in the link up for an extra bit of girl chat!

And don't forget to follow your hosts!
Danielle – Bloglovin | Instagram | Pinterest | Twitter
Emily- Bloglovin | Instagram | Pinterest |
Lindsay- Bloglovin | Facebook | Instagram | Pinterest | Twitter
Lizzie-Bloglovin | Facebook | Instagram | Pinterest
Sierra- Bloglovin | Instagram | Pinterest | Twitter | Facebook