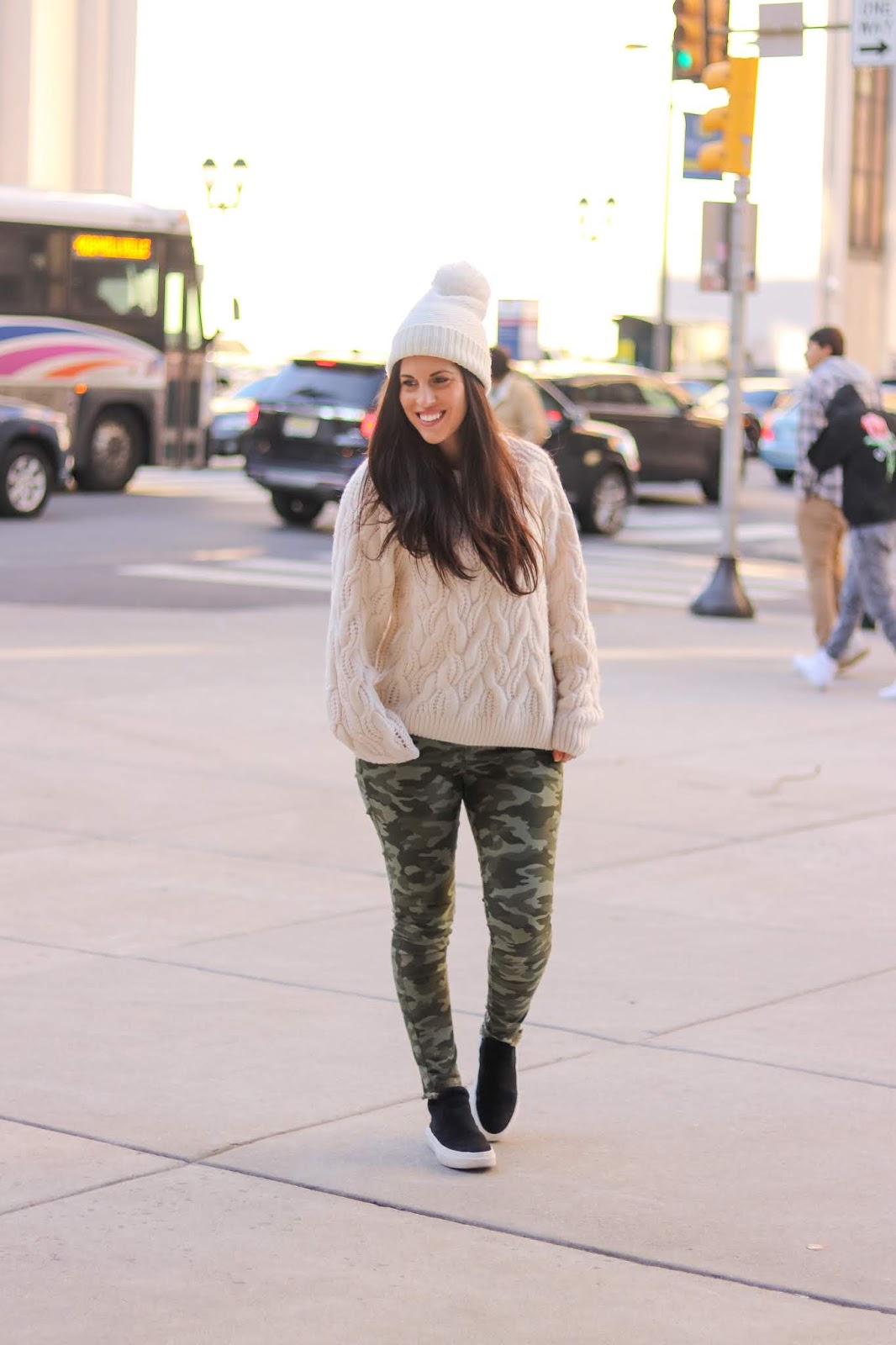 Do you ever just walk into your closet or look into your drawers and feel bored with the clothes you have? This seems to happen to me more recently and I'm struggling for winter outfits that I really enjoy. Maybe it's my body still going through changes and trying to get back to pre baby weight, the fact that I'm not going into the office so my everyday wear has been more casual, or some pieces just feel over worn.
This post contains affiliate links in which

I get commission for purchases or clicks made at no additional cost to you

. Thank you for your continued support.
For some reason I usually save
my camo pants
for fall and spring but don't wear them often in the winter. I wanted to change it up from my leggings or the few pairs of jeans that I can zip up at this point, so I decided to break them out and give them a try.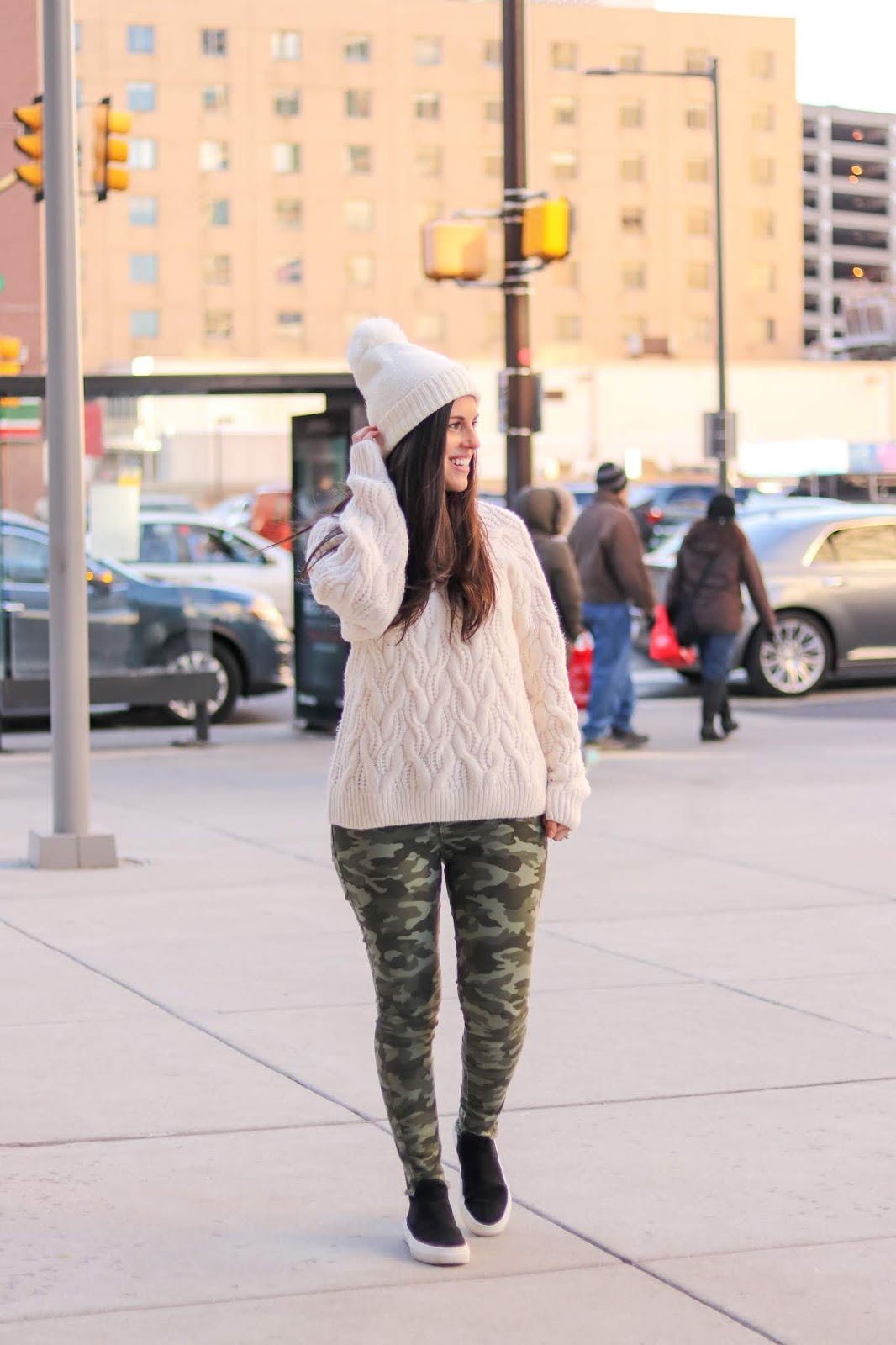 If you caught my insta stories (
@beautifully_candid
) over the weekend you might have seen we ventured into Philly with the boys to kick off Valentine's Day week. The Philly auto show was going on and it had been years since Eric and I went to that location. We had been visiting the auto show in NYC for the past few years but wanted to check out Philly since we're now closer.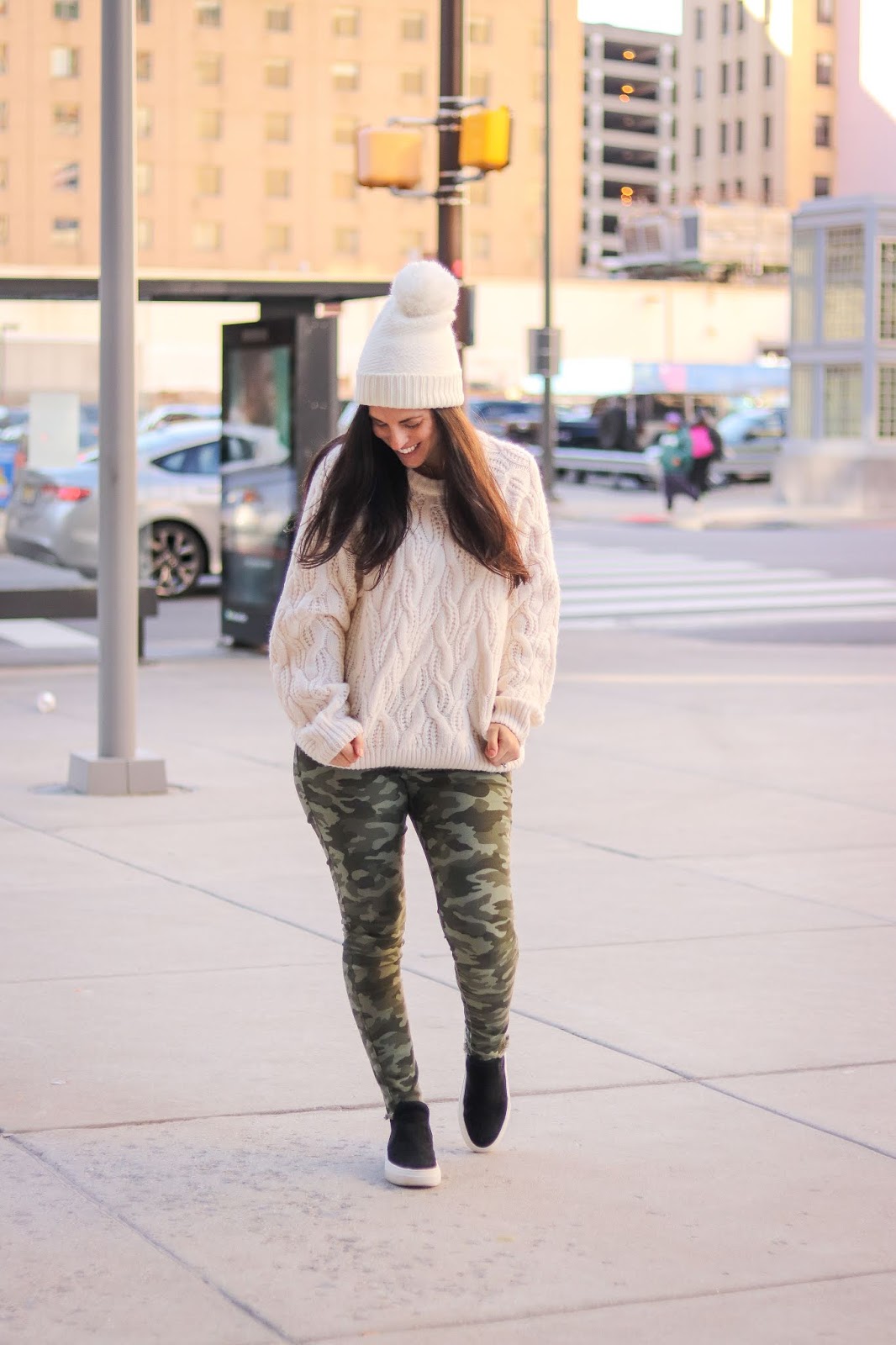 Our weather, like most of the country, has been so up and down lately. We saw 60s earlier in the week and then conveniently dropped down into the 20s over the weekend. We knew we would have to walk a few blocks in the city so we bundled up and ventured in. The convention center is right down the street from LOVE park so of course I couldn't pass up an opportunity to snap a family pic.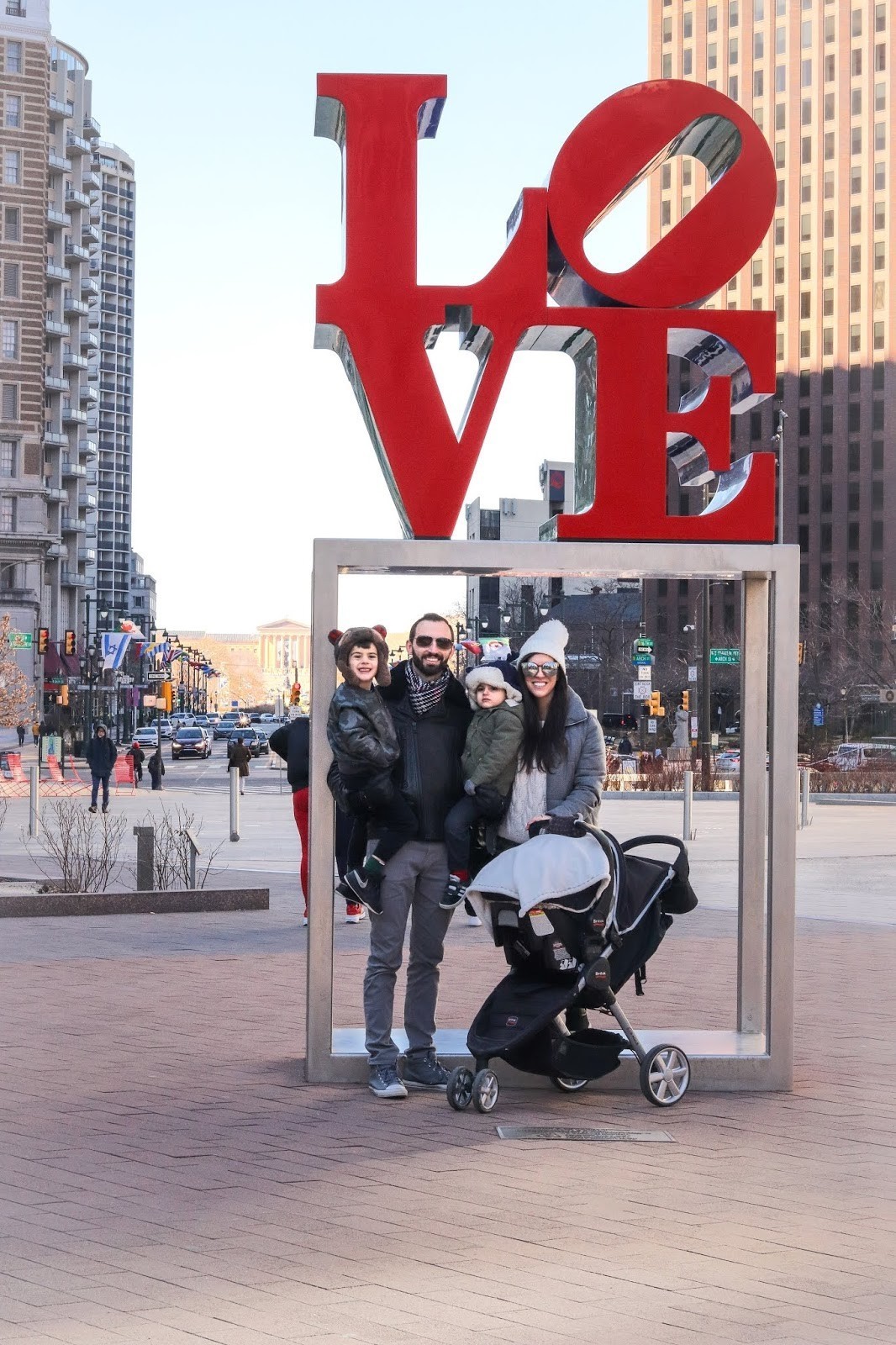 On our way over to the auto show, I saw a spot that I wanted to stopped off and grab a few pictures. Off my jacket went, because #bloggersbelike #ineedthatshot. Haha the things some of us do to get that content #honesttalk.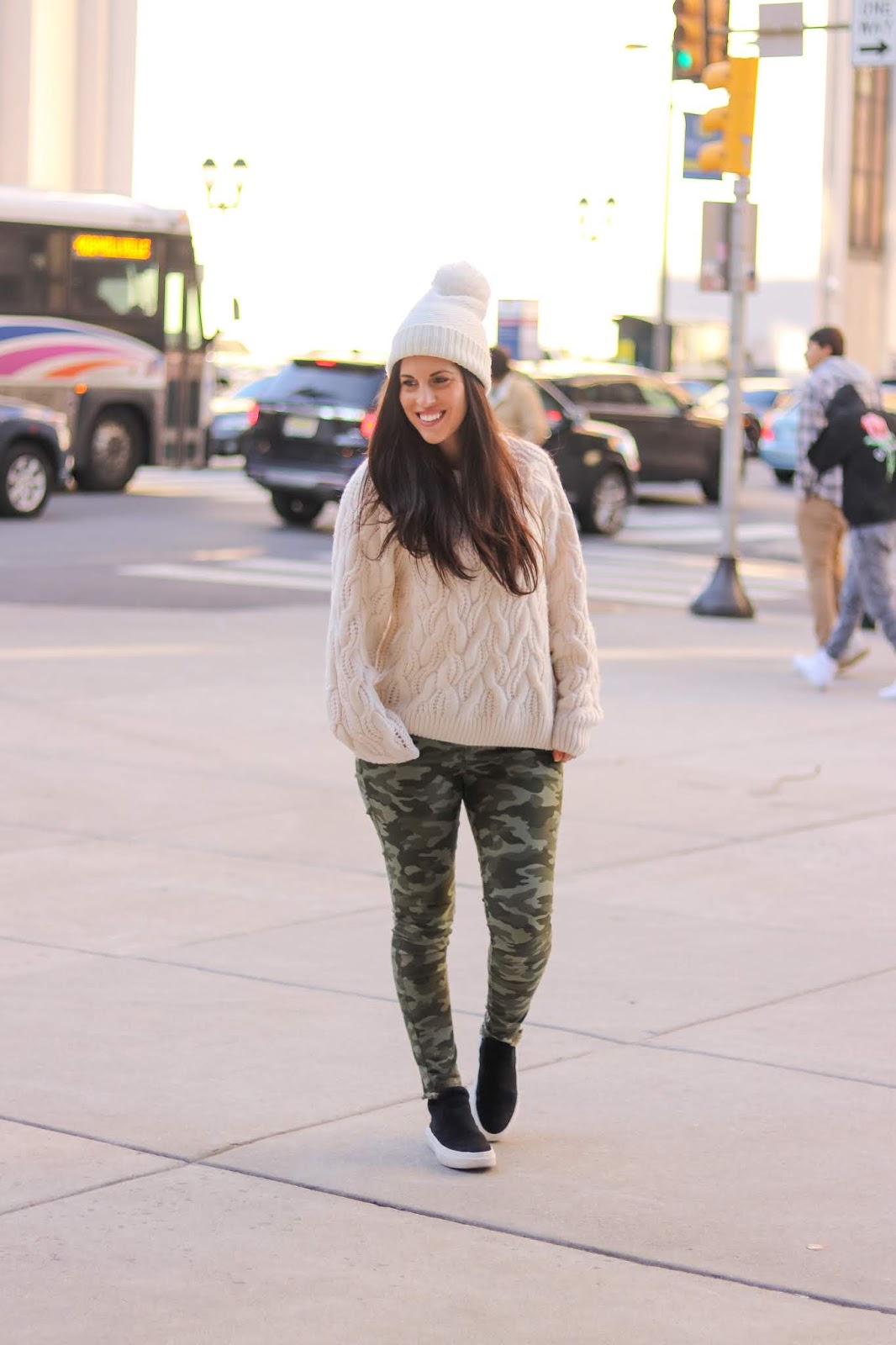 Anyway, I really do love
this cable knit sweater
I mentioned I picked up a few weeks ago. It's not itchy at all and really cozy without being bulky. I love a chunky sweater but some of them can feel so uncomfortable under a jacket. You all know I can't pass up
wearing a beanie
, and I think the light colors of them complimented the camo print. My sneakers I grabbed at H&M on sale for $15 and they were really comfy to walk around in.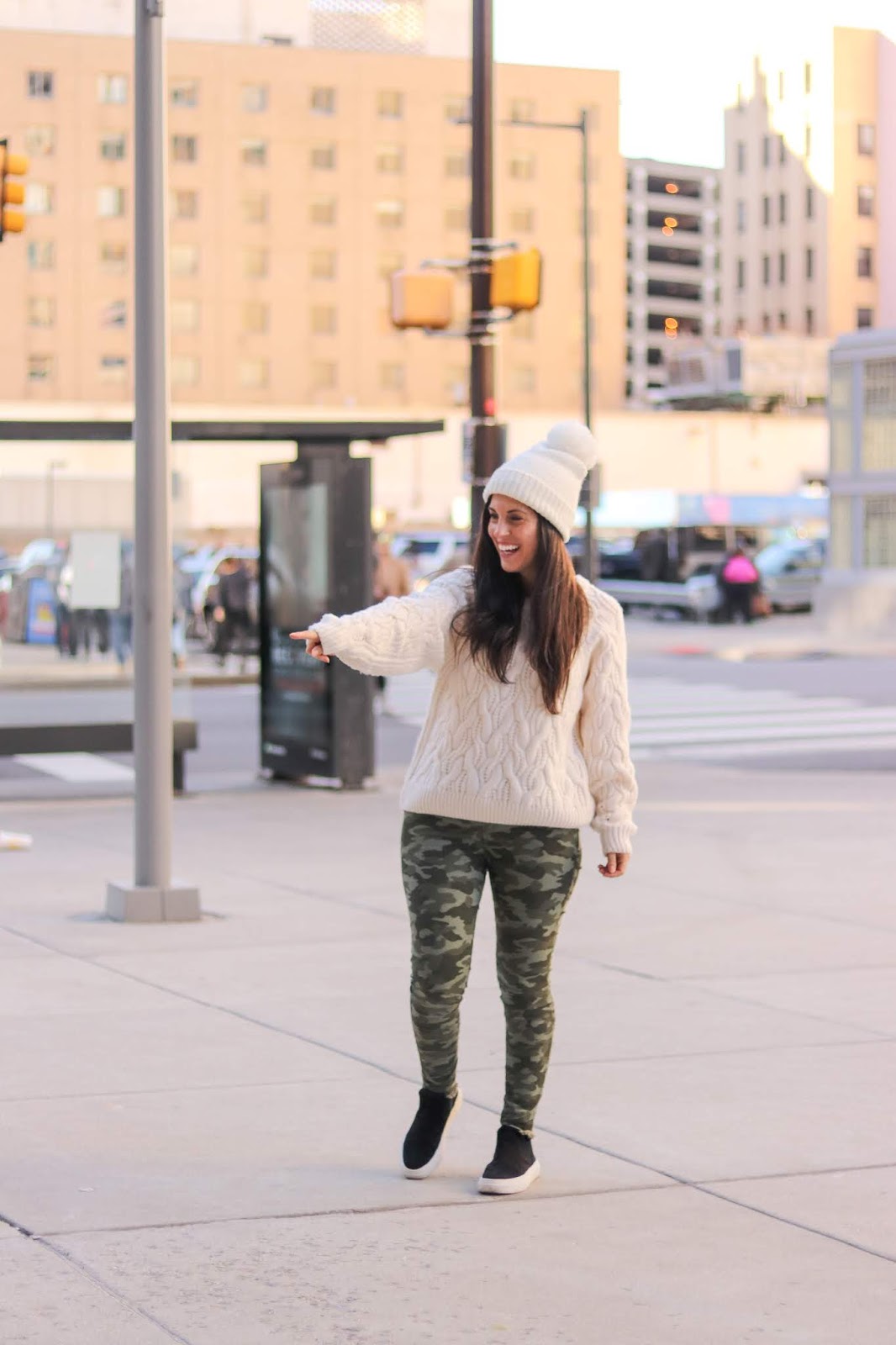 Within these quick five minutes I was freezing my little face off and the boys were running around playing tag and being so silly on the side. A wanted to jump in a pic with me and little nugget thought it was the funniest thing to run in front of Eric while he was taking pictures. It was pretty funny, though.