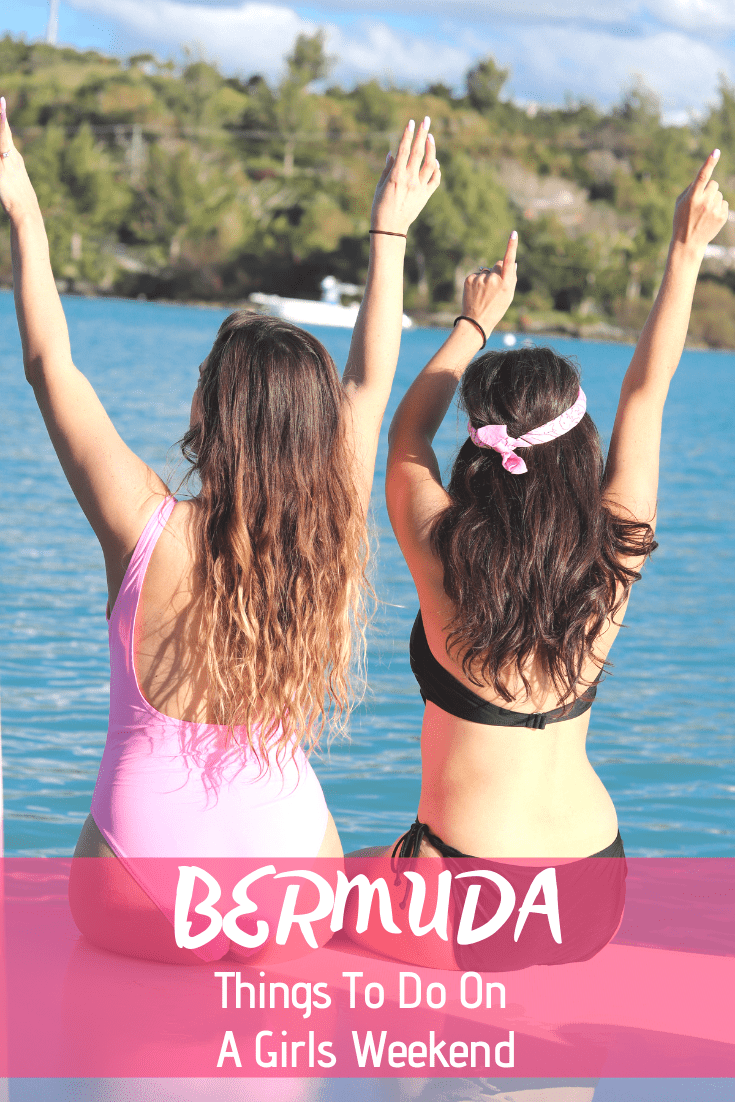 It's been a month since I was in Bermuda with my sister for her bachelorette party. Oh how I miss those beautiful blue skies, warmer rays of sun, and that amazing clear water. When you think of bachelorette parties, Bermuda isn't exactly the first place that comes to mind. I'd like to preface this by saying this wasn't a typical bachelorette party filled with tons of clubs or going out until all hours of the night. It was actually one of the best bachelorette parties/destinations I've been to.
Maybe it's the fact that I'm getting a little older so the appeal of going out late, getting all kinds of crazy, and needing to yell over music to speak to your friends isn't really there for me anymore. Ha! I probably sound so lame. Even without all of that you better believe we had beyond a great time. I'm sure if you caught my stories while I was there you could tell.
I also think a lot has to do with the people you travel with and what you're overall goals are of the trip. It was so great because even though there were eight of us that came we were all on the same page, there was no drama, and it really was just overall so much fun.
We didn't get a chance to visit all the top spots in Bermuda because we also didn't want to feel rushed. When we got to a location that we enjoyed we just lived in the moment and stayed there enjoying it. In talking with a lot of the locals they shared some great spots to check out for a future visit that I'm including in here as well.
Where To Stay:
with so many different options out there to choose from deciding on where to stay can be either really easy or feel like a grueling task. For the past few locations we've traveled to Airbnb has been our go-to. I think there are positives and negatives to using them but thankfully for us they've all been positive. We enjoy resort stays but with a larger group of people or even family, who wants to pay for multiple rooms that only gives you a bed and a bathroom when you can have access to full properties. My sister did so good with finding where we stayed in Bermuda. We did travel off season so the price was a little different, but if you're planning on visiting and can swing the costs with a larger group, I would highly recommend
The Cliff
.
If an Airbnb isn't for you Bermuda has a lot of great resorts. We stayed on the Southampton side of Bermuda as apposed to Hamilton (more touristy) and were next to The Reefs. We went there for brunch and walked the grounds which looked beautiful. In general, Bermuda is on the pricier side so it's about finding a location that's best for you and still has what you're looking for.
How To Get Around:
it's funny when you travel and you get so accustomed to just pulling up an app and before you know it your ride is there, but it's important to remember that it's not like that everywhere you go. Your means of transportation in Bermuda are either by taxi, local bus transportation, scooters (the roads can be windy), or walking on foot.
Where To Eat:
there are a lot of options in Hamilton for dining, and more specifically on front street. As far as I know there are no all-inclusives in Bermuda so visiting restaurants is something that you'll be doing on your trip. Some of the spots we really enjoyed were Henry VIII, Gulf Stream, and the Swizzle Inn. The swizzle inn is a fun place to go grab some drinks. I'd recommend trying the rum swizzle which is what the island is known for. They have a saying when you visit that you swagger in and swizzle out.
Beaches To See:
there's something about knowing you can see pink sand that seems to make Bermuda's already amazing waters even more stunning. The famous Horseshoe Bay was a must on our list and it did not disappoint. It's important to point out that the sand can be more vibrant than other times of the year. From my understanding it all depends on the coral that grows during certain times of the year. Regardless, you can still see that the sand is pink but I can only imagine how even more amazing it must look at peak times. West Whale Bay Beach is another great spot to check out. It's known for being able to spot some whales off in the distance. Our Airbnb had an amazing balcony that overlooked the ocean and we swore we saw a whale, or two, out there. Warwick Long Bay is known as the island's longest beach and a great spot to go snorkeling. Johnson's Cove is known as one of the island's most visually appealing spots to check out with beautiful clear water.
Things To Do:
my sister's fiancé treated us all to a private boat ride to explore the island. We saw some of the typical landmarks, visited a secluded beach, and even ventured into a part of the Bermuda triangle. News flash, we're all ok, but I won't say some of us weren't screaming and freaking out when we passed by a sunken ship with some of the remains still sticking up out of the water. The boat ride ended up being one of the highlights of our trip and we still talk about it to this day. I might have even gotten behind the wheel and drove us around for a bit. Random fact, I do have my boating license because Eric and I used to own wave runners. The Royal Naval Dockyard is where majority of private boat and group tours all leave out of since there are no other docks on the island. That area also has a museum, shopping, and restaurants that you can check out as well.
You could see Gibbs Hill Lighthouse from where we stayed and had every intention to try and make our way up there. After a few rum filled drinks we found ourselves sitting out on the sand and soaking up those rays instead of climbing the 185 steps to get to the top. If taking a hike up there is your thing, we did hear it is a beautiful lookout point and you can see 360 degree views of the whole island. Front Street in Hamilton is known as the strip for shopping and dining and located in the middle of the main island. This is where you'll see majority of tourists and where a lot of the cruise ships direct you to go. We thought about checking out the Crystal and Fantasy Caves but after a few more drinks swimming around in a cave didn't seem like the best idea. If I do make it back to visit it is something I would want to see.
Other Things To Love About Bermuda:
Aside from all of the fun memories that we made and being able to experience some beautiful beaches, the island has a lot to boasts about. It seemed like everywhere you turned you were surround by natural beauty and amazing turquoise waters that made it hard not to fall in love with this place. Everything is so well maintained, the locals were all very friendly, it was refreshing to be on island time, and overall it felt like a very safe island. We only got a taste of what Bermuda has to offer and left all wanting to go back and experience even more.