I'm not exactly sure how to start this. I've been sitting at my computer staring at a blank page with so many thoughts running through my head. I decided I'm just going to go with my heart and hope that by opening up about this topic it can encourage and motivate all of us to pay close attention to our bodies.
We all know that unfortunately we are living in times where cancer no longer has a certain face. It can happen at any time, to anyone, regardless of family history. And thinking more about that, that's a really freakin scary thing.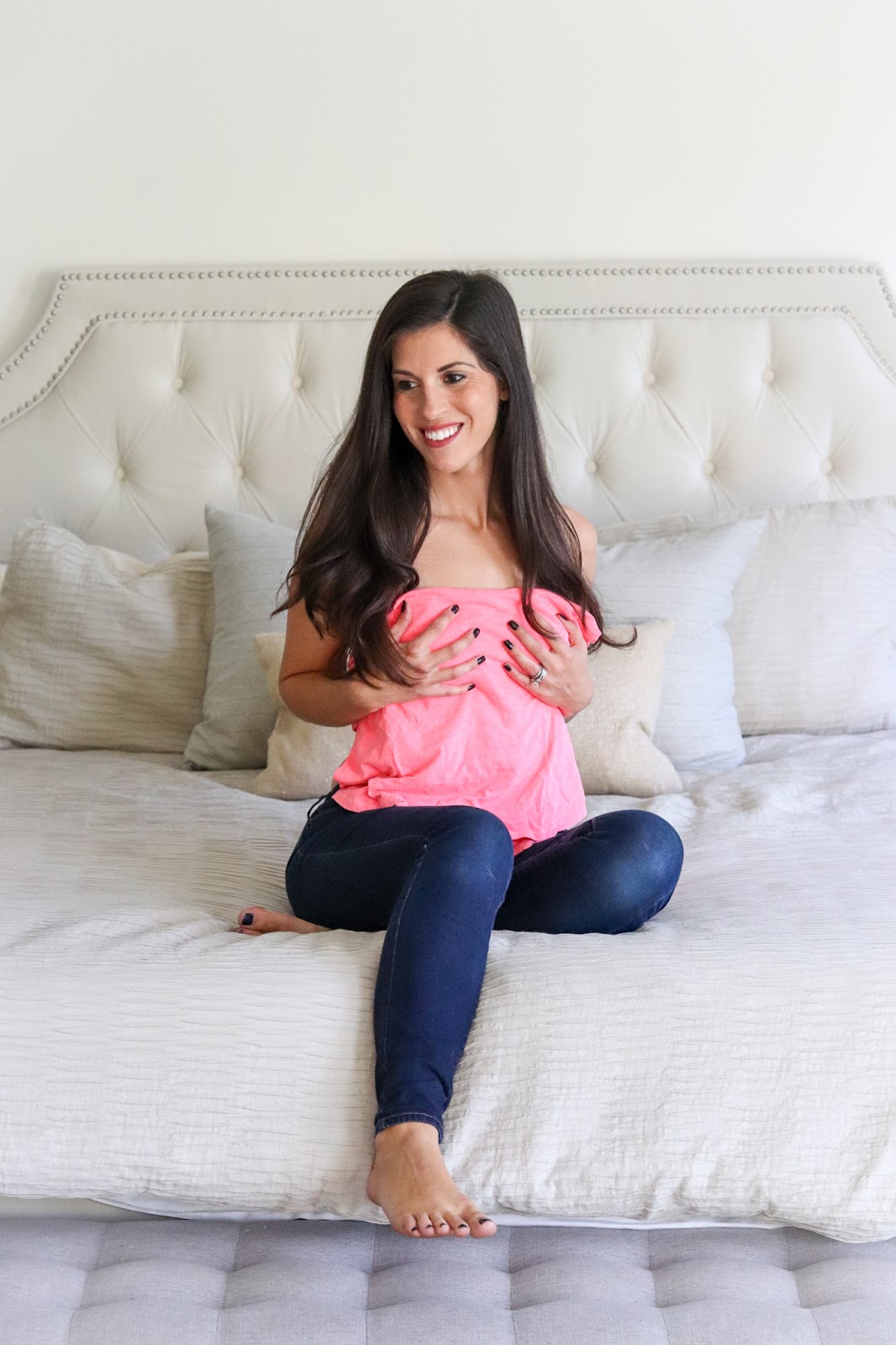 We all know as women we should be doing monthly self examinations, but if we're being honest, most of us are probably scared to do them. I know I was. I was also young and naive when my first lump was discovered. I was at my regular gyno appointment where my physician performed a check and sure enough a lump was discovered. My heart about stopped in that moment. I was 24 years old, about to be married in a few months, and in a split second it felt like my world came crashing down. The next few weeks consisted of seeing a specialist who had some concerns and set me up for a biopsy a few days later. I cannot begin to tell you how incredibly thankful I am that everything was benign and all was ok. I knew very little about fibroadenomas, but did have one friend who also went through something similar. Since they biopsied so much of it out there was barely any left to remove after. I felt like I could breathe again and could go back to being happy and being myself again. I continued to go for follow up appointments to make sure things were ok, but I was happy to put all of this behind me.
Fast forward to a few years ago after I had my second son, and things with my body felt off. I experienced some pain and tenderness that wasn't very common with me. After doing monthly self exams I noticed another lump, now in my other breast. I immediately booked an appointment and had those fearful thoughts and moments come flooding back to me again. I truly feel beyond blessed that this time around it was also a benign tumor. Because of its size and the discomfort I was having, I did have it surgically removed. It was the first surgery I've ever had and I was a wreck beforehand. I remember distinctly it was on one of my good friend's birthday's and I was so thankful my mom was able to come with me. I cried as she hugged me and they wheeled me back to the operating room. No matter how old you are, we all still need our mamas.
To say I am thankful for protection and that I haven't had to personall
y experience something much more serious just doesn't give justice to my gratitude. In the grand scheme of thi
ngs, what I went through is nothing compared to some of the journey's so many brave women, and even men, have had to face.
I had the opportunity to sit down with Lori for a one-on-one interview. You guys, I'm not going to lie, I was a little nervous because I didn't realize I was going to actually be sitting down with her. Ok, maybe more like a lot of nervous, and I might have tripped in my heels twice because my legs buckled. Just saying. I had a moment of panic before I went in there, but gave myself a big girl talk, and said, you got this, you can do this! I might not have a job lined up as the next big-time interviewer, but Lori was super nice and made me feel so comfortable. We even got to chit chatting about family and she started following me on Instagram! She really is very genuine and her witty personality could have had me sitting there talking to her all night. These answers are paraphrased and not exact quotes, but here's how some of our interview went…
ME: Many women are traveling on a silent journey through breast cancer but you've chosen to be very vocal about it. What made you want to share your story?
LORI: We all know that we should be doing self exams and that there are resources out there, but even I almost put off my annual mammogram. If it wasn't for having a great Doctor that pushed me to make time for my mammogram, my story might have ended very differently. It's important to encourage women to get your annual checks and not put things off. I was fortunate to have things caught very early.
ME: What helped sustain you through your journey with breast cancer?
LORI: Family and faith. My husband Eddie helped me through so much (he was in the room with us, and had on the best pink socks by the way) and I had a lot of support from friends and family.
ME: Switching gears for a second, let's talk bridal! What can we expect to see as bridal trends for 2020?
LORI: Oh honey, I'm so excited to see many more bows. I love a good bow. And more embellishments. We're also seeing a lot more dresses with sleeves, like we did last year, but even more this year.
ME: You mentioned before about your body going through changes during your treatment (we also talked about this), how do you go about making a bride coming into your salon still feel beautiful if she's also battling cancer?
LORI: I've helped a lot of brides that come into the salon who are going through cancer. I tell them to embrace those scares. They are still beautiful and should feel beautiful.
ME: If I could take one thing back from our time together that I can share with my readers and community, what would you want them to know?
LORI: That obstacles you face don't need to be the end all be all, it's just a chapter in the journey. It doesn't have to be the final stop. I have a book coming out on July 14th, that's titled, Say Yes To What's Next. It's an insightful look at our lives and encouraging others to embrace what's next.
After my time with Lori I went back into the event to enjoy dinner and a fashion show by a local bridal and evening wear boutique where all of the dresses were modeled by women who have fought breast cancer.
They all looked so beautiful and it was wonderful to hear a bit of their stories and the journey's they've been on.
They also had physician's from
RWJBarnabas Health
share more about their perspective and some of the techniques and medical treatment offered.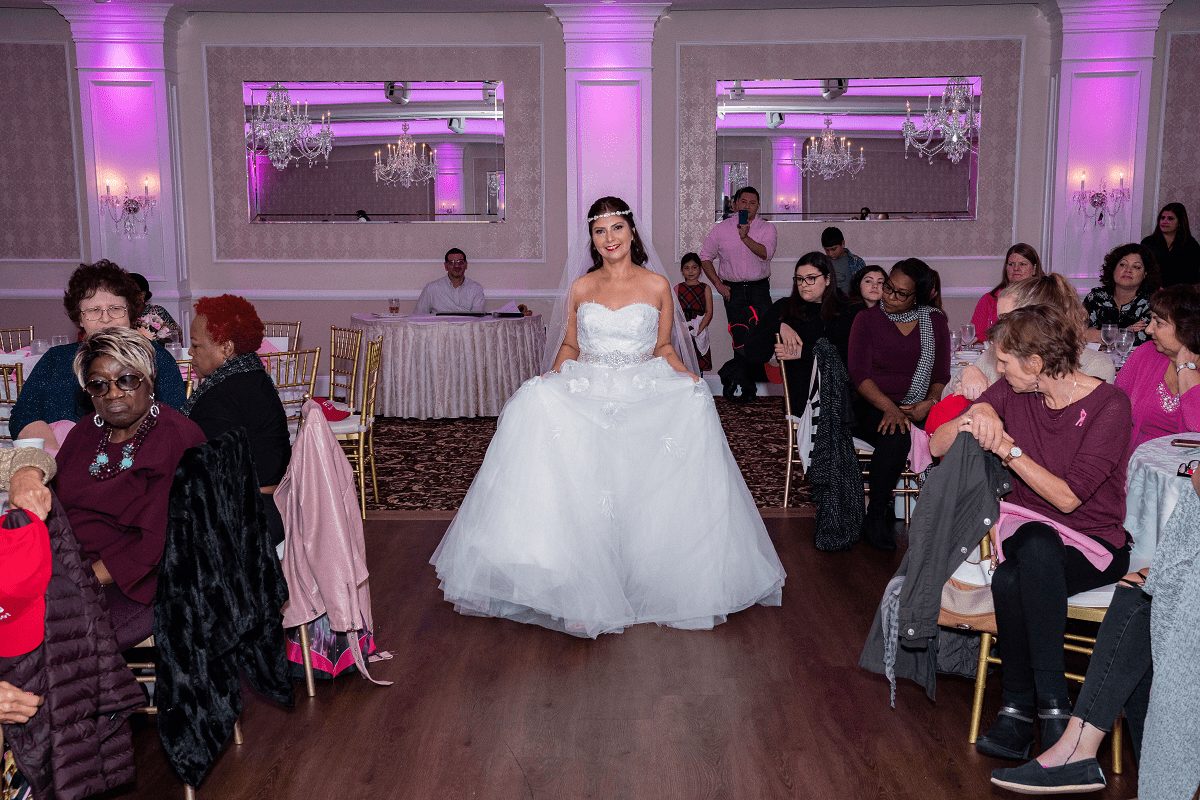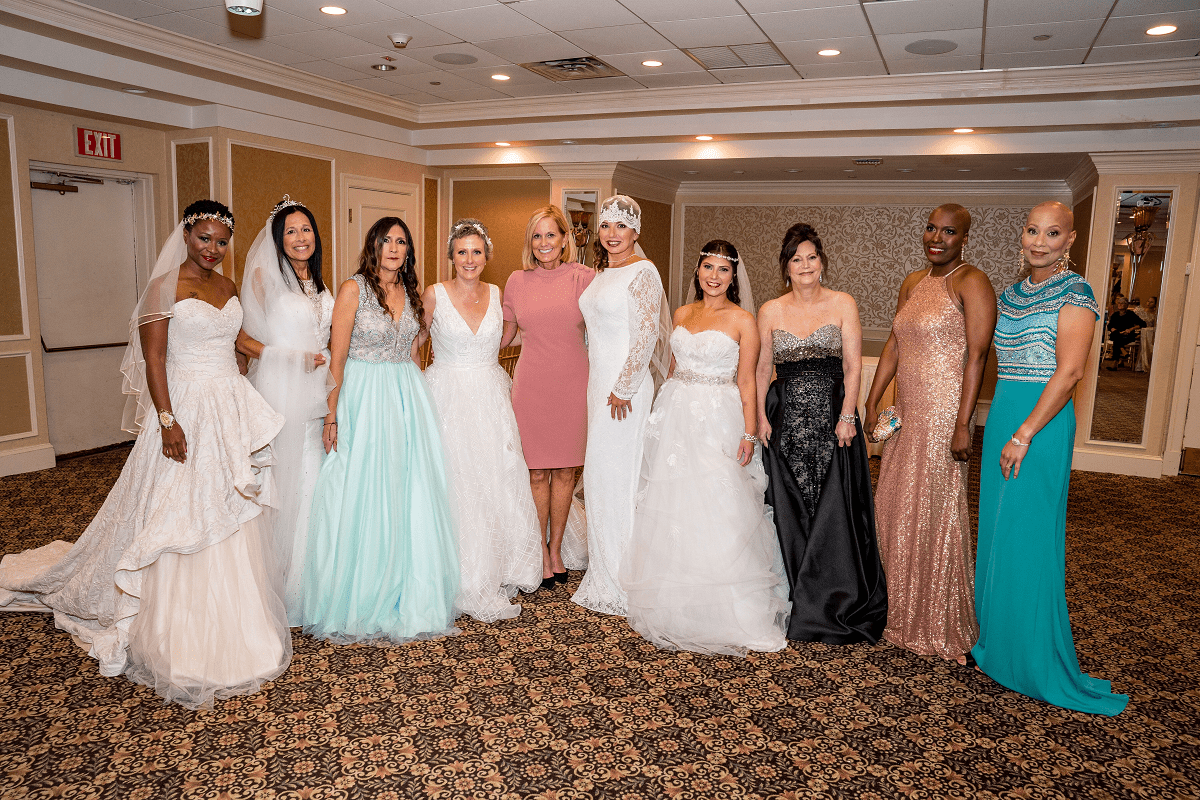 I also really liked how

RWJBarnabas Health

had tables out in the lobby area with information and resources available for everyone to check out. They also had a table from their Sanofi US Wellness Boutique that's onsite at the

Robert Wood Johnson University Hospital Somerset

located in the Steeplechase Cancer Center. The boutique is there to help cancer patients look, feel, and be their best. The boutique features a certified fitter, who is specially trained to help with breast prostheses, lymphedema garments and wigs. I thought this was such a great benefit to have to help patients feel better and know there are options for them

.
During the event I was able to chit chat with all of the women sitting at my table who varied from volunteers at the hospital, a mother and daughter enjoying a night out, and three women who were lifelong friends which one of them is a breast cancer survivor. It was so inspiring to see true friendships and support for one another. We all enjoyed hearing more of Lori's story as she talked about her journey, enjoyed a few laughs as she shared some behind the scenes about the show, just how crazy Monte really is, and seeing her hilarious personality shine through

.
I left the event feeling thankful, inspired, and in awe of the courageous women who continue to have a positive outlook on life even though they have been through so much

.
Thank you to

RWJBarnabas Health

and

NJMOM

for the opportunity to be apart of an inspiring night and to be able to share more with all of you. We can always do better together. Let's all do our part to help protect ourselves as much as we can and know that early detection is key

.