Happy Friday, friends! I hope it's been a great week for you. It has been a whirlwind over here. I can't believe Christmas is around the corner. I wish I could say I feel set with everything but that is just not the case. I feel like every year I go into the holidays with the best intentions of getting a head start with things, and then life happens. We have been focusing on helping C with his recovery after surgery this week and boy did he give me a scare for a minute. Let's get into all of that, shall we…
Surgery Update:
this is a bit of a catch22 for me because I don't know that I would really consider it a favorite. I know the end result will be more of a favorite, but the surgery and everything else, not so much. If you haven't been keeping up with us lately (ha, I sound like I'm at some sort of Kardashian status. Obviously, not the case) on Monday, our youngest son who was born with a
bilateral cleft lip and palate
had his fourth surgery of the year. This time it was to close up his soft palate. I shared a lot more on my instagram (
@beatifully_candid
) and the support, prayers, and encouragement meant more to us than you all will know. Basically his entire mouth was open and they needed to rework muscles and close everything up. This was a more intense surgery because it affects things long-term, like his speech and nasal cavities.
Overall the surgery went well but I shared in my insta stories what happened after. While he was in recovery he swallowed a lot of junk that he should have coughed up. He started having difficulty breathing and they were having some real concerns. They went in to suction things out and at that point I had to step outside of the room and Eric had to take over. Anyone who knows me personally knows that unfortunately I have the weakest stomach when it comes to anything medically related. I'm known to pass out or get sick, and well, it's a big mess and I am a big baby. It's pretty sad. Anyway, back to my sweet boy. They did what they needed to do and put him on oxygen. There were talks of having him go to the ICU so that he could have closer monitoring but thankfully his breathing picked up and all was ok. I can't even being to continue to emphasize how he is such a strong and brave little guy. He continues to inspire me and show me what courage and perseverance is all about.
We did spend time in the hospital and were all looking forward to going home. It was pretty hard being in the hospital this time of year. My heart broke seeing all of the kids and thinking about how we get to go home and some of them won't be able to be home for the holidays. There were so many times Eric and I teared up and kept telling each other how blessed we are. Just a little reminder to hug your little ones extra tight and always count your blessings.
Christmas Tree:
having a fresh Christmas tree has been a favorite of ours for years. This year it was extra special that we got to
cut one down from our own yard
and have our friends there to experience it and also enjoy getting a tree with us.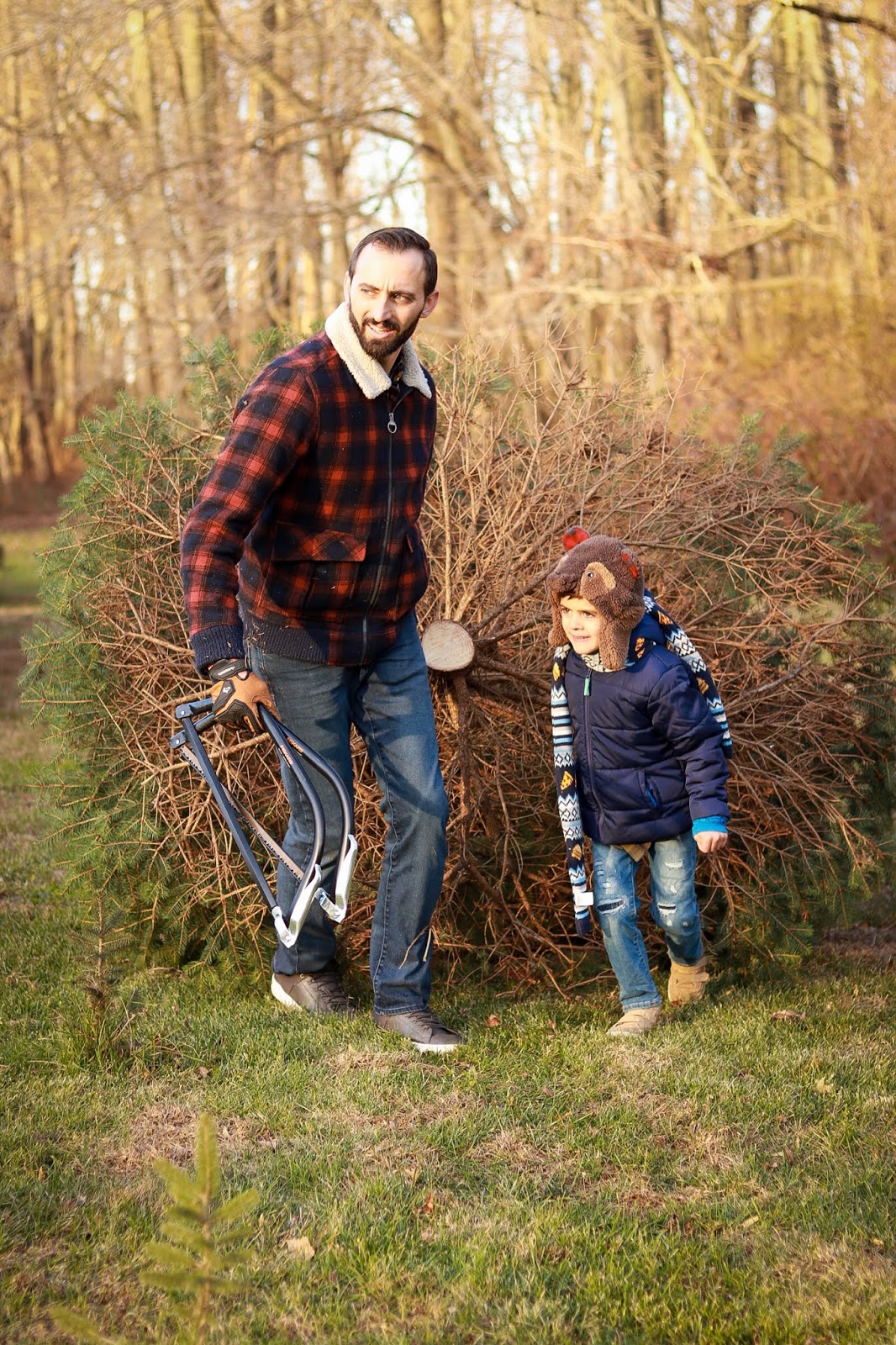 Ninjabread Cookies:
i picked up this really cute
ninjabread cookie decorating kit
at aldi and the boys loved it. It was one of the gifts our elf, Alvin, brought the boys during his special
welcome back breakfast
. The fun shapes and silly ninja moves had the boys all excited and we really had fun with this one.
Longwood Gardens:
one of the things we love as a family is adventuring on day trips to local areas within reason and experiencing new things. I recently had the opportunity to partner with The
Greater Wilmington Convention & Visitors Bureau
for a fun outing. I always heard such great things about visiting Longwood Gardens but never had the chance to. I was so happy that we went and got to experience some Christmas magic. If you're around the area and have a chance to visit I would highly recommend it. They also had a lot more for kids to do than I thought. We also had the chance to visit the Brandywine River Museum of Art where the boys loved spending time in their train room.
Favorite Finds:
This section includes affiliates links. Thank you for your continued support and happy shopping.

who else still has shopping to do??? My mom watched the baby for a few hours so Eric and I could run out for a bit to try and get somethings crossed off our list and majority of things were picked over in stores. I was kind of bummed because I was really hoping to get done a lot more. Thankfully there is still online shopping and different shipping options. If you're looking for a book option for a special little one in your life
The Pine Tree Parable
is a cute one with a really great message. This book is very dear to us and was given to us by good friends before we moved.
Did anyone else catch Target's sweater sale? I love
this tunic sweater
and my favorite
animal print one
is on sale for $15. I love thinking about stocking stuffers or getting a theme type gift together. I'm doing a beauty basket for someone and I loved the price of these
facial cleansing brushes
and how small they are and easy to pack for travel. I also love a baking or kitchen type themed gift and this
hedgehog measuring cup set
is about one of the cutest things I've seen. I have
these sweater knit lounger leggings
in my cart because they look so comfy and I could think of a few people who would enjoy them, and
these baby booties
are adorable. Although, my little guy is very against wearing shoes so we're working on that.
I hope you have a great weekend!