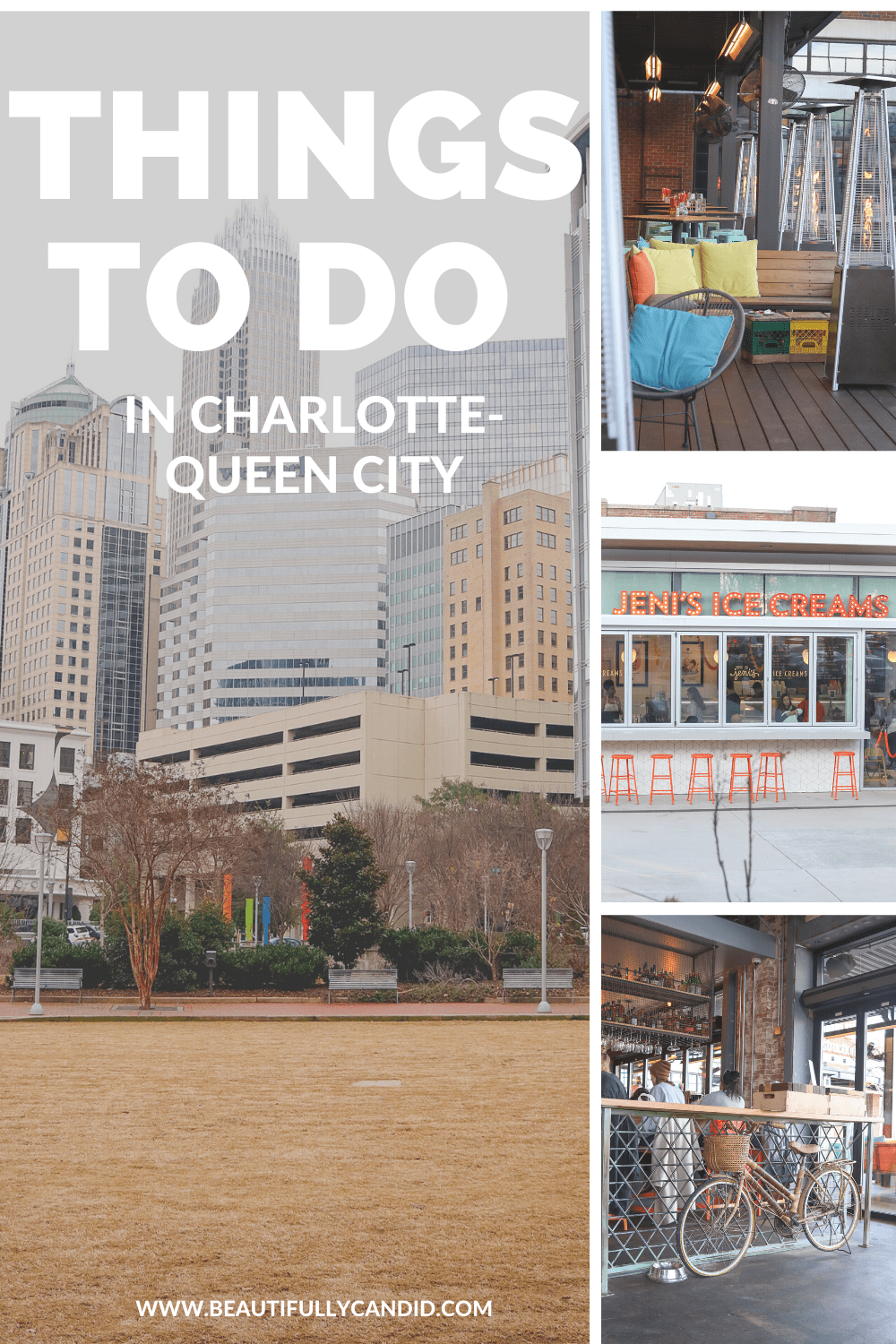 I can get easily excited about a lot of things, and one of them is exploring new places. We have some repeat areas that are fun to visit, but when you know there is a whole world out there to see it's hard not be drawn to areas that you haven't seen before. At least for me, that is. Like, Charlotte. I had never been before and if it wasn't for the deal of all deals that we found on flights, I'm not so sure it would have been on my list. Not in a bad way by any means, it just wasn't one of those cities that was high on my list of must-go places.
When my sister mentioned doing a girls weekend with her and my mom, of course I was up for it. It was exactly a year since her
epic bachelorette party in Bermuda
and while we might not have had the views or most beautiful scenery that we were graced with on that trip, we found a lot of things fun about visiting Charlotte.
Charlotte is coined, The Queen city because it was named for King George III of Great Britain's wife, Queen Charlotte. Like most cities, Charlotte has various parts and neighborhoods you can explore. What I really enjoyed is that overall it did not feel like a huge city or one that was difficult to manage. We had no problems getting around and were able to easily navigate things.
In my opinion, it's not a very busy city. It reminded me a bit of Pittsburgh how it seems like majority of the hustle and bustle is more Monday-Friday when a lot of the businesses are open. This made it great for us because we got to explore a lot without feeling crowded or rushed out of places with still plenty to do for a weekend getaway. What we did was double checked the times of some of the restaurants and places we wanted to checkout because some of them were only open during certain times. I would recommend doing this if you are going over a weekend and also calling to make reservations to confirm.
I wanted to share more of what we did and places we checked out in Charlotte in case you are thinking about a trip or even have a visit coming up. In talking with some of the locals, they mentioned it's a big pass time city. Meaning, a lot of people come out for work trips and or even to visit their sporting teams as both the Charlotte Hornets and Carolina Panther's stadiums are right in the heart of the city.
Even though Charlotte has a lot of high-rise buildings and even more coming as the city is quickly on the up, it's not overly huge and a trip that you can easily do in a few days and feel like you got to experience a lot of what Charlotte offers.
BRUNCH:
it's no surprise brunch is one of my favorite meals, ever. Gosh, there is so much to love about it I could brunch all the time. Charlotte had some fun brunch spots to check out and some had great outdoor seating with gorgeous views of the city. We enjoyed brunch at 204 North with some tasty menu options. We were lucky to get a table right by the front window for some natural light and views of people passing by. The only thing I wasn't really impressed with was one of their appetizers we got, they switched out crostini's for crackers and in my opinion it ruined the whole dish. If you stay away from the cheese platter, I think you'll be ok. The next spot we went to was a bruncher's (is that a thing? Maybe it should be 😉 paradise. Fahrenheit Charlotte had spectacular rooftop views with an expansive brunch menu, their brunch pizza was one of the best brunch menu items I have ever tasted. As far as I know it's only offered as a special from time to time. They had $5 mimosas and bloody mary's with a cart that came around and you could pick what you wanted to add to your drink.
ROOFTOP LOUNGES:
speaking of views, let's talk more about those rooftop spots. I would put
Fahrenheit Charlotte
back on the list as lounge spots as well. We also loved
Nuvole Rooftop TwentyTwo
which was a great spot to checkout for some night time views. When we went they didn't even open until 5pm. If you caught my insta stories you might have shared in those views with me. Some other great spots are
City Lights Rooftop
,
Whiskey Warehouse
and if you're looking for more of a trendy night scene then
201 Rooftop at Epicenter
would be a place to check out.
WHERE TO STAY:
as much as I love a good Airbnb, there are a lot of nice hotels in Charlotte with reasonable room rates that were actually better than the prices of some Airbnbs we found. I also enjoy a treat every now and then with the luxurious feel of a hotel stay. We decided on the
Omni Charlotte
and really enjoyed our stay. It's conveniently located in the city with many attractions within walking distance, spacious rooms, and they also had a great pool deck. We also checked out the
Ivey's Hotel
which looked amazing, but in keeping with a budget, we decided maybe next time. It's located down the street from where we stayed and the nice part is, majority of the hotels are around each other.
SOUTH END AREA:
what I really liked about Charlotte is how you can enjoy the feel of the city with parks, restaurants, and amazing views, yet take a 7 minute Uber ride (at least from where we were) and head to the south end area where you are greeted with a completely different feel. One of my favorite cities is Philadelphia, and if you've ever checked out the Fishtown area, it reminded me of that. South End is very trendy, a bit hipster, but something for everyone. It has a lot of restaurant options and trendy micro breweries to check out along with some shopping and an array of street art. I already shared we checked out this popular confetti heart wall that makes for a great backdrop to be able to snap some fun pictures. We ate at Superica, Hawkers, and heard great things about Barcelona Wine Bar and also found out they have several locations in other states. Some breweries to check out would be Triple C, Wooden Robot and Lenny Boy. And if you're looking for a sweet treat, there must be something special going on at Jeni's Ice Cream because the line was out the door for over an hour. We were so tempted to wait to see what they hype was all about, but we will have to always wonder, for now.
THINGS TO DO WITH KIDS:
even though we were on a girls trip without kids, I saw a bunch of different things that if my kids were with me would could have done. I figured I might as well share them incase someone is thinking about a family trip. We stopped in
Discovery Place Science
and this is where I ended up getting all of the boys souvenirs. They had so many fun things here that I loved how education was incorporated. I can only image the science center in itself has a lot to offer. We also heard a lot about
Carowinds
and could see it from some of the rooftop spots. There's also a
Raptor Center
and
Sea Life center
about 20 minutes outside the city.
PARKS AND OUTDOOR SPACES:
it's always nice that even when you're in a city surrounded by buildings and tons of concrete, you have the option to escape a bit and enjoy some outdoor spaces and city parks. Some of them had great views and others felt like you were miles outside of the city, yet you weren't. A few I would recommend to check out would be Romare Bearden Park, Freedom Park, First Ward Park, and Marshall Park. I'm sure depending on what time of year you go these might even have more going on with festivals and vendors to explore.