Looking for ways to keep your kids occupied while they're outside? I'm sharing some of my kids favorites that help keep them entertained.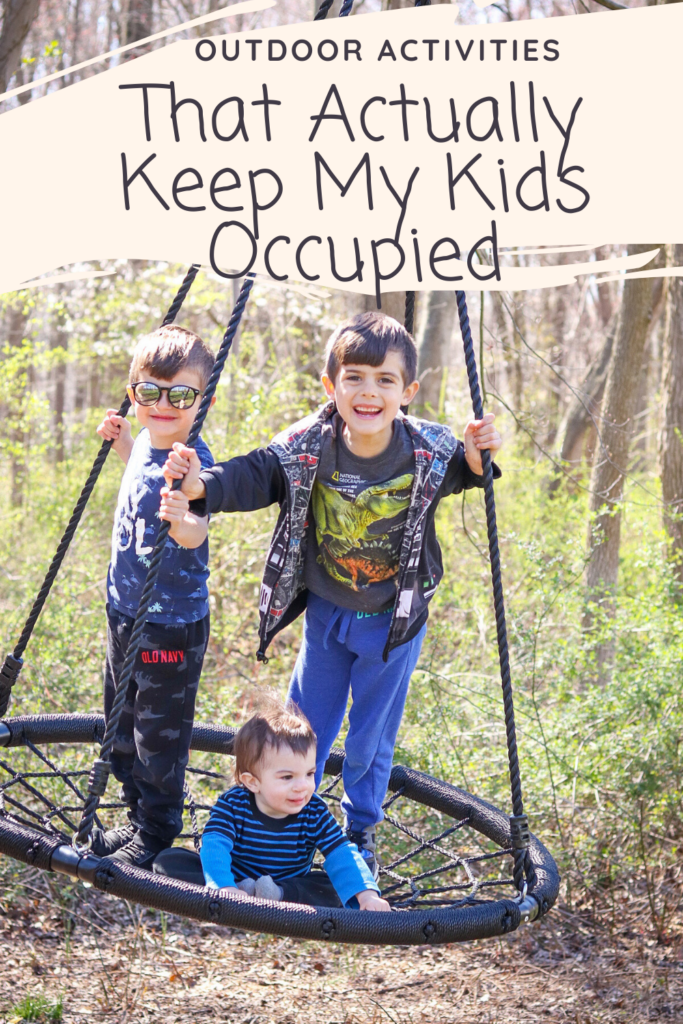 I think most of us can agree that it can be rather frustrating when we purchase something for our kids with high hopes that it will keep them occupied. Of course every child is different and what works for one might not work for the other, but in an effort to help bring some new outdoor activities to your attention during these uncertain times, I wanted to share what has actually kept my kids occupied for more than five minutes.
As a parent who has to juggle many different things throughout the day it can be really hard to find a balance to get all the things done and keep your little ones entertained. While it has been a huge blessing having extra family time throughout all of this, I'm also not going to lie, mama needs a break here and there.
My kids are at an odd age where they don't always keep themselves occupied and want my husband right along side them playing. While in a normal situation that would be completely fine, but trying to keep them quiet during conference calls and other responsibilities, that isn't always feasible. Thankfully there are have been a few things that we can say, go outside and play with this, and they will stay occupied for awhile without having to be handheld.
So what are some of our favorite outdoor activities you say? I'm glad you asked. Let's take a look at some these gems that have given us a bit of breather.
This section includes affiliates links. Thank you for your continued support and happy shopping.
SPIDER SWING
If you caught my instagram you might have seen this new spider swing has been a big lifesaver for us. My older boys love it so much! They are at an age where they can push each other or even run and jump onto it. Of course when the baby is on there with them we are right there supervising.
STOMP ROCKETS
These rockets have been so much fun for my guys. They got a dual set of stomp rockets for one of their birthday's and it's been great they can both go at the same time and see whose traveled up into the sky higher. We also have the ultra rocket which has been great to use as well.
BUBBLE MACHINE
Ok, I have a confession. We have not had the best of luck with bubble machines. There are some cute ones out there that don't last long, take a ton of batteries, and before you know it something isn't working. I happen to think bubble machines are a risky purchase, but when I overheard my second son asking his pet rabbit for a bubble machine for one for Easter I didn't have the heart not to have the Easter bunny come through on it. Thankfully we found this rechargeable bubble machine that doesn't take batteries and makes a great deal of bubbles. It has multiple settings but we usually keep it on the first and find that it works best with that. It's also an added bonus because the baby loves sitting and trying to catch the bubbles. We haven't had to recharge it yet and we've used it well over 10 times.
ZIG ZAG SCOOTER
These scooters have gotten so much use out of them, both indoor and outdoor. From time to time my kids have done laps around our dining room table or on our basement floor when the weather hasn't been nice, or easily enjoying these on sunny days. They race each other, spin and try to do tricks, and the best part is, they have fun doing it.
SIDEWALK CHALK
I'm sure we've all seen some of the creative things people have been doing with chalk lately. It's been pretty cool to see. Chalk has always been something that helps to occupy my boys. Thankfully we haven't run into a shortage of it, yet, and thankfully there are still options that you can order sidewalk chalk.
WATER BALLOONS
Water balloons have been a big hit with my boys. Our weather is still up and down so it's not officially water balloon season, yet. But, I am thinking ahead and ordering them now because if we still have stay home orders I can easily see these being something that will become harder to get our hands on.
WATER TABLE
Speaking of warmer days and water fun, a water table has been a hit with each of my kids during different stages of their life. I can't wait to see my youngest guy splash around in it. We've had one for years and it's held up and done it's job. We've replaced the little floating toys and no matter what we put in there, they have fun. There are some great options that have popped up over the years that can bring some fun.
INFLATABLE POOL AND SPRINKLER
I'm also thinking ahead and wondering if our beaches will be closed and what the summer months might look like for us. We have this inflatable pool activity center that has been great for the kids. I'm sure we'll be breaking it out again along with our watermelon sprinkler.
BUG CATCHERS
My kids are all about getting their hands dirty and aside from having toys that provide them with bells and whistles, sometimes a good old stick, some rocks, and catching bugs will keep them occupied for the longest. My guys take it a step farther and are into catching frogs and snakes as well, but we'll just leave it at that. This little carrier has allowed them to house their findings, exam them more, and say goodbye before letting them go. If your little ones are into finding things, this might be something they enjoy.
I would love to hear what are some things your little ones enjoy that keep them occupied?