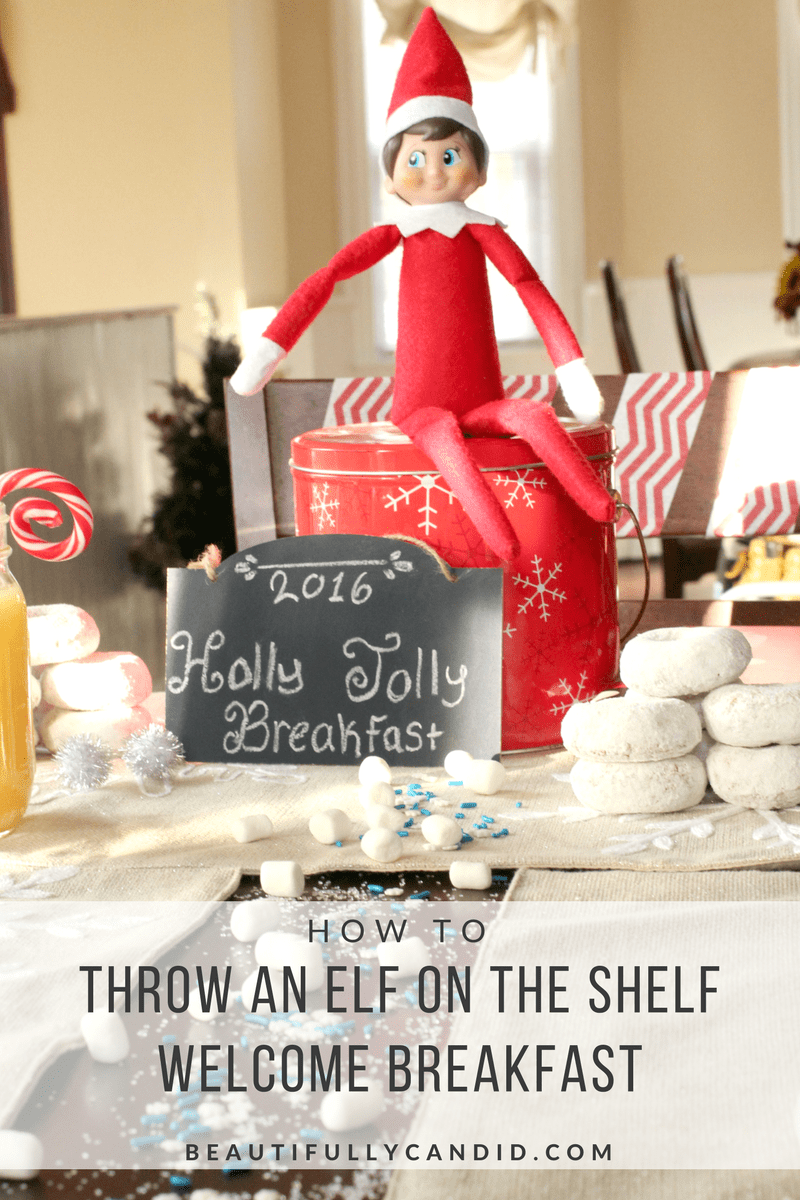 If you've been reading this little space of mine (and always a huge thank you for those that take the time to visit) then you know two things about me. One, we take our breakfasts very seriously around here especially on the weekends, and two, coordinating our elf Alvin's welcome breakfast is one of my favorite holiday traditions now.
I know not everyone does a welcome breakfast or some call it a north pole breakfast and others do a farewell send off instead, so however you decide to celebrate your elf or keep it as simple as possible is completely up to you. I am always a firm believer in doing things that work best for your family.
I wanted to share more in detail about our welcome breakfast and how I prepare for it in case anyone else is looking for some ideas. Of course I will be sharing more over the next few weeks with how our breakfast goes this year so be sure to stop back to see all of the festive fun.
1. PICK A DATE: for us, the weekend of Thanksgiving has always worked out perfect to do our welcome breakfast. It's the weekend we dedicate to decorating, finding our tree, and really kicking off the Christmas spirit. That also means we need to commit to figuring out places and things for our elf to get into each night, so make sure it's a time frame that works for you.
2. PICK A THEME:
this isn't necessary and it sort of just happened for us, but the past two years I have themed his welcome breakfast. The first year we did
pancakes and pajamas
and I loved it so much that I'm looking forward to recycling it in a few years. Last year we did a
holly jolly breakfast
and the verdict is still out on this year's theme. I know, I know, time is ticking, but I have my favorites narrowed down and a general idea with where we are going with this.
3. COORDINATE THE MENU: this is a big one for me because if your kids are anything like mine they want to eat within the first 15-20 minutes of waking up. Last year we made snowmen pancakes that had bacon wrapped scarves and there was no way I was waking up at the crack of dawn to do all of that. So what did we do? We prepped. The bacon and sausage links were cooked the night before along with all of the fruit being cut up.
4. DECORATIONS: again, this isn't necessary and might be a bit over the top, but I want this silly little breakfast to be a memory my boys think about when they're older. Adding in some extra details makes it feel even more special. Majority of all of the things I pick up for this are from the dollar store, so there really isn't much being spent on this other than some time and planning. My husband and I sneak downstairs after the boys are in bed to get the table set so that we aren't running around first thing in the morning. This has also turned into some fun memories for him and I.
5. SMALL GIFTS: another thing that's become part of our breakfast tradition is having a few small gifts for the boys to open up from their elf. These are usually from the dollar store or Target's dollar spot and mainly some sort of craft project or a new Christmas book.
6. HAVE FUN: above all else have fun together! My favorite thing is seeing their faces light up when they come down the steps and seeing that their elf friend has arrived. We take a few of our obligatory pictures and some videos to share on insta stories (you can find me @beautifully_candid to see the fun this weekend) and then after that it's phones and cameras away and enjoying our special time together. It's funny how many memories this silly little elf has brought into our home.