Hold on to your butts! Haha, I'm sorry, I couldn't resist. There aren't many monumental quotes coming out of this movie, but that's always a memorable one. Well here we are, another round of family costumes and I am loving what we went with this year. Since the boys were so young the first few years, Eric and I really made the decisions on our family costumes.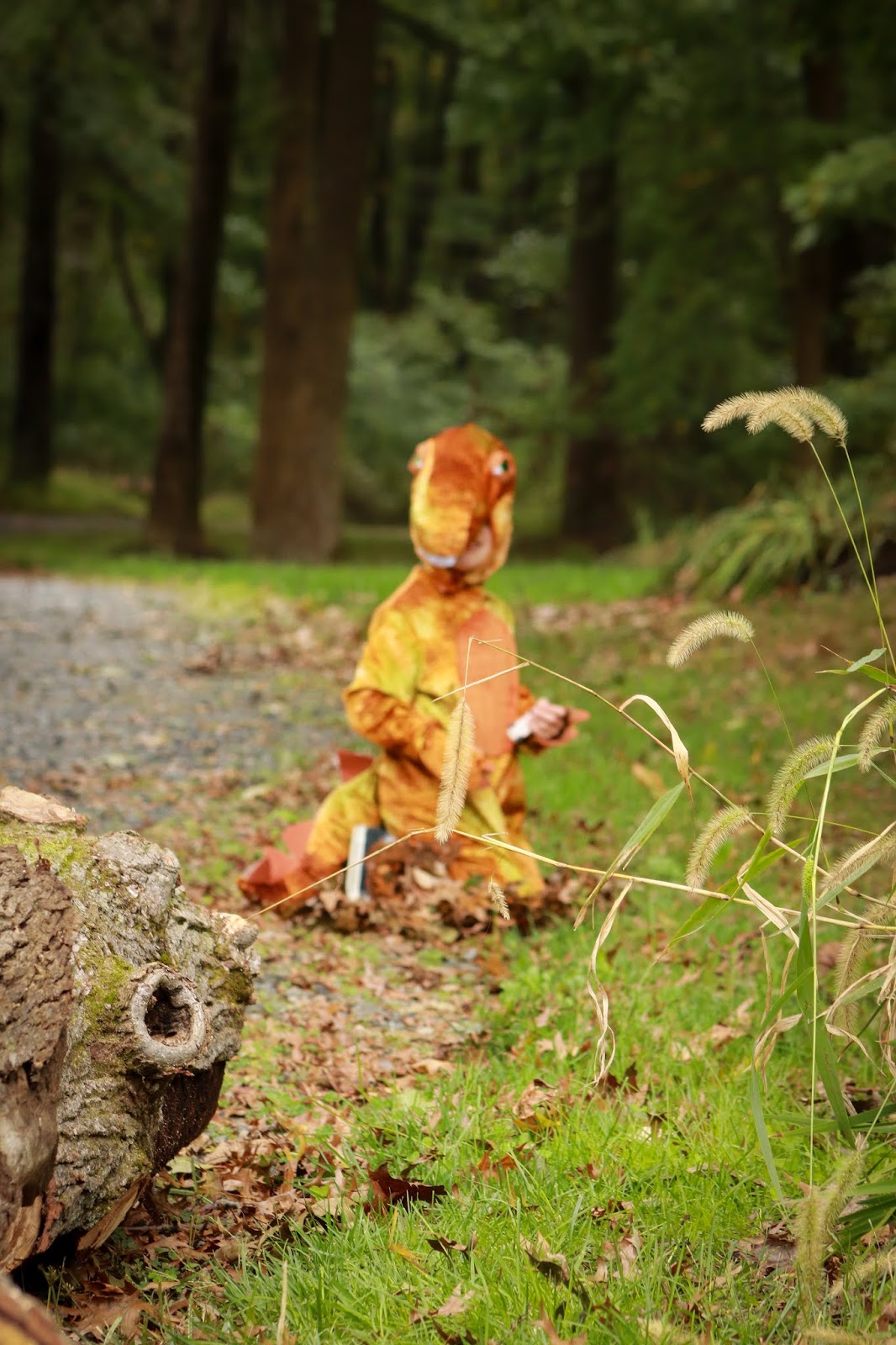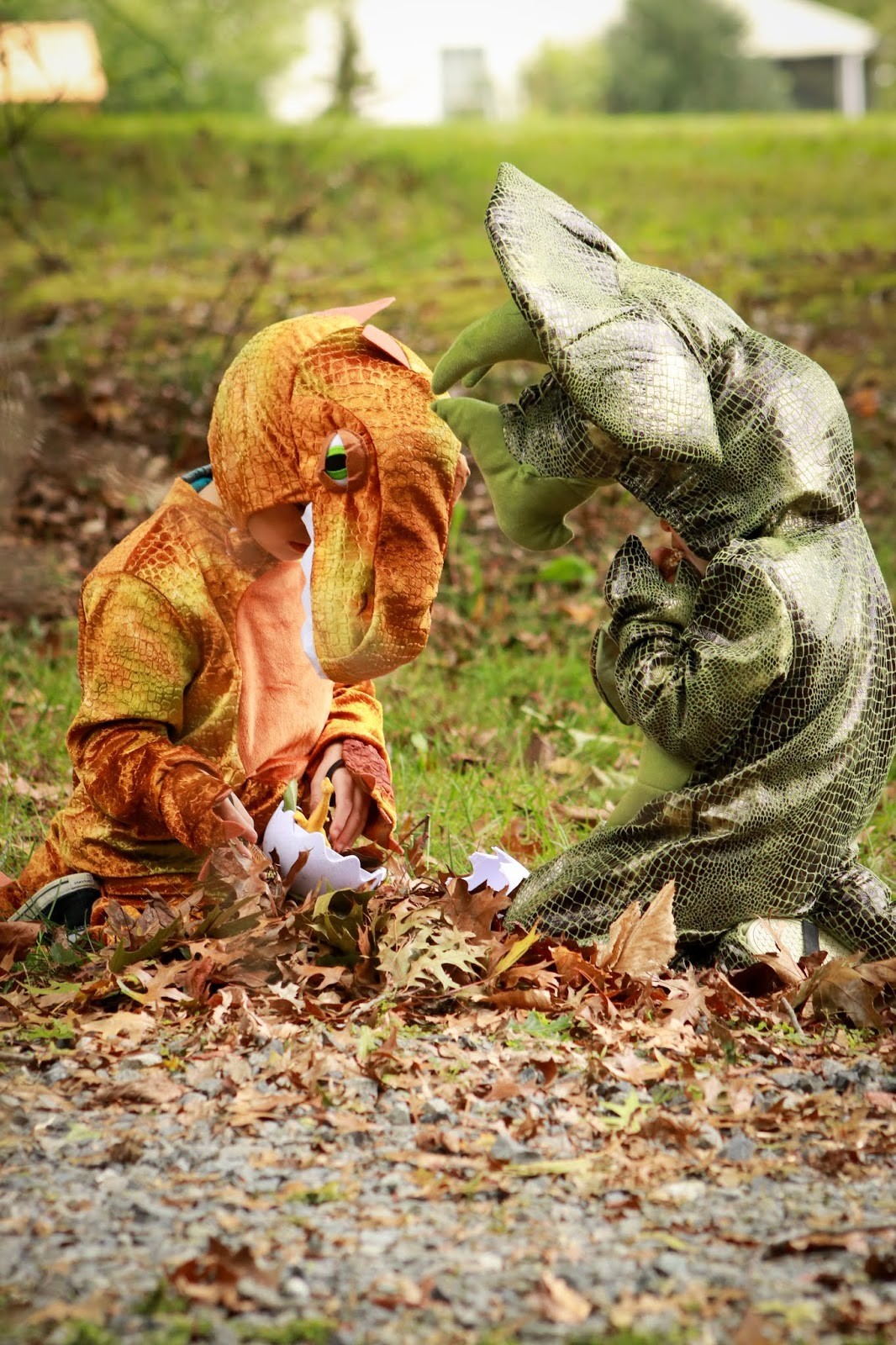 I will always love A's costume with Coaty when they were
Ace Ventura and Fulton Greenwall
. Then when little nugget came along we
were all superheros
(I have a feeling that theme might get recycled at some point). Then we were
Winnie The Pooh and Friends
, I still can't get over my little Pooh Bear and my bouncing Tigger. We did let the boys pick what they wanted to be last year and they decided on
Ninja Turtles
. Since it was such a staple when we were growing up (more so for Eric) we were on board with it.
This year, they wanted to be dinosaurs and we thought that was a great idea. Of course we needed to put our heads together to figure out how we could make this a family costume affair since we're squeezing that in for as long as they will let us. Sure we could have all dressed up as a herd of dinosaurs, but with being so pregnant, the last thing I wanted to do was squeeze into some costume that wouldn't fit right or be uncomfortable and feel even huger than I already am. Ding, Ding, why not be Dr. Grant and Ellie? We were sold! The costumes for Eric and I were easy enough to pull off and these are things that we already had or could wear again.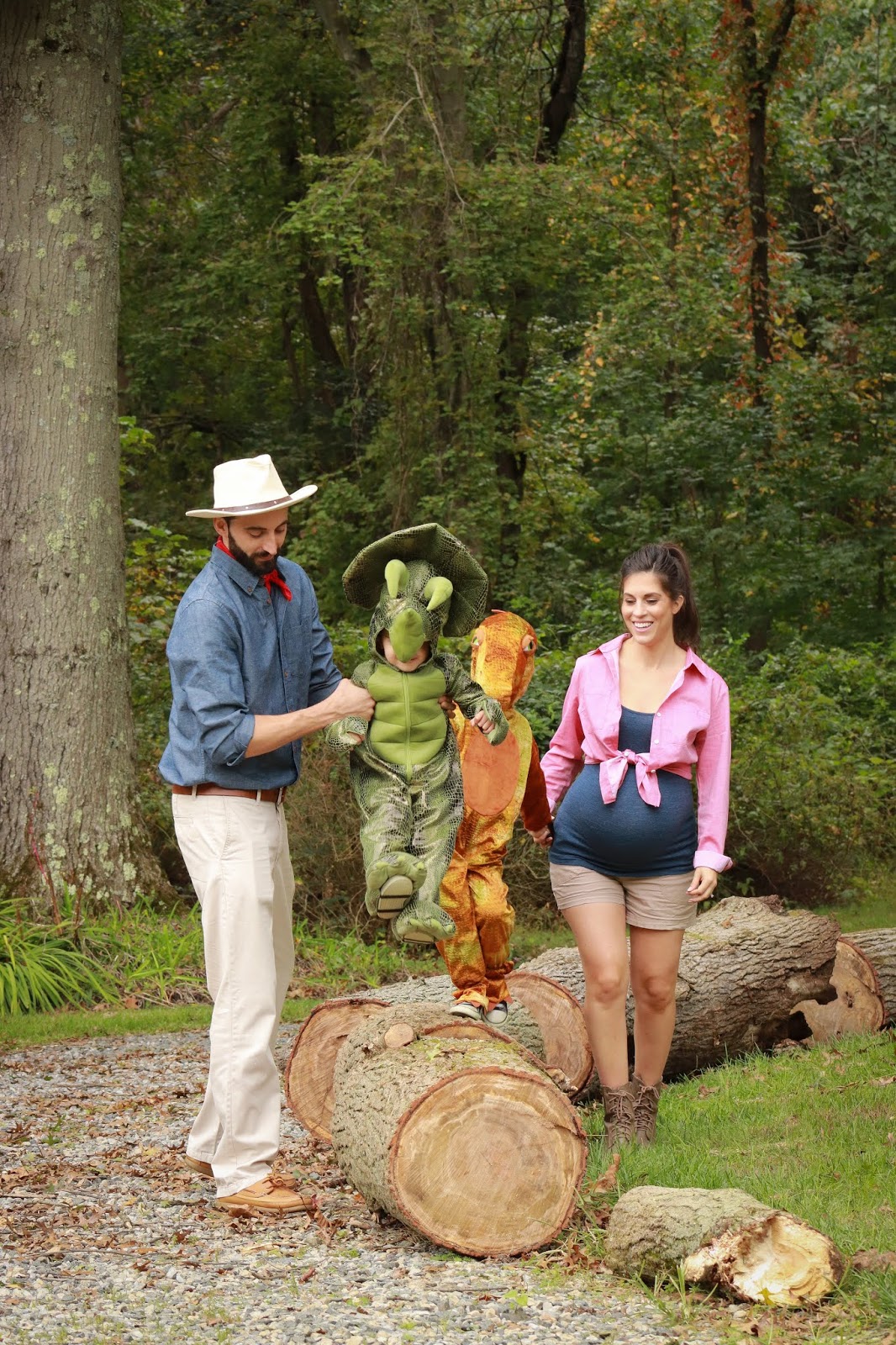 Let's be honest, the kids are really the main stars of the show here, as they should be. We found little nugget's costume at Marshalls and I am so impressed with the quality and detail of it. We picked up A's from party city because he was set on being a T-rex and that's where we could find one. Of course Coaty needed to be apart of this too, so another dino costume for him that we forgot Eric picked up from a pet store last year on clearance for 50 cents.
He's usually all about wearing sweaters or getting dressed up, but you guys, he hated it this year. I don't know where we went wrong. Maybe he had an idea of being something else? When we put it on him he plopped down on the ground and let out this huge sigh. He just laid there, not wanting anything to do with it. No stick, no treat, nothing was getting him up. Eric and I were cracking up and at that point there wasn't anything we could do. We deiced to have fun with him and reenact the scene with the sick triceratops. You can probably tell we've seen this movie way too many times. Growing up with three brothers when this movie first came out, made for a ton of dinosaurs in our house, and I didn't have much of choice. It was perfect when the boys suggested to be dinosaurs because at this point it feels like a classic.
I hope everyone enjoys their day, is safe, and creates some fun memories with your little ones!
In the words of Ian Malcolm, life uh…finds a way.