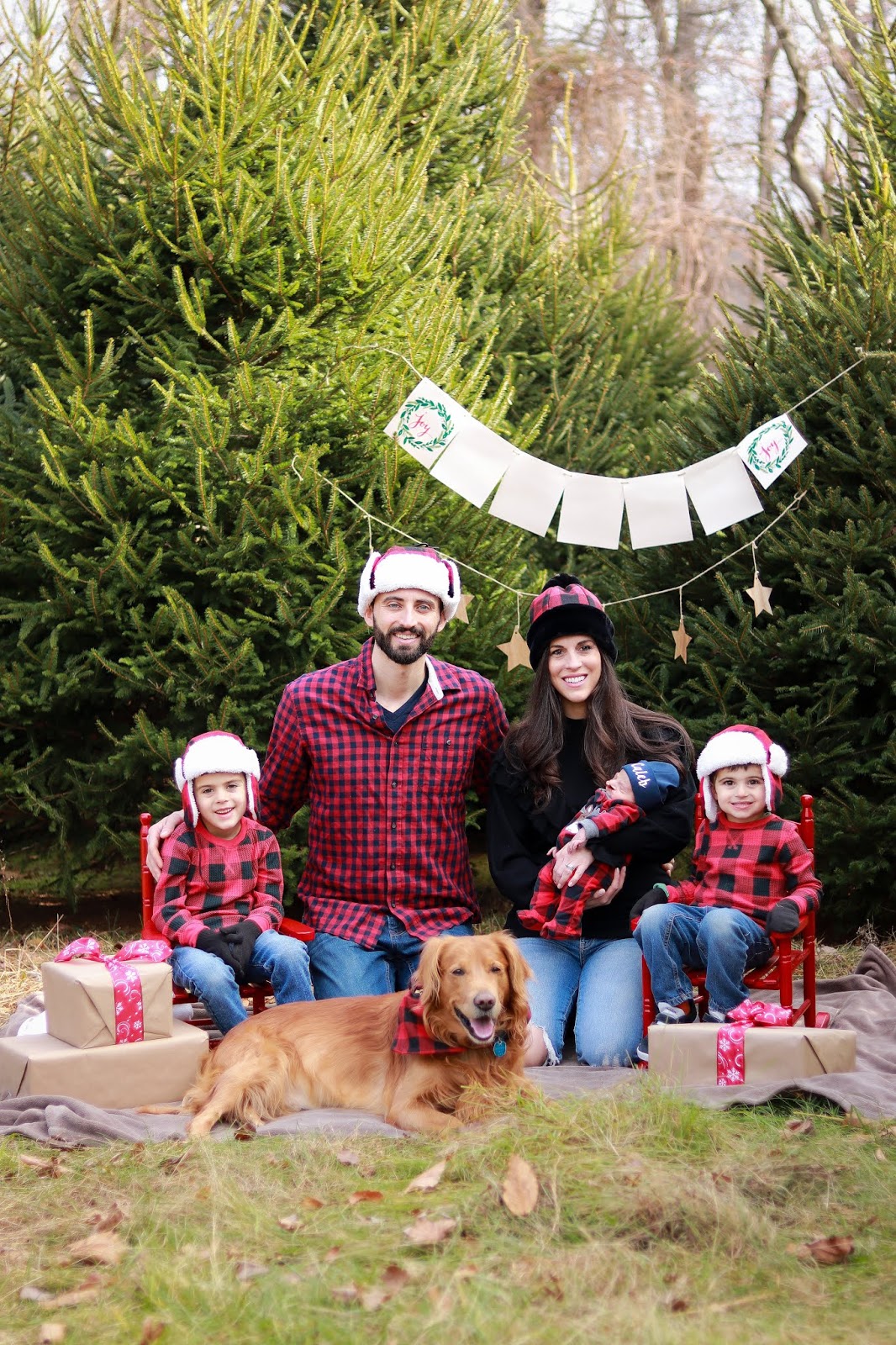 Well hello there, friends! I probably sound like a broken record over here with all of the moving talk, but it's been a big thing for us, and packing up boxes and getting everything organized is no joke. I actually would be fine if we never do this again.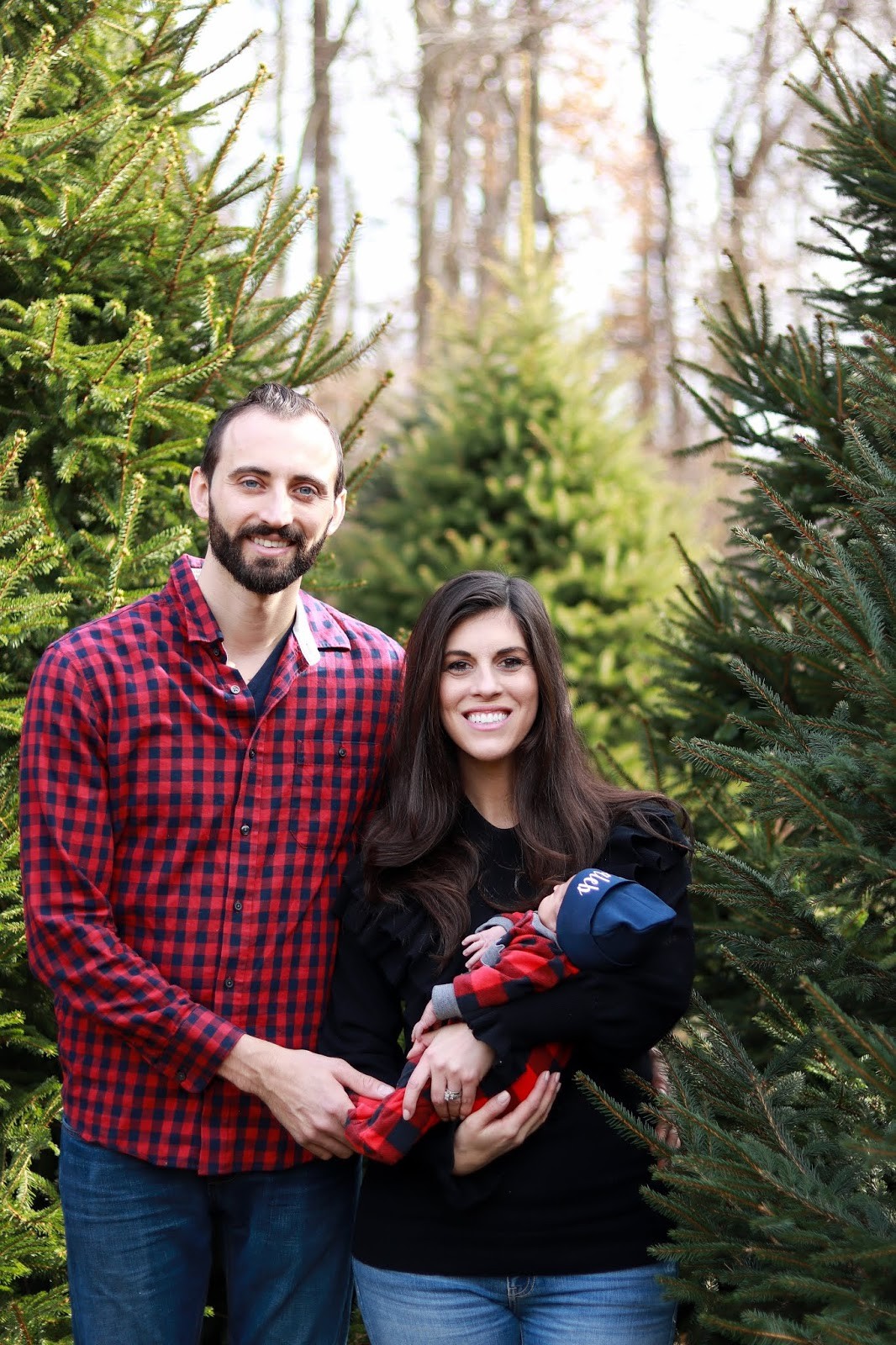 When I shared last week about
our new house and property
I couldn't wait to put this post together. After our family Christmas card goes out I always like to follow up with a back story about how we decided on the pictures and how it all came together.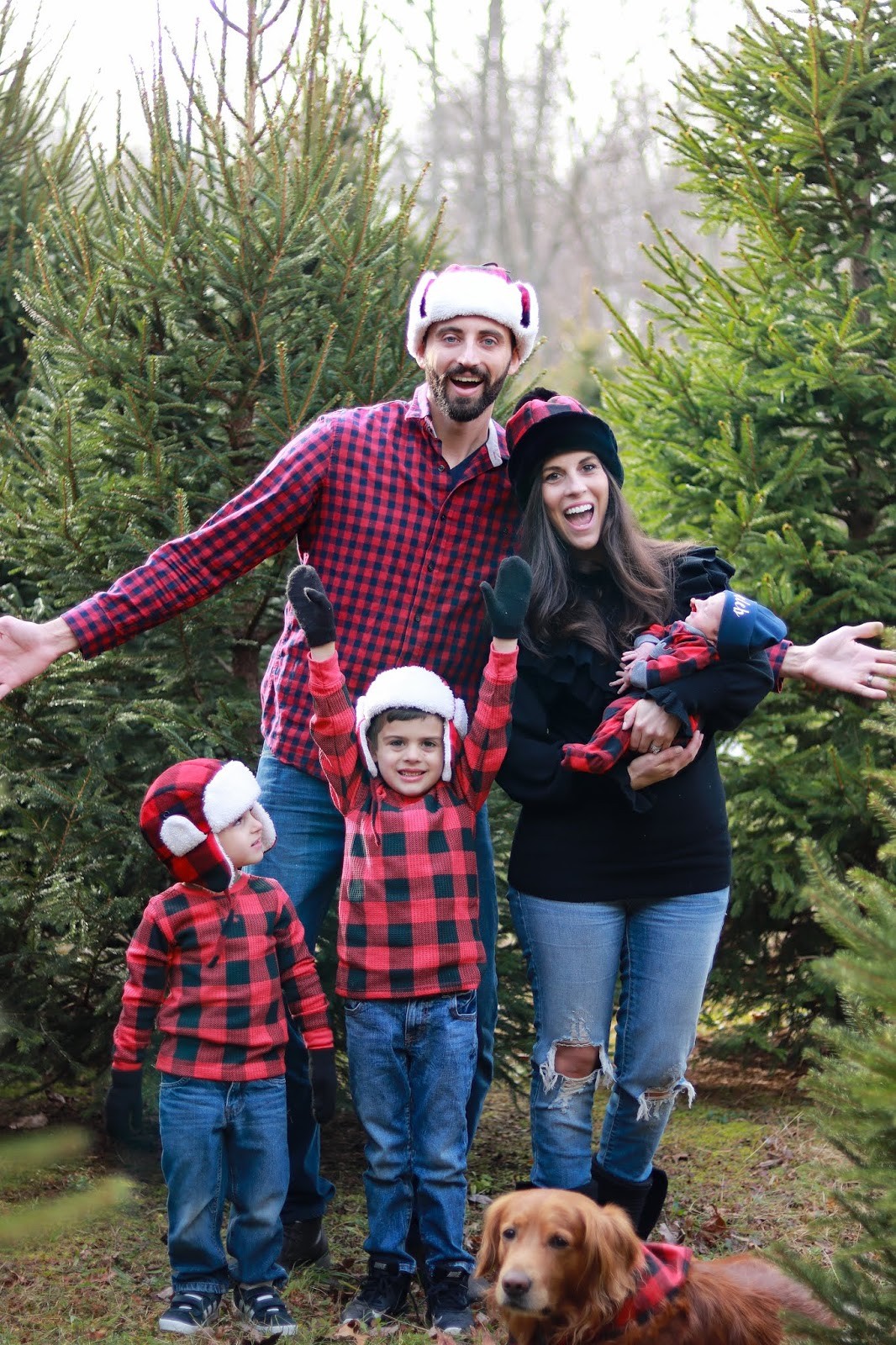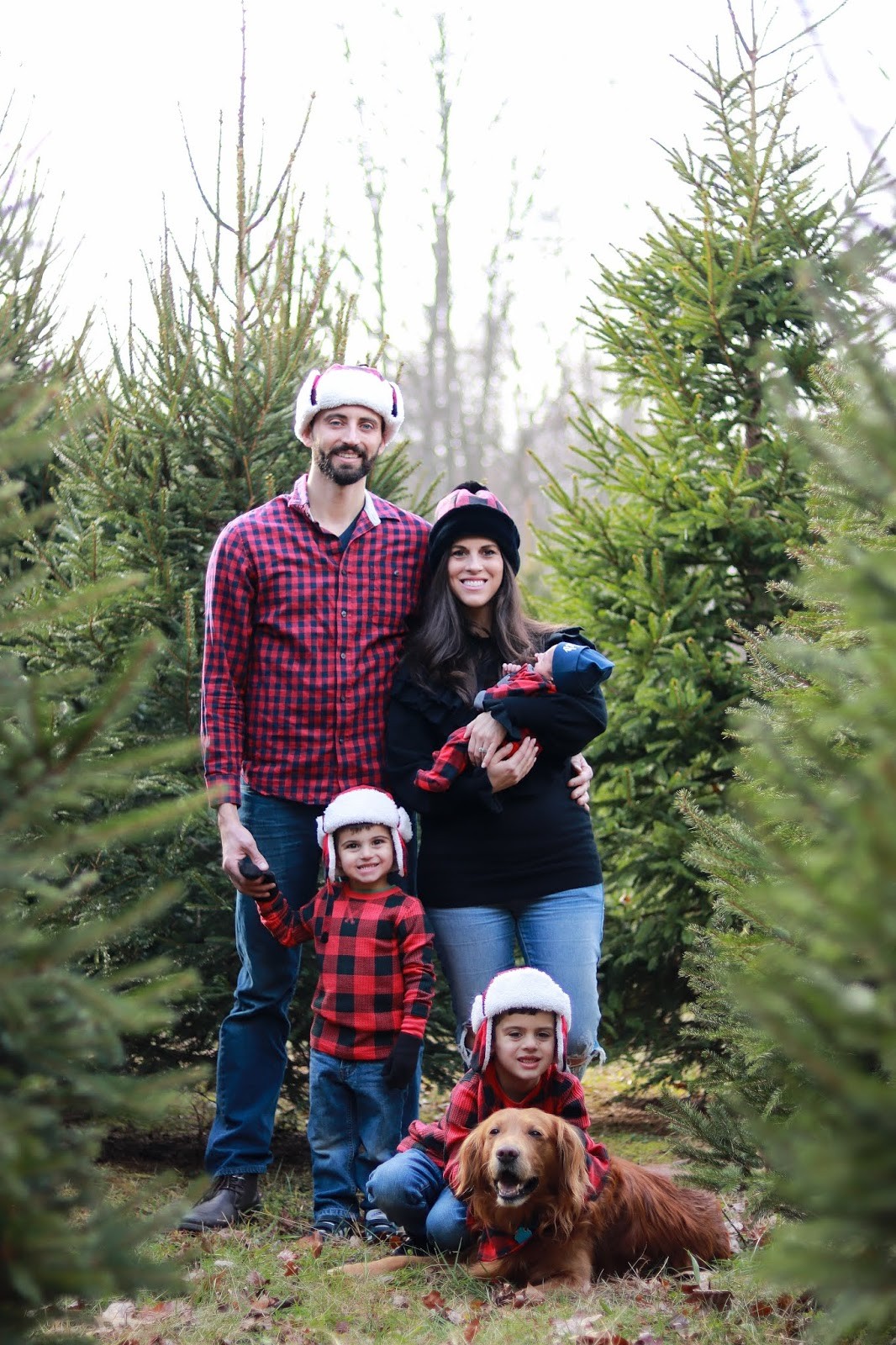 I mentioned before that we wanted to wait to send out our cards until baby boy was here and we could take family pictures with him. I knew the perfect backdrop for our family this year. Even though we've done pictures in front of trees before, there was something special about these that I couldn't resist. They aren't just any old Christmas trees, nope, not this year. They're actually our Christmas trees! I'm still pinching myself that I get to look out my window and admire these beauties. We can't wait to plant even more and watch them grow. I'm thinking from this point on I have a feeling our cards will probably be in front them each year. I mean, how could you not, right?
It's a really pretty sight to look out our window and see them off in the distance and I can only imagine how pretty they will look all snow covered. Although, I am not rushing or wishing for that any time soon.
I have a feeling these trees will bring a lot of memories for us and make this special time of year even more magical. There are so many great things to love about this time of year that it's hard to narrow them all down. It's kind of like when it comes to Thanksgiving and we think about things that we're thankful for, the list could go on forever. But I'm going to talk about a few that popped into my mind, so here we go with some of my favorite things…
WHY WE CELEBRATE:
The presents and all the lights, and well, really everything about this time of year are so special. It's easy to get caught up in the commercial aspect of things and all the hustle and bustle. It's so important for us to center things and remember the birth of Jesus. One of the things I really love is before we open any gifts we read Luke chapter 2 and pray as a family.
TOGETHERNESS:
Since things are a bit different for us this year with not having all of our decorations out, we're really focusing on being together and enjoying our time. My brother came in from Chicago and Eric's brothers from San Diego, so it's been really nice having all of us together to celebrate.
TRADITIONS:
I love traditions so much. It doesn't matter if it's keeping the ones that we have or starting new ones together. Our
elf breakfast
has been a big favorite and I'm hoping it's something we can enjoy for several more years to come. Each year we seem to be getting better at our gingerbread houses. Good thing for that. The last thing I need is a bunch of tantrums over crumbled gingerbread houses (I
may
be talking from experience with that). It's exciting to look forward to new traditions, like cutting down our own tree each year.
EXCITEMENT:
One of the most rewarding things to be apart of is seeing the joy and excitement this time of year brings to my boys. There is something so magical about seeing the holidays through your children's eyes. You can't help but feel like a kid again and relive some of your childhood memories.
MOVIES AND MUSIC:
It might sound cheesy but I enjoy turning on the radio and hearing Christmas music and catching some the classic movies on tv. No matter how many times we've seen them or heard them they bring a sense of excitement to this time of year. I also love hearing the boys sing along when we're driving in the car or snuggling up on the couch with them to watch movies that we also loved as kids.
BRINGING IN THE NEW YEAR:
This is the first year we won't be going out with our friends and it's kind of bittersweet. My best friend and I have been celebrating new year's together since 2000, so the thought of not doing that this year seems so odd. We would absolutely love to, but it's so hard with baby boy only being a few weeks old. It will also be our first new year's in our new home so we're keeping it low-key this year and hopefully I can stay awake for it. We do want to make it special for the boys and we will be doing our
12pm kids countdown
with them again.
I hope everyone has a very Merry Christmas, Happy Holidays, and a wonderful, blessed, healthy, and prosperous new year! I will be back to blogging more regularly after the new year.