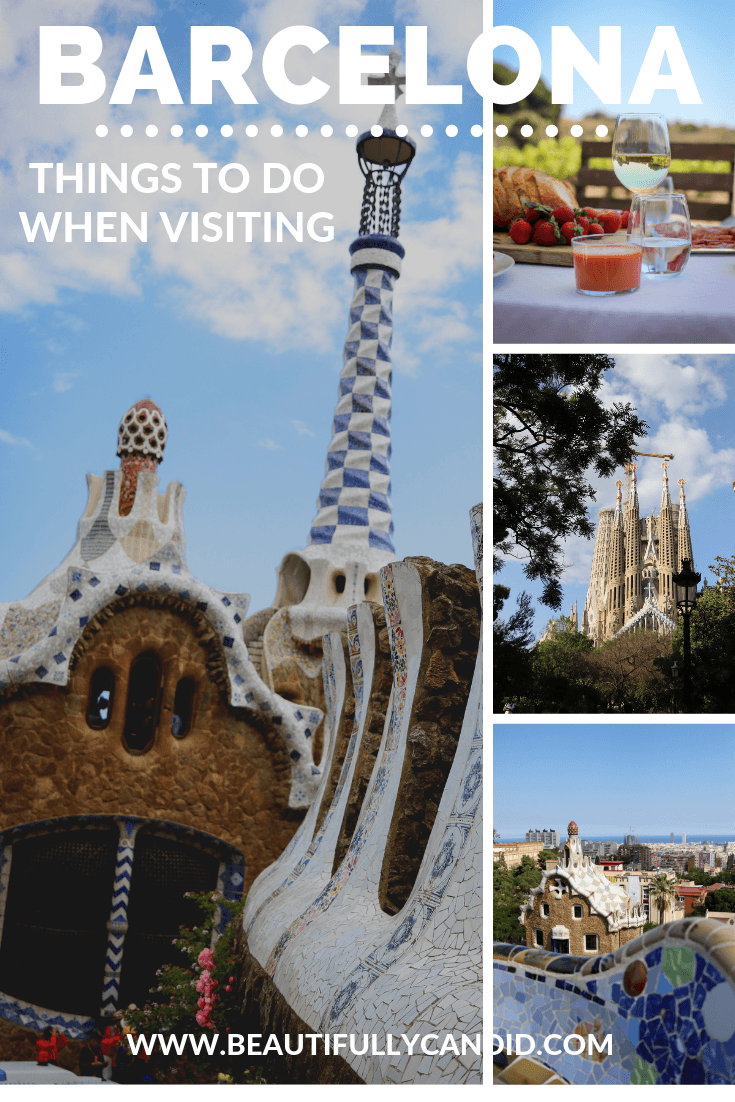 A while back (I was walking down the yellow brick road…not really but it sounded good there), Eric and his family went on a European cruise that set sails from Barcelona. They were only there for half a day before boarding the ship and he always felt like it was a city we could go back and explore one day. I've always heard such great things about Barcelona so when we came across flight deals that were almost too good to be true, we jumped on it. We actually had this trip booked before Baby C was even born. Remember when I shared ways to make travel more affordable…well, we still follow many of what I shared, and if you're smart about booking things, you can really make travel doable without breaking the bank.
We had a great time on our most recent trip to Spain and enjoyed what Barcelona offered. When I shared more about
our family adventures in Barcelona
I made a comment in my post about not being blown away by the city. I got a lot of messages about this asking why I mentioned that and wanting me to expand more. A lot of you wanted to know if it's a place I would recommend to visit. The answer to that is, absolutely!
Don't get me wrong, we loved being in Barcelona and the great memories it gave us, but there were just certain things about it that didn't give me that overall wow factor and feeling like a place we have to keep going back to. For example, when I travel to European cities I LOVE seeing the old architecture, cobblestone streets, and the real charm of a city. For me, Barcelona was more of a modern European city. Which also has its pros and cons as well. There is the Gothic Quarter you can check out and some amazing Gaudi buildings, but aside from that, the true European charm just wasn't there for me, personally. Several of the streets made me feel that if I didn't know where I was they could have easily passed for a 5th Ave. or Michigan Ave. in other major cities. But regardless, there is plenty to do and experience here and it was a great trip for us that created many amazing memories. There's always things you can take away from a trip, along with favorite sights and memories that become apart of it. Below I'll be sharing what some of our favorite things were that might be worth looking into if you ever plan a trip to Barcelona.
BEACH:
For my loyal readers, this is probably no surprise that it's at the top of my list. Let me break it down for you a bit, we love us some beach time. In fact, that was one of the key reasons that prompted us to visit Barcelona. We loved that the city is right there along with the beach. I kind of feel like every city should have this because it's the best of both worlds. We knew going into our visit the beaches we're not going to be the best in the mediterranean, but if we're by the water we're happy. They weren't bad by any means, but the ones right in the city (Barceloneta) are very touristy and lack a bit of landscape. We wanted to have more of a private feel and really, really enjoyed our beach time over at Montgat. It's about 15 minutes outside the city (depending on where you stay) and for us, we enjoyed the beaches a bit more and the cute town that surrounded it.
VISIT A VINEYARD:
I shared a few weeks ago about our
epic luncheon
at a local winery,
Bouquet d'allela
. It's also located right near Montgat and something nice to do outside of the city. The grounds were kept perfectly and sat higher up on the mountainside providing a beautiful view. You do need reservations prior, and they only allow either one or two bookings for lunch, so I would recommend to plan a bit ahead of time and see what's doable. This ended up being one of our favorite things and some of our favorite memories. It's a smaller family owned vineyard but they make you feel at home and the wine and atmosphere could not have been any better.
PARC DE LA CUITADELLA (CUITADELLA PARK):
Barcelona has some fun parks to check out and this is one that was a great spot for us. It hosts the Barcelona Zoo, several museums, and row boating on the pond. We had so much fun floating and rowing around together. We all fit in one and I think it was maybe 12 euros for a half an hour. The parks can get very crowded on the weekends (as do most things) so if that's not your thing I would maybe consider another day. It was fun to people watch and see how many of the locals interacted. The boys had so much fun feeding the ducks and chasing around pigeons while we all strolled around the beautiful pathways and took in the scenery.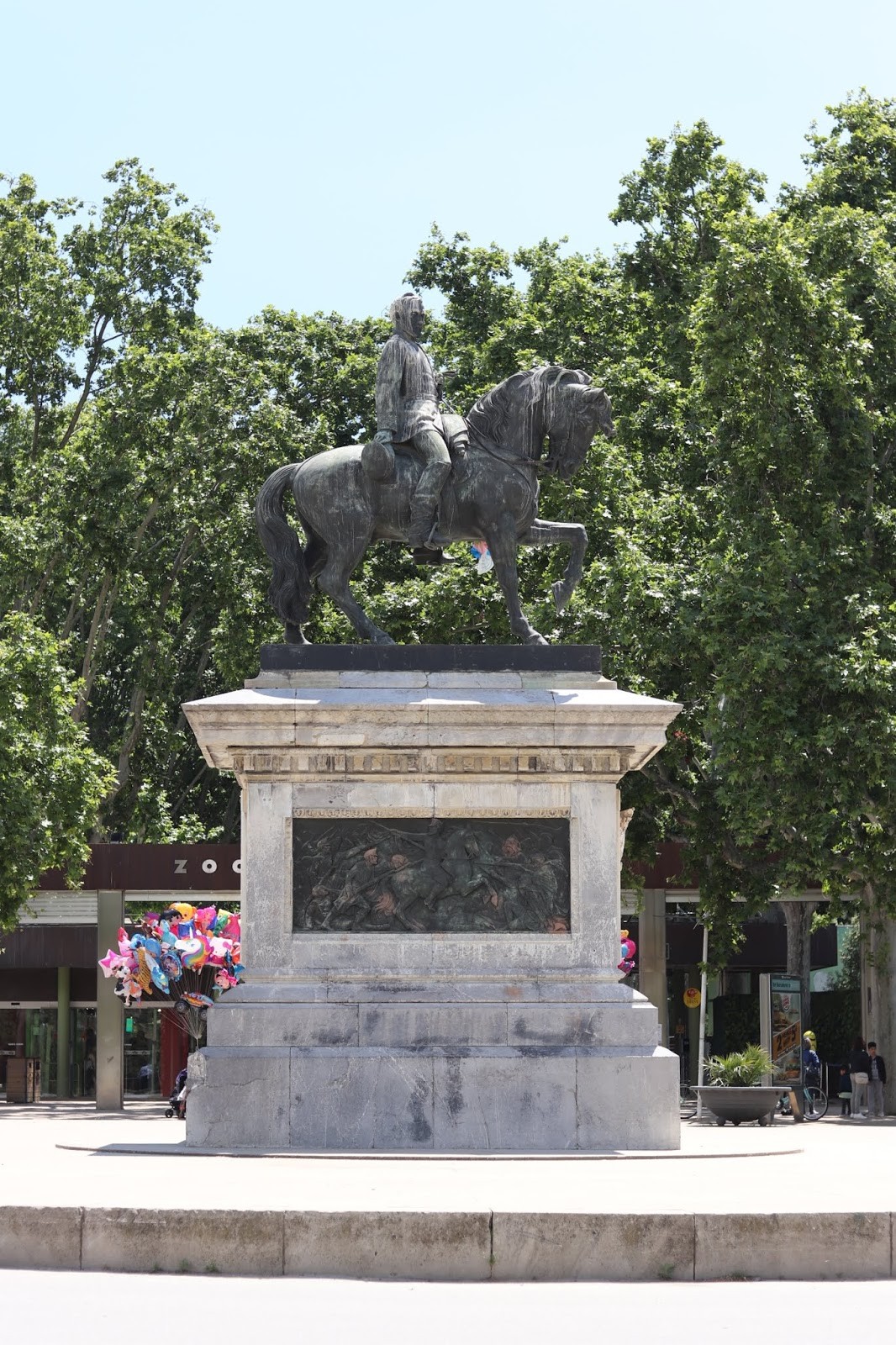 ROOFTOP VIEWS:
We saw some of the prettiest sunsets setting over the mountain tops that lit up with sky with all different pastel colors. After catching a few, we decided to scope out a rooftop restaurant or lounge to enjoy the views even more. We decided on
Alaire Terrace Bar
which gave great views of the Casa Mila and also has seasonal live music. The views were so pretty, the food was good, the drinks were great, and they were so good with our kids that it was a win all around. Our waiter gave great service which makes the experience even more enjoyable. It's located on the 8th floor of the Hotel Condes de Barcelona.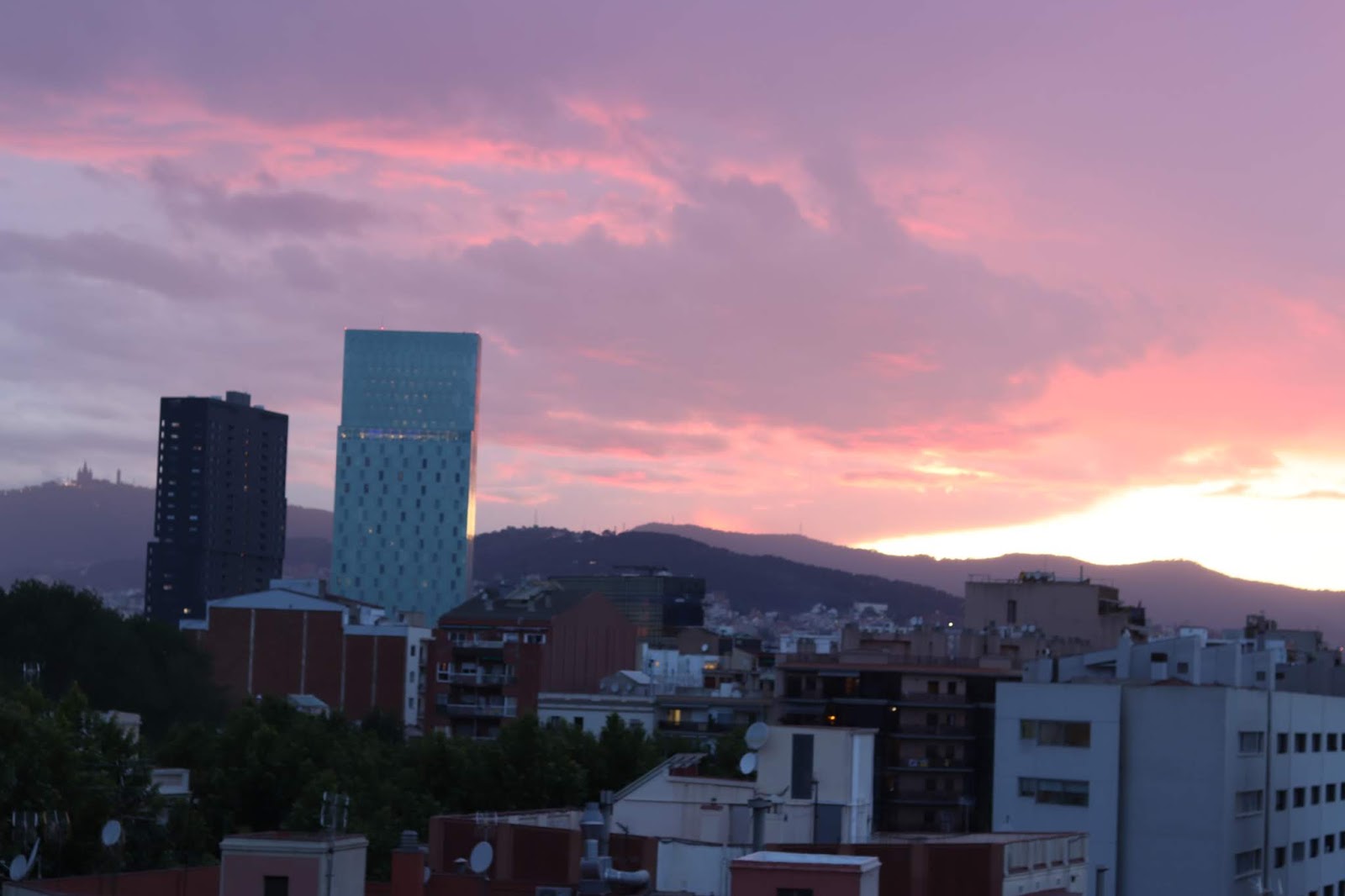 TAPAS:
Can you even visit Barcelona and not try some tapas? I think not. We really enjoyed all that we tried and the atmospheres that came along with it. Our favorite was tapas 24, but really, anywhere you go you can practically get some sort of tapas. But, if you're truly looking to sit and relax and have the experience I would recommend going to a specific tapas bar.
FLAMENCO SHOW:
One of the days we were in Barcelona it rained off and on so we switched around some of our plans and decided to make a day of doing all things inside. We took our boys to the aquarium and visited some indoor markets which I will talk a little bit more about below. One of the things we decided to do was to see a Flamenco show. It was dinner and and a show and ended up being such a fun experience. We heard that most people don't recommend seeing a show in Barcelona but we're glad we did and decided to do what we thought would work best for us. That's the beauty of having your own travel itinerary. I love getting ideas from others but it ultimately has to come down to what you enjoy and want to experience. The show was entertaining, the food and drinks were great, and our boys also sat and were entertained by the show so it worked out well for all of us.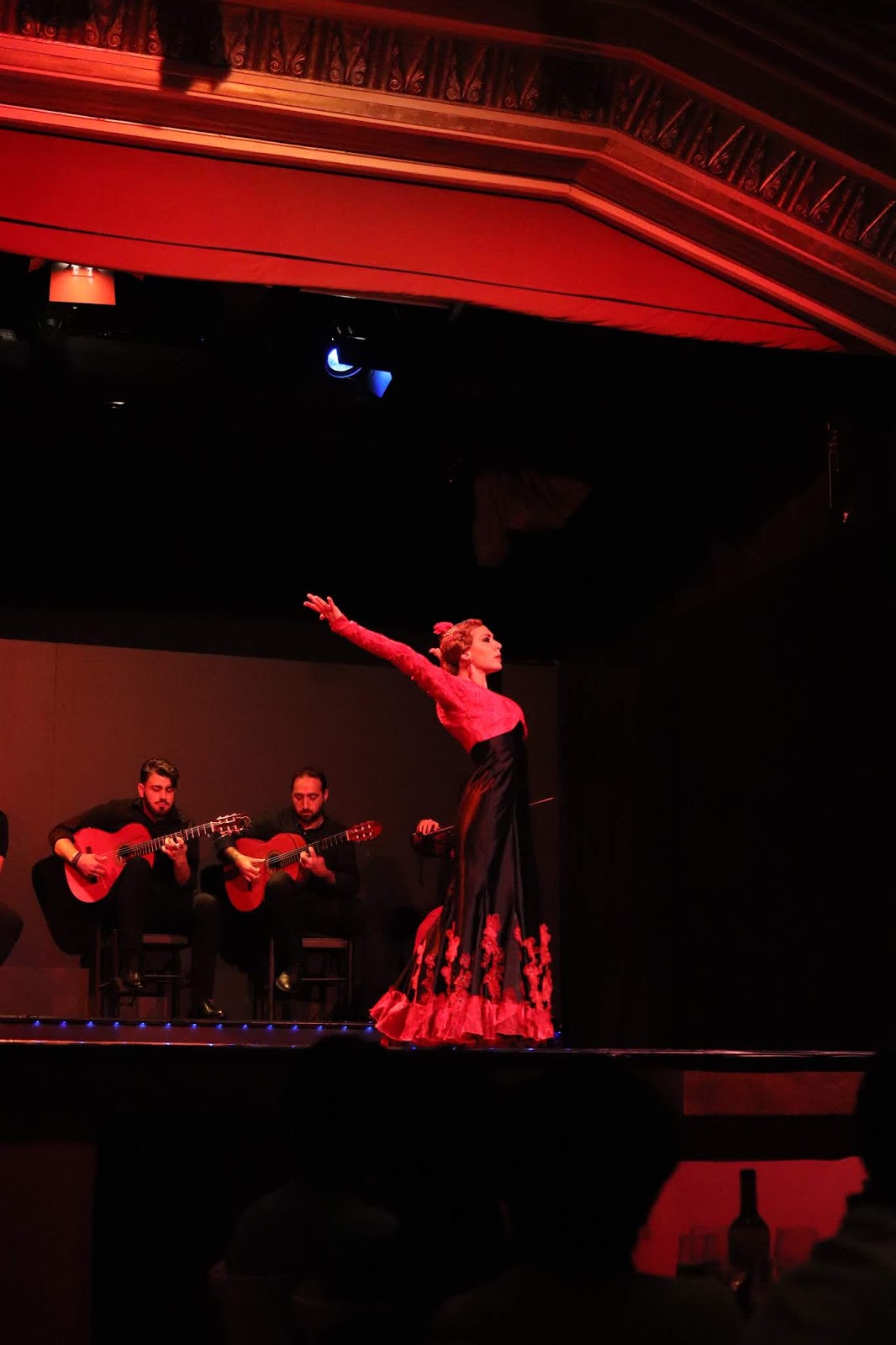 VISIT A MARKET:
We've always enjoyed different markets when we're traveling and seeing what the locals have to offer or some neat finds you come across. One of my favorites is still when my brother in-law found these great throw rugs when
we were in Amsterdam
and he strapped them to his bike as we were riding around. He somehow finagled them to fit in his suitcase and he still has them in his house today. Anyway, there are several markets in Barcelona if you would like to check them out. We went to an indoor/outdoor flea market, Encants Barcelona. There were so many antiques, books, gadgets, and really anything you could think of. We also visited the ever popular La Bouqueria food market. That was a sight to see. There were so many delicious, and exotic options there. For a few minutes I was a bit overwhelmed because there was soooo many things you could choose from. After we started walking around we picked up some big cups of fruit for the boys to munch on, we decided what rows we wanted to walk through and we quickly were able to navigate through things.
A WALK DOWN LAS RAMBLAS:
This is a beautiful famous street in the city and probably one of the most touristy as well. It's also known for where a lot of pick pocketing take places, so guard your goods. I don't know if I would recommend to go out of your way to visit this street, but if it happens to be around some other areas you want to check out, then it's worth a stroll.
LA SAGRADA FAMILIA:
This beautiful temple has been under restoration and construction for years but if you're into Gaudi's work I would recommend to check it out. It can be very crowded so reserving your time spot would be a good idea. Even just taking a look from the outside the details are so pretty. There's still scaffolding around the outside so it's hard to get the full appreciation for it. We heard that some people either really enjoy seeing it or aren't so impressed. Again, it will all depend on what you're into.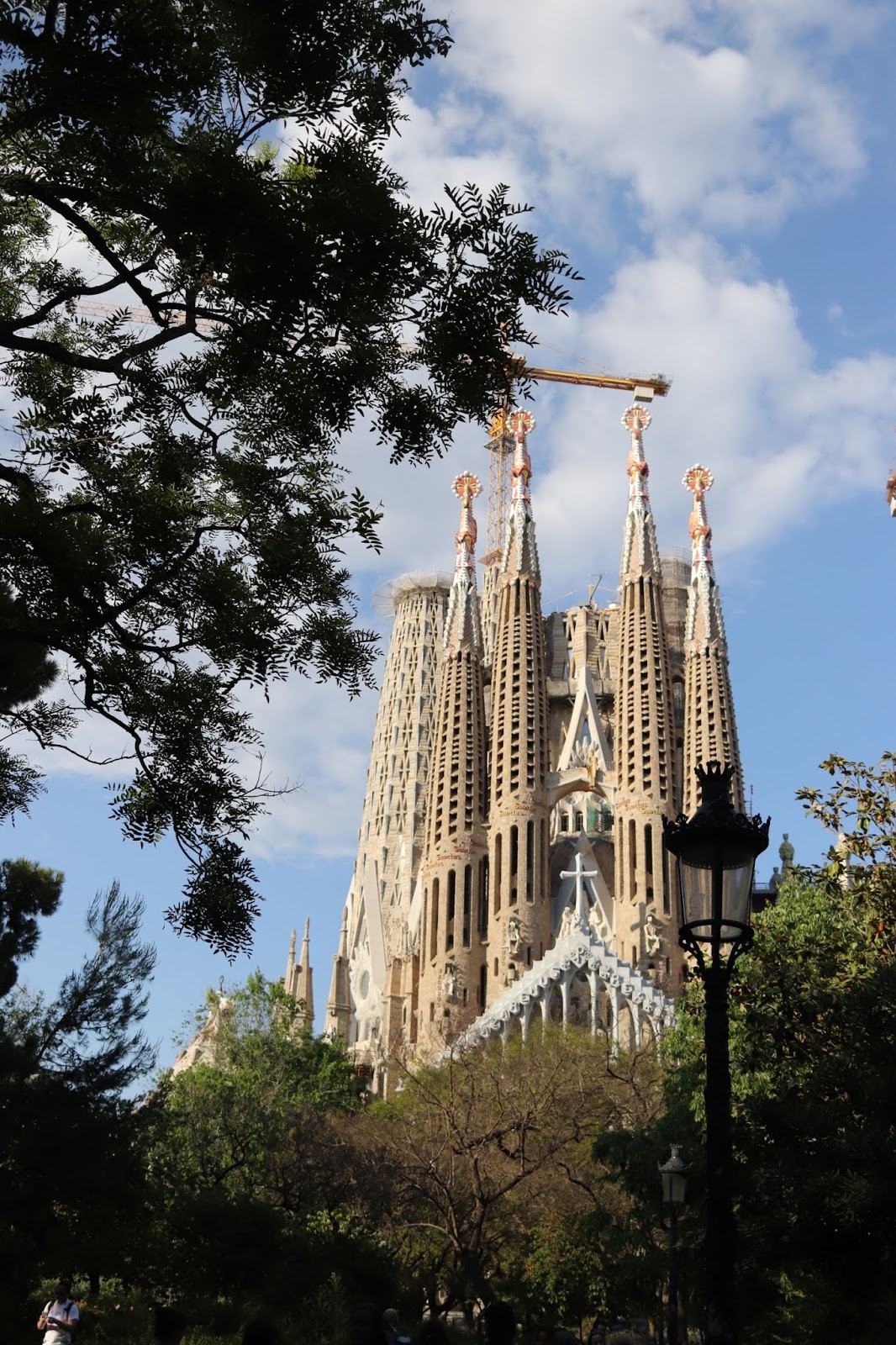 PARC DE GÜELL:
Gaudi left a major impression on the city of Barcelona and his work is admired by millions around the world. There's a specific park that you can visit to see some of his most famous work. You can set up a walking tour, tour at your own leisure (what we opted for), and also purchase tickets for the look out area to get those infamous pictures. The park also had several playground areas that our boys enjoyed running around in. The grounds and scenery were so relaxing and beautiful. I believe there are tours that you can also link visiting Sagrada Familia and the park all in one, but with three little ones we knew we didn't want to make a whole day of it for them. It was cute because the boys thought we were in something from Dr. Seuss when we were in the park with all of the bright buildings and fun designs. I really think his lizard statue won them over though. What can I say, anything lizard related and they are happy.