Happy Friday, friends! As always I hope it was a good week for you. It was an interesting one for me. I think for the first time I really started to feel burnt out. It was a weird feeling for me because I'm typically not like that. I can go, go, go, and having a full plate has never really bother me. This was a bit different. I've had the opportunity to be at home with the baby for almost a year now, in which I am sooo thankful for. Don't get me wrong, my kids are my everything, but I'm also used to having a lot of adult interaction and working with a team of people day in and day out. I don't have that anymore. And life at home with three little ones, blogging, keeping up with social media, is extremely different.
While I would love to dive full force into this and make this more of a career for me, I also don't want to put all of my eggs in one basket. Influencer marketing is really hot right now, but will it be in the years to come? You hear so many people, even brands I've partnered with, say that their focus isn't on bloggers anymore and more on instagram and youtube. Who really knows what the years down the road will dictate. Do I see myself going back to work when my kids are all in school? More than likely. I enjoy making consistent money, I enjoy putting my degree (that cost a ton of money) to use, but I also LOVE being with my kids. For the first time it just felt like everything came crashing down on me. After loads of laundry, dirty diapers, making meals, and the endless messes, I had a moment of thinking that being at work in so many ways was a lot easier. I could go on and on about this, which I might expand on more in a future post, sometimes that always helps me too. But for now, I'm thankful for friends who text just at the right time and show their support and encouragement, and a husband who recognized I needed some me time and took care of the kids so I could get a haircut. It's funny how the little things that were just normal occurrences can take on a new meaning and become big things to you now.
Anyway, my week wasn't all about feeling at a crossroad and thinking about what 2020 might look like for me. Yup, I let my mind jump that far. Thankfully after a good cry, some apple cider donuts (bless those donuts), and some time for myself, I felt a lot better and focused on the joys around me. Here's a look at some of my favorites from the week…
More Fall Fun:
this time of year has always been so special for us. We live in an area where there are a lot of farms, fall activities and festivals, and endless opportunities to jump into fall things full force. I loved that we spent some time with my sister and cousin at local farm and got a good laugh when my sister and I showed up in our unintentional matching outfits. You can read
more about adventures here
.
Woodland Birthday Party:
i had a lot of fun with
this woodland party theme
for my oldest son's 6th birthday. I was able to put together a post showing more of the details and how everything came together. Our sweet little hedgehog also made an appearance and was a big hit with the kids. I can't believe that I'm already thinking about baby C's first birthday coming up next month. Once August hits we have birthday's every month through November.
Trader Joe's:
i made my way over to Trader Joe's this week to pick up some of our fall favorites and found some new ones to enjoy. I always love seeing what others find or what they enjoy. The butternut mac and cheese was so good and the gummies and the hedgehog cookies were a hit with the kids. Our mornings have started off with a bowl of pumpkin o's and our nights have ended with some pumpkin joe joe's, and I'm not even mad about it.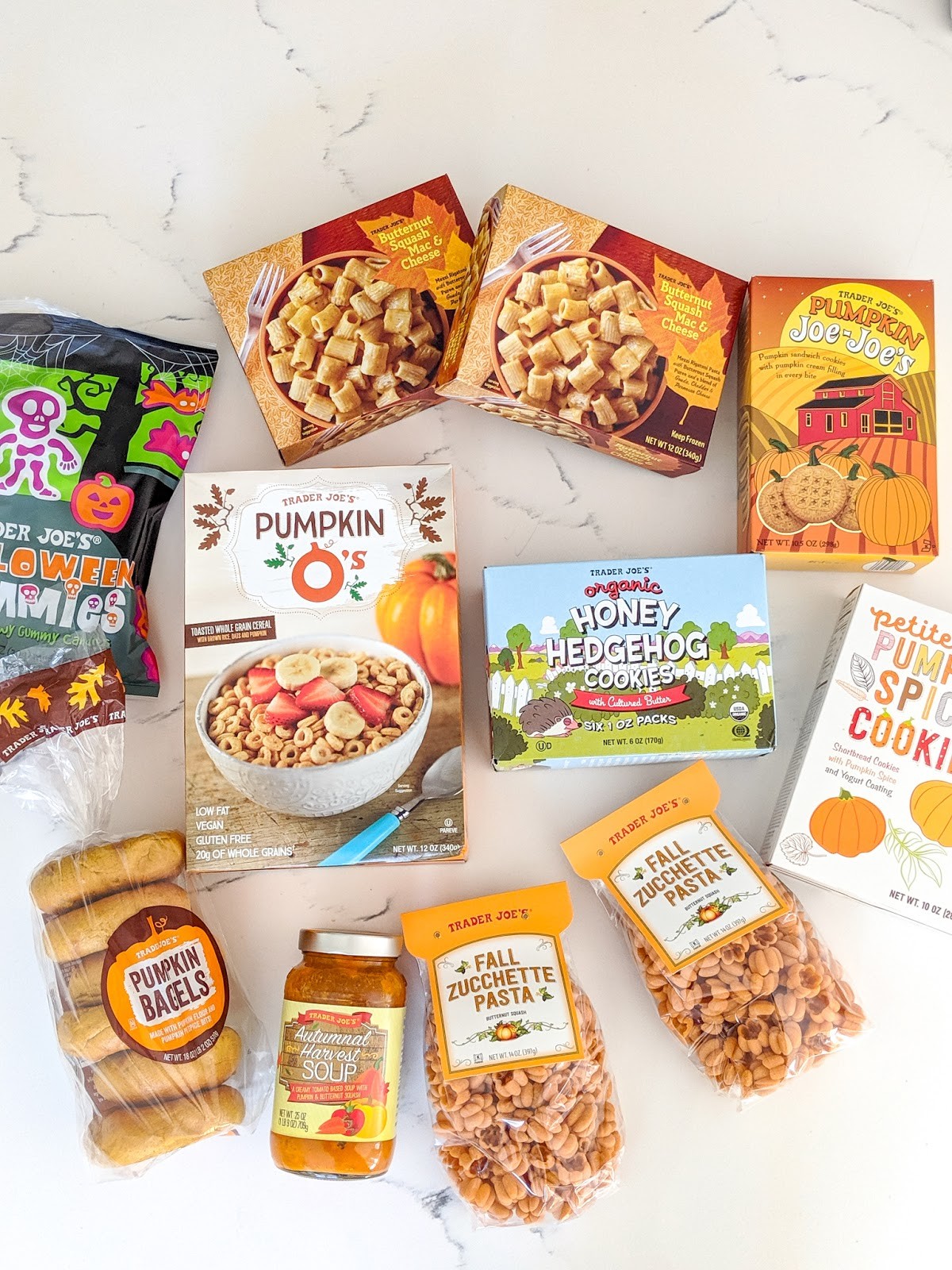 Jack O' Lanter Fun:
i was really glad we were able to continue our tradition of going to NY for the blaze jack o lantern event. We've been going for almost five years now and it's always really cool to check it out. They added some new things this year and it was great to see the boys excitement. Unfortunately We had a camping fail when or original plan was to take the Airstream for the weekend and stay at a campground near the event and make a whole weekend out of it. We didn't realize it was Columbus Day weekend (for some reason the boys didn't have off) and every campsite within an hour radius of the jack o lanterns was booked. We found one that was further north but at that point we would have been driving a ridiculous amount, they also wanted to charge us a premium for the weekend, and at that point it made more sense to drive the hour and 45 minutes back home. I guess better luck planning for next year.
Favorite Finds:
Well, well, one of my favorite places got me again but they were all reasonable buys and I'm excited to share them with you. I picked up
this long sleeve cozy tee
in-store on a whim in a pretty green color. I don't see the green color online, but I was also between the gray and honey and considering getting as well. This tee is sooo soft, and I think it would be great with jeans, leggings, or a dress. And speaking of dresses, I saw
this striped knit midi dress
that I really liked while I was there but they did not have it in my size. I ended up scanning the bar code and found that it's on major clearance for only $11! Of course I hit purchase on that and I'm looking forward to it arriving. I've learned that when things are on clearance you can't hesitate because they don't last. I have some ideas with how I want to wear this for fall and hopefully I can snap some pics and share with you. I also saw
this perfect yellow cable sweater
on sale from Nordstrom's markdowns. I have it in my cart but I'm not sure if it's too similar to one I got last year. Ughhh but it looks so cozy though! I'm also thinking about boots for the boys (yes, already thinking about that cold weather that will be rolling in), they have grown out of anything that fit them last year and I think
these winter boots
will be great for them. I love the faux fur line on these.
I hope everyone has a great weekend!