Affordable and easy every day casual outfits to help inspire you to feel put together for school drop-off and pick-up.
It's been three weeks since my boys have been back to school for in-person learning. With all the changes that took place, I feel like I've started to get a handle on the whole drop-off and pick-up routine. I'm no longer getting honked at or parking in the wrong areas. Ha!
My guys are still in hybrid classes, which means, as of now, they're only allowed to go for half days. Most days I feel like I'm dropping them off and turning right around to pick them up. For now, I am thankful they're getting an in person experience and the time I do have.
Something I tried to keep up with, even during quarantine, was getting dressed and doing my makeup. Don't get me wrong, I still have my lounge around days, but for the most part, I feel more productive when I'm dressed and ready for the day.
I knew when it came to getting dressed for school drop-off, I wanted to make an effort to put myself together. For me, the key to that is, easy and causal outfits that are practical, affordable, and allow me to feel good about myself.
I thought it would be fun to snap a few pics to get a glimpse of what some of my easy every day school drop-off outfits look like. Plus, I was excited to wear some new pieces I got and actually have people see them other my kids stuffy friends sitting in their playroom like it was during virtual learning.
This section contains affiliate links. Thank you for your continued support and happy shopping.
CAMO LEGGINGS & DENIM JACKET
I usually like to start my week off super casual since Monday's can be a bit hectic at times. Leggings are an easy fix for that with a comfy long sleeve tee and my trusty denim jacket.
LEGGINGS | SHIRT | DENIM JACKET| SNEAKERS
CHUNKY KNIT CARDIGAN
I love layers for this time of year. A basic tee with an open oversized chunky knit sweater could be an every day go-to outfit for me. And as you can see, a little sass comes out every now and then.
CHUNKY CARDI | TEE | JEANS| LOAFERS
SWEATSHIRT & JEANS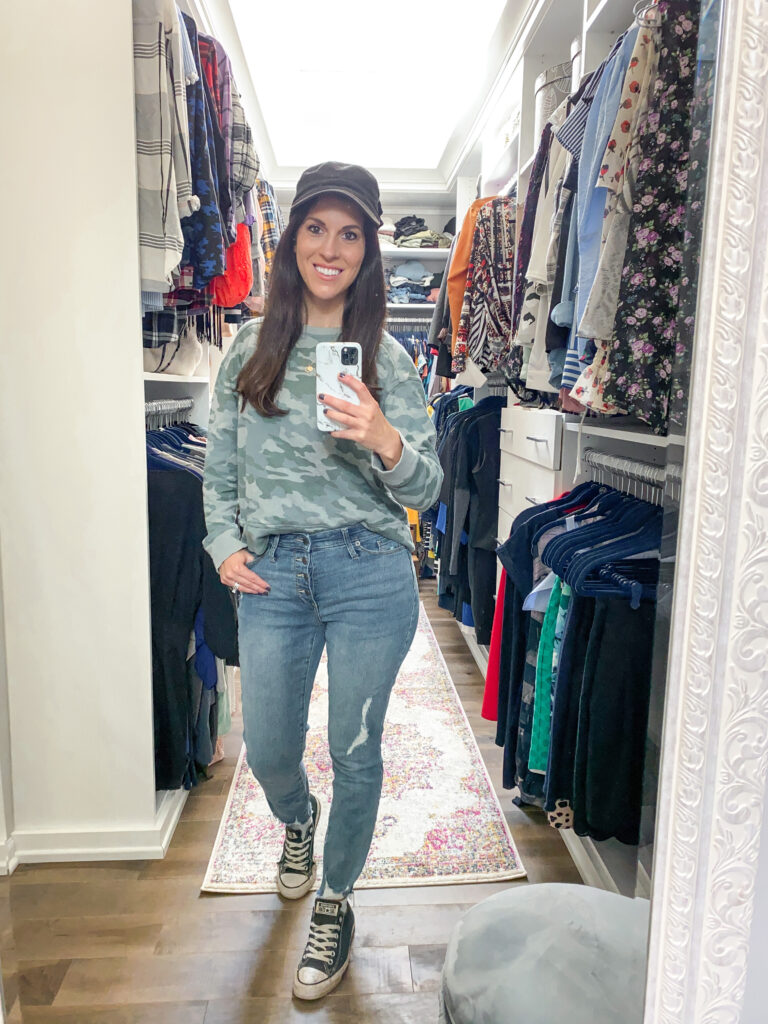 I have really been loving sweatshirts lately. They're great for those cooler mornings and fit easier under my jackets. I only wash my hair a few times a week, so on those days where I'm probably pushing the limit, I love to throw on a hat.
SWEATSHIRT | JEANS | HAT| SNEAKERS
JOGGERS & UTILITY JACKET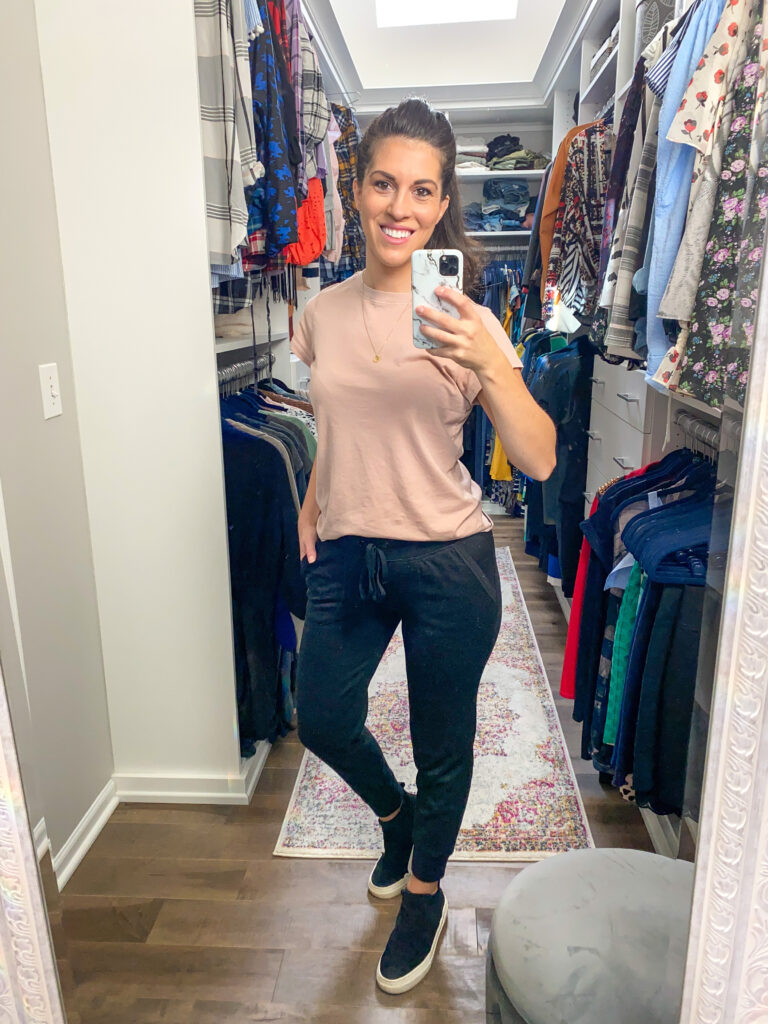 This time of year our weather can be so tricky, which is why layering is one of my bffs. We're supposed to be close to the 70s this weekend, and for the most part, we've had mild temps.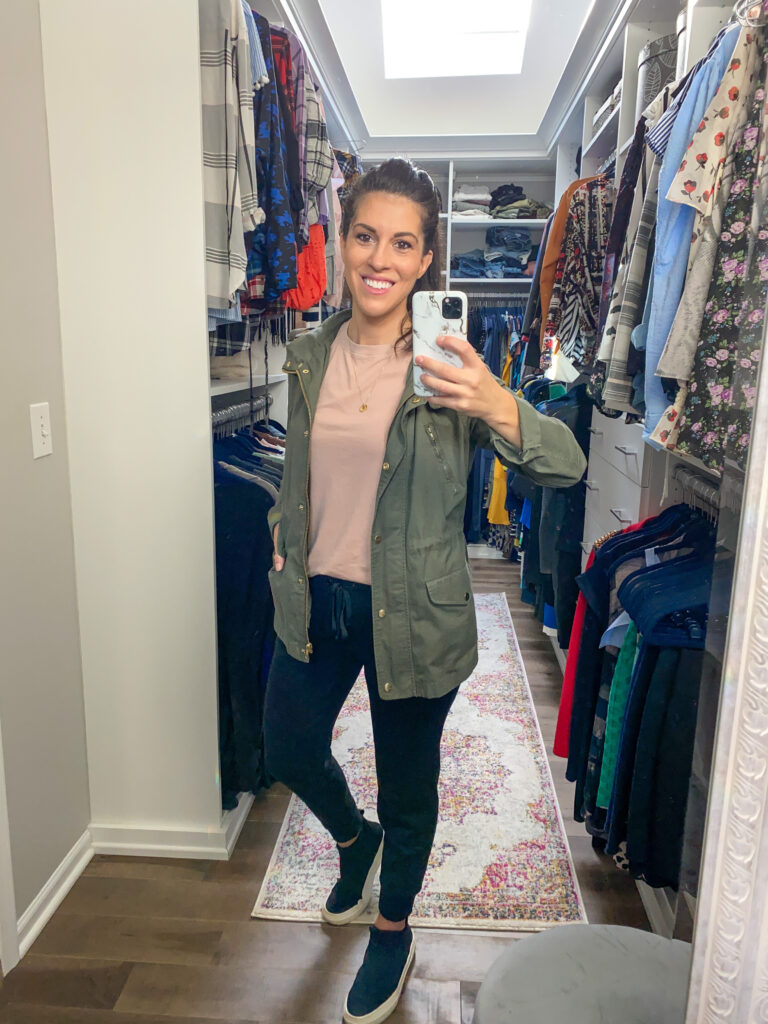 I love wearing my joggers with a basic tee, and for those cooler mornings, an easy fix is my utility jacket. I also love throwing on a sweatshirt over my tee for a super casual look.
JOGGERS | TEE | UTILITY JACKET | SNEAKERS
WAFFLE TEE & DISTRESSED DENIM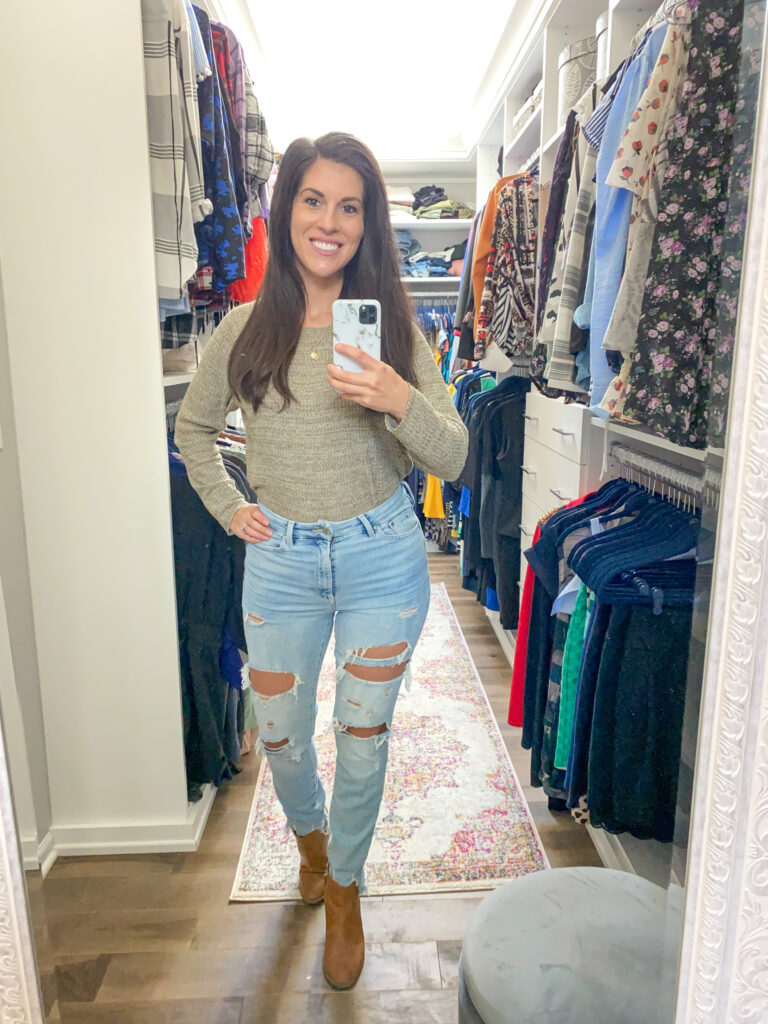 This long sleeves waffle tee has been a favorite of mine. I have it in two different colors and love how versatile it is. I love wearing it with my ripped jeans, but also love wearing it with leggings, or my joggers.
WAFFLE TEE | JEANS | BOOTIES
What would you say your style is for your outfits for school drop-off and pick-up?