Sharing our simple living room home decor updates in hopes that it might give you some easy refresh ideas that can make a big impact
I don't know about you, but when the new year hits I'm always looking for simple ways to add a little home decor refresh to my home. When we purchased our house and decided to take on a full home renovation, I knew that putting our living room together was going to be one of the most challenging rooms for me.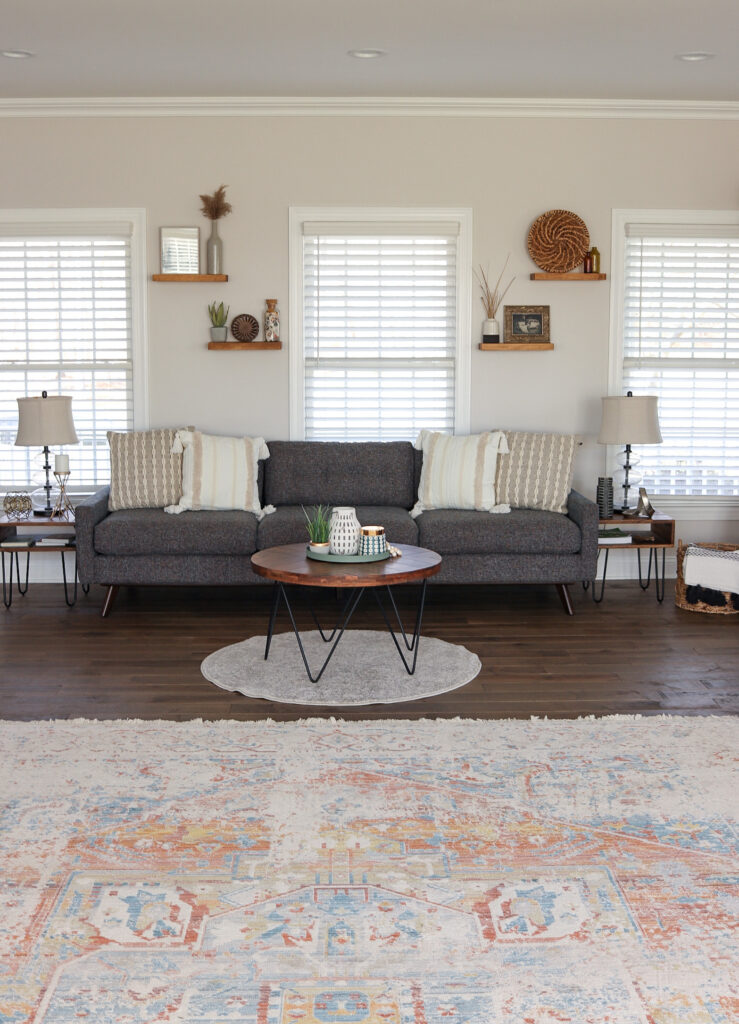 I'm certainly no interior designer, and some people reading this might not even like the home decor updates, style, or what we did here (to each their own).
For me, I know some of my greatest inspiration has come from every day homes with affordable pieces that feel attainable and haven't been magazine styled.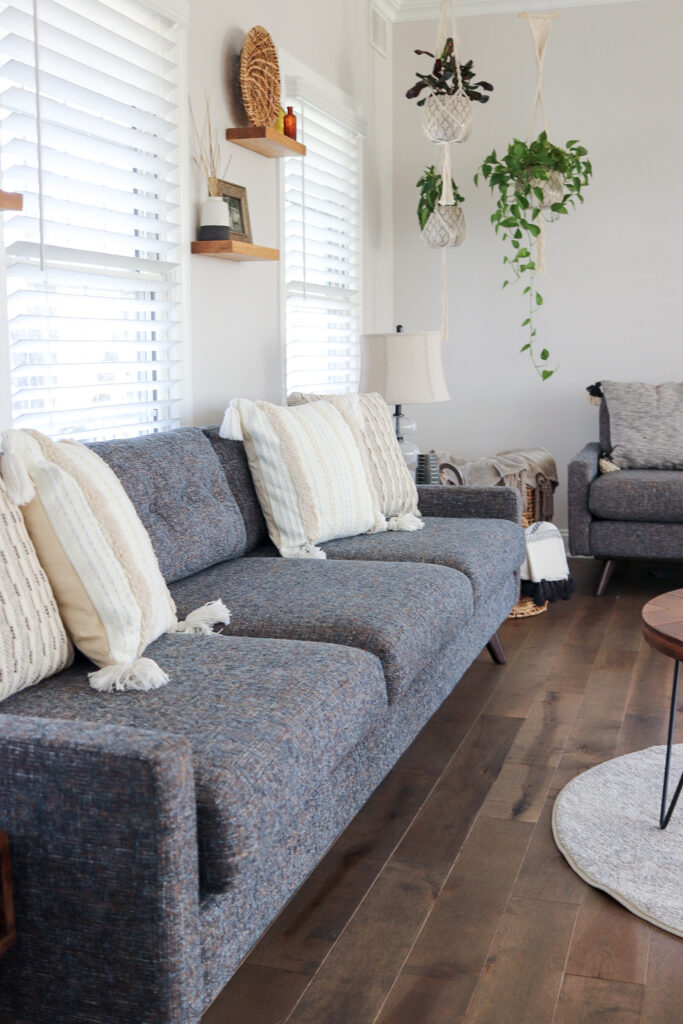 So, here I am. Sharing a section of our living room in hopes that it might give you some simple decor update ideas that could make a big impact.
What I will say is, since we first moved in, a lot of this room has changed. It's so true that the best thing you can do is live in a space to get a feel for it before buying everything you think you need.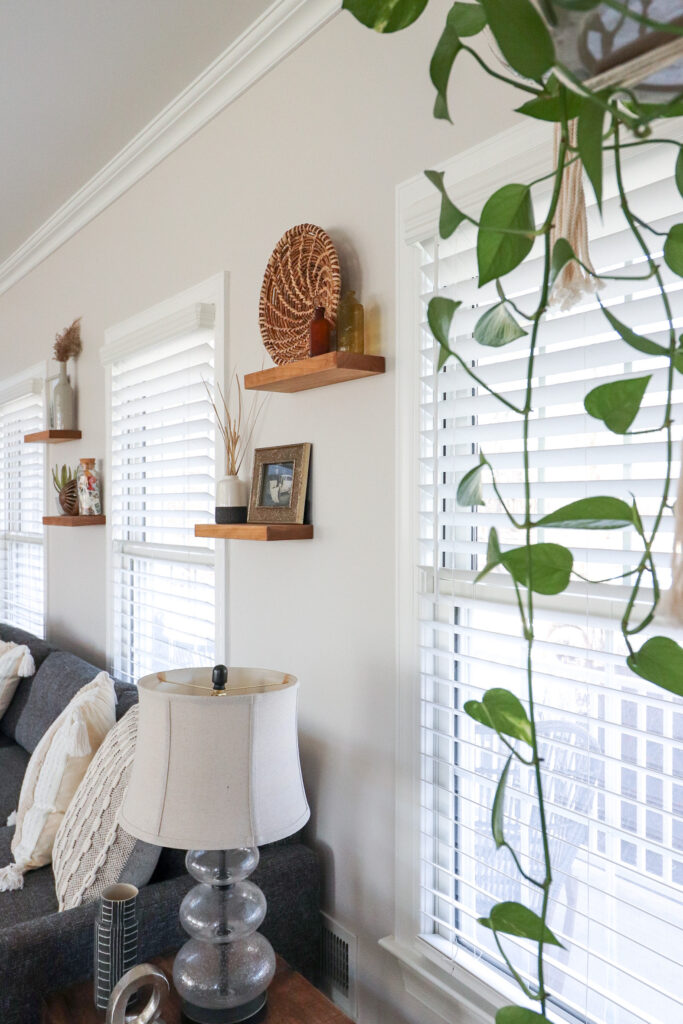 Oh yeah, and when we did move, we had a newborn and needed to move across the state. Let's just say my head was not exactly screwed on straight when picking decor pieces for our house.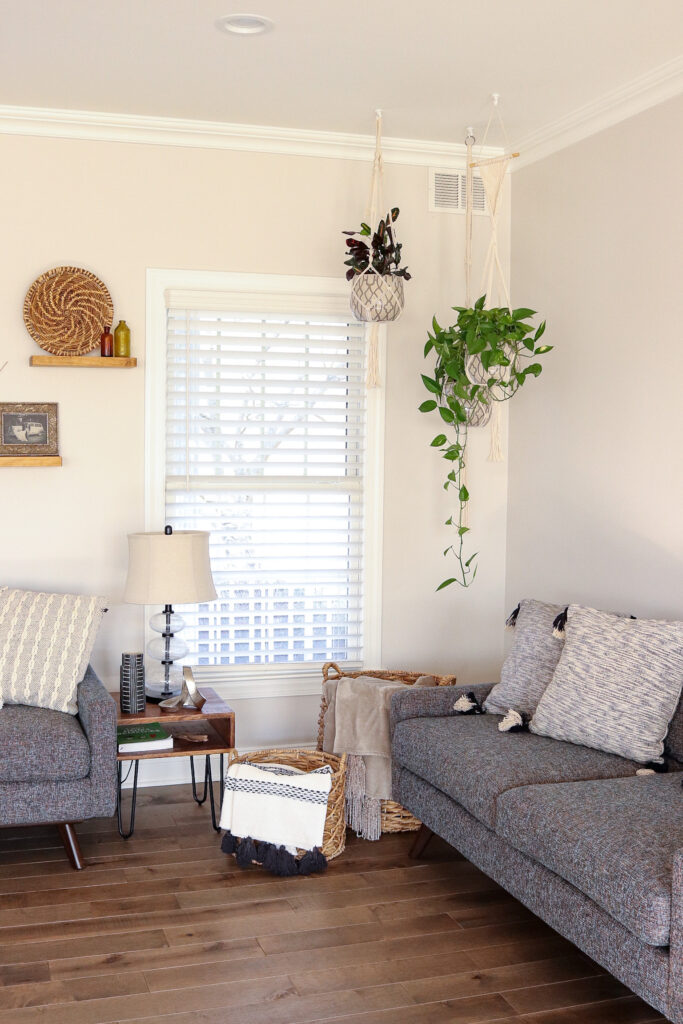 Ha! I still remember laying up at almost 4am with my husband with about 8 different tabs open on my laptop trying to decide on a living room rug. I remember having complete regret the next morning when I looked in my email and realized which one we went with. I was too exhausted to go back to the drawing board, so we lived with it, for about a year.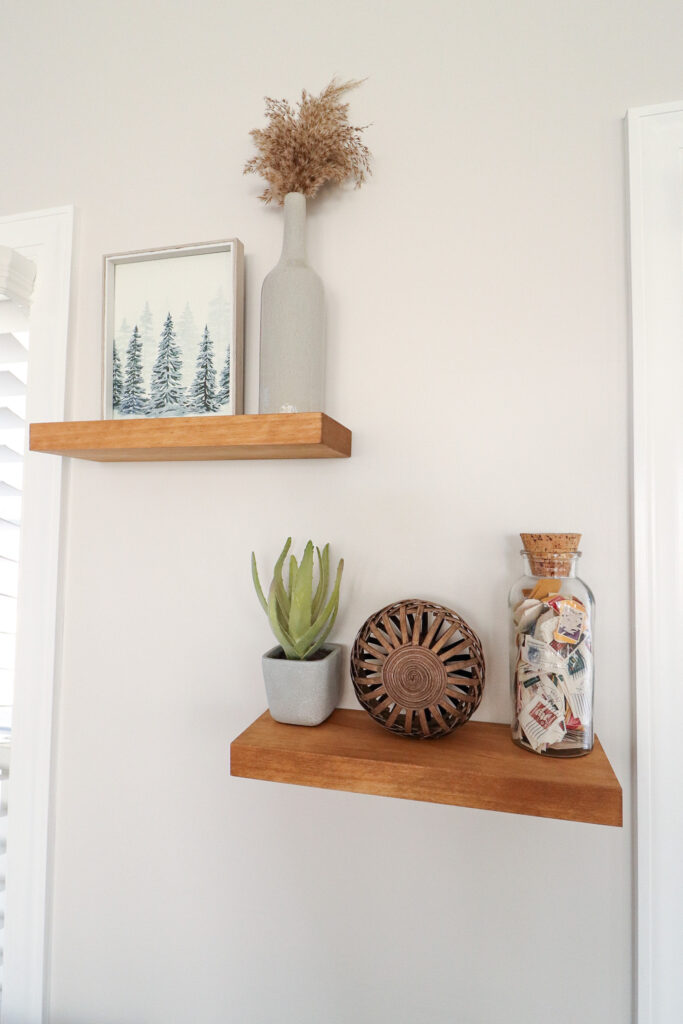 After we fully moved we saw how our design style was shifting and the practicality of things we needed with three kids were changing. We happily made a new purchase for the rug we have now, and we absolutely love it.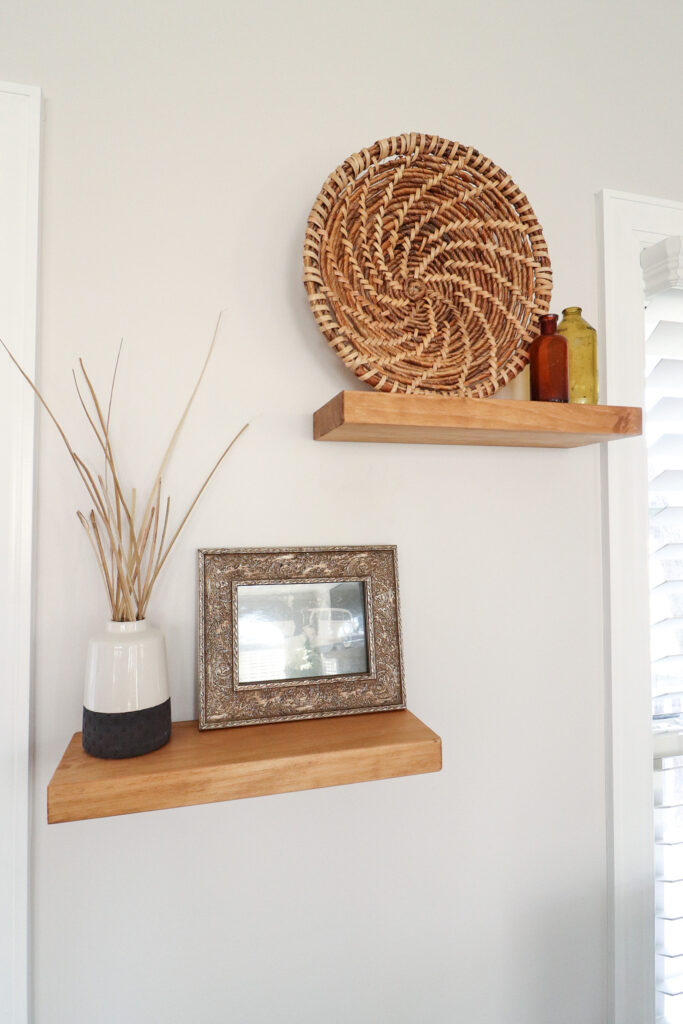 Ok, so rugs aside, which can make a big impact, I want to get back to my point about this side of the room. I say this side of the room because our living room is huge.
When we renoed the first floor we took two rooms and opened the wall up to make it one big one. We knew the other side of the room would never get used if we left that wall there. It would have been pointless to the functionality of our home.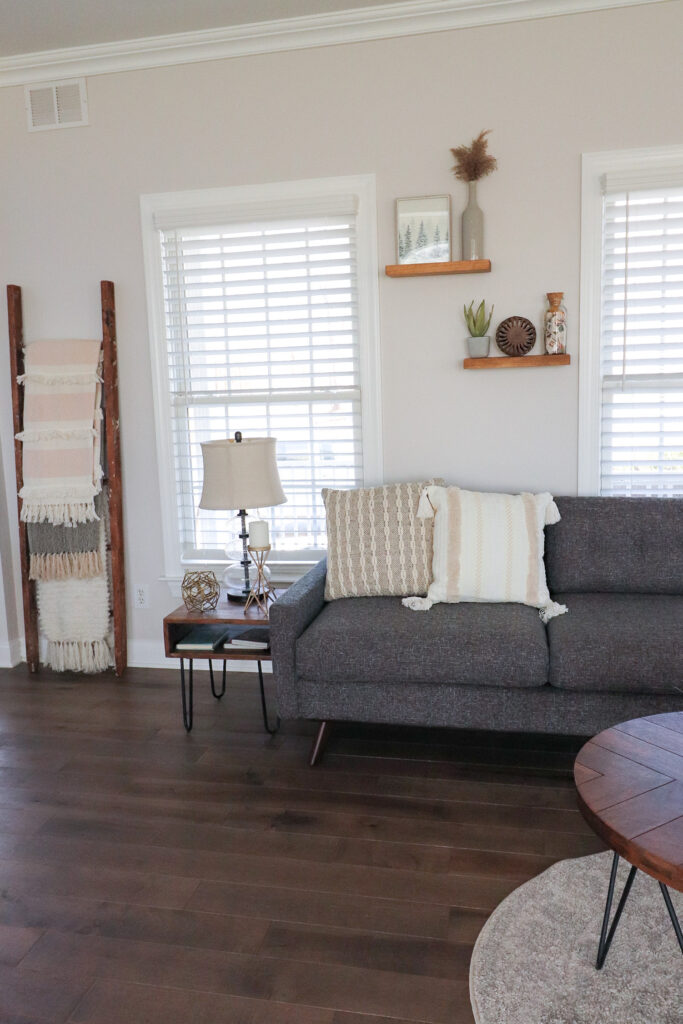 Down the wall went, up the header beam went, and the real tricky part of essentially bringing two rooms together started. I don't even have a picture of our full living room. I think I would need to do a panorama, or have some really crazy wide zoom lens.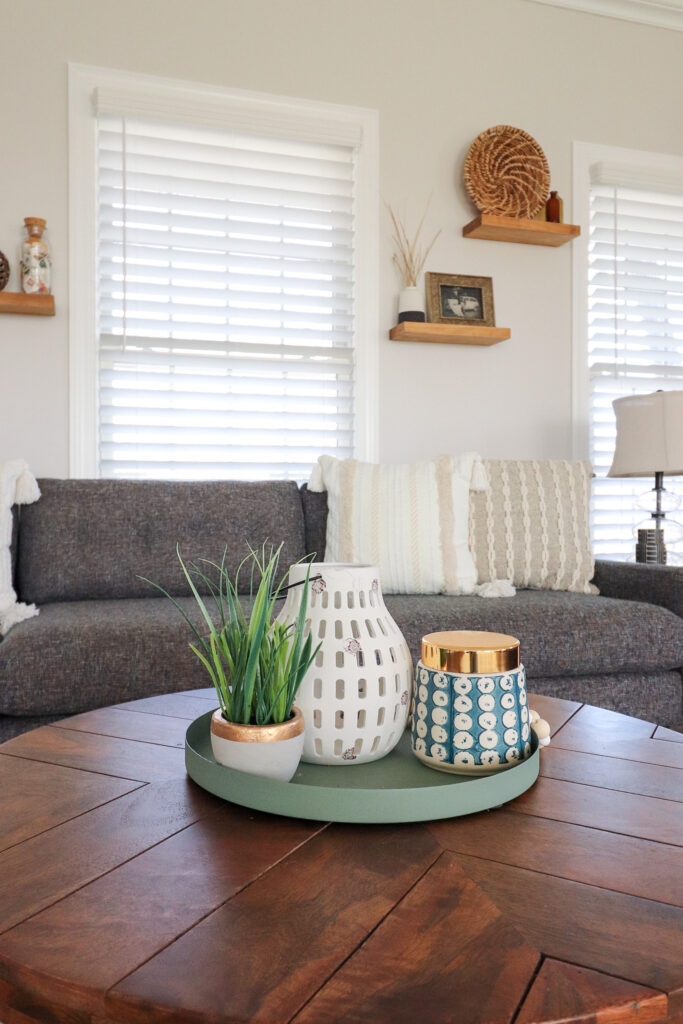 This side of the room never really felt complete. I'd look over and feel like something was missing. The two weren't tying together and I had a hard time accepting the dysfunctional flow.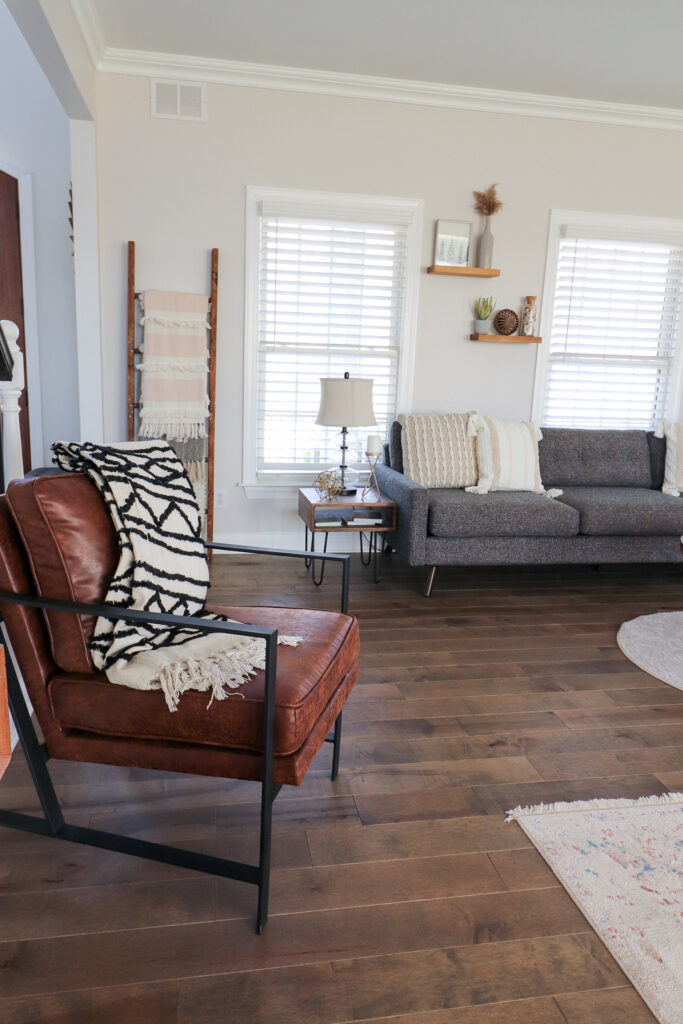 It took me sometime to think about what I wanted to add and how they could help everything feel a bit more put together.
Here are some simple home decor updates that helped transform this space…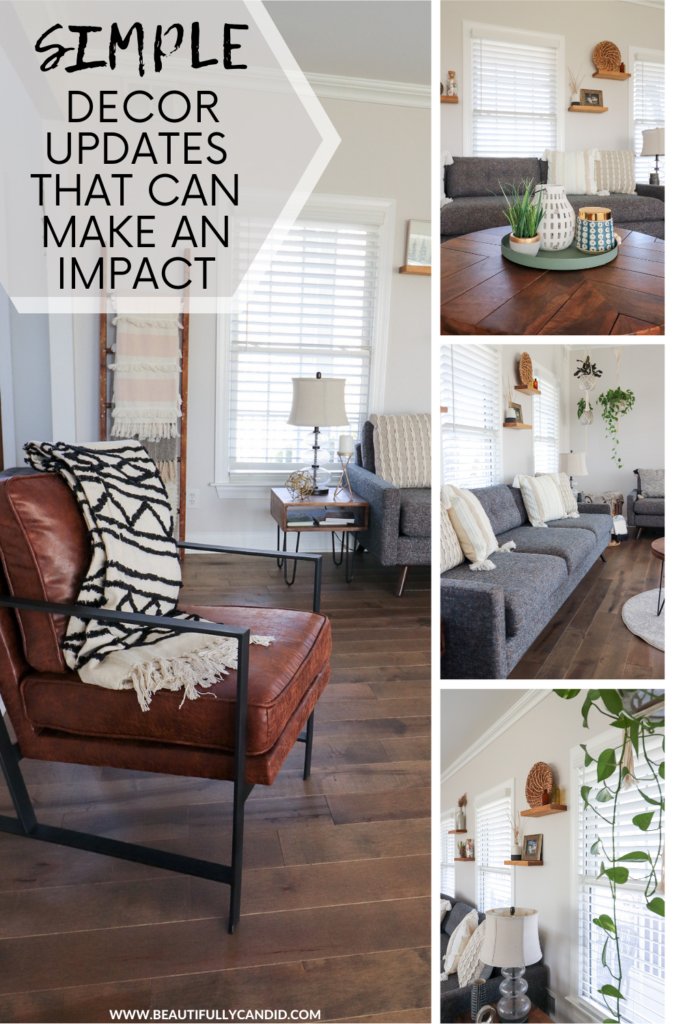 FLOATING SHELVES:
At first, I wasn't sure if I wanted to get some art work or have big family pictures go in between the windows of the couches. I'm sure either wouldn't have been a bad idea.
The more I thought about it, I really liked the idea of having shelves. It would allow me to easily switch decor in and out, and give me the ability to refresh the space more often.
My sister painted the tree picture for us from the Christmas trees we have on our property. She is so talented! Mixing in a black and white wedding photo of Eric and I gave it a little bit of a vintage feel, and love the personal touches you can add to shelves.
The rest of the trinkets we have up there are a mixture of things I purchased on discount, or that we already had. Like this stamp collection from Eric's grandfather that we put in a jar for decor. Or the old bottles we found buried near our yard that fit perfectly up here.
MIX IN DIFFERENT PILLOWS:
I've mentioned before that I might have a slight pillow problem. I love throw pillows! I think they are one of the easiest ways to change up your decor and give it a fresh feel.
Once I realized I could buy pillow covers and reuse the pillows I already have, well, that was a game changer. I purchased these neutral tassel pillow covers for one of our couches and these darker tassel pillow covers for the other to tie in the neutral and dark tones together.
TEXTURED THROW BLANKETS:
Coming in at second place to my throw pillow attraction, are throw blankets. Call me crazy, but it can be any time of year and I love a good throw blanket on the couch.
Ok, not even just the couch. I have blankets for when we go camping, blankets that I use with my outdoor space, ahhhh I love a good throw. Mixing in different elements with colors and texture can give a space a variety of feels. I repurposed this old ladder and turned it into a blanket ladder that has now worked its way into the decor.
A STATEMENT CHAIR:
This might not be for every space, but I can't tell you how much mixing in a new chair to our space has brought in a home decor update that's helped tie things together. An accent chair is a great way to add in some extra seating and bring in an element of personality or build a cohesive flow.
BRING IN SOME GREENERY:
Whether you decide to go with live plants or bring in the faux ones, adding in some greenery makes a space feel inviting. My macrame plant hangers have been one of my favorite things that we added to an awkward corner.
LAYER IN RUGS:
Remember how I mentioned my rug situation? I've seen firsthand that having the right rug for your space with the look you are going for makes a huge difference.
We mixed our traditional rectangular shaped rug with this round one to go under our accent table. It added in a simple home decor update that was surprising and unexpected. If you don't have hardwood floors but still want to use area rugs, I love the look of layering rugs. I also like having multiple rugs in one space.
What about you, do you like adding in home decor updates to give a refreshing feel for the new year?