Well hello, March! It's nice seeing you. The start of a new month and you, my friend! Who else enjoys getting fun mail? It seems like all of my recent purchases were arriving at once, so I was basically a little kid on Christmas morning getting my hands on the goods inside.
I love taking advantage of a sale and even stocking up on some off season things. A, because they're usually things I can still wear now, and B, they make for great transition pieces as the seasons change.
Sweatshirt Shift Dress
Sweatshirt shift dress, yes, please! It seems like anything sweatshirt lately and I am sold! I mean, cute and comfy makes for the perfect combo. I also loved the name of the color of this dress, a little rusty. It also comes in the color, panther, but I liked the brighter color with spring on the way. I ordered this in both a small and xs. This pic is wearing the small but I ended up sending it back after deciding on the xs. Both looked good, but I think for my body type the xs was more my comfort zone. I know this will be cute with sneakers, flats, or even sandals if there are cooler summer nights.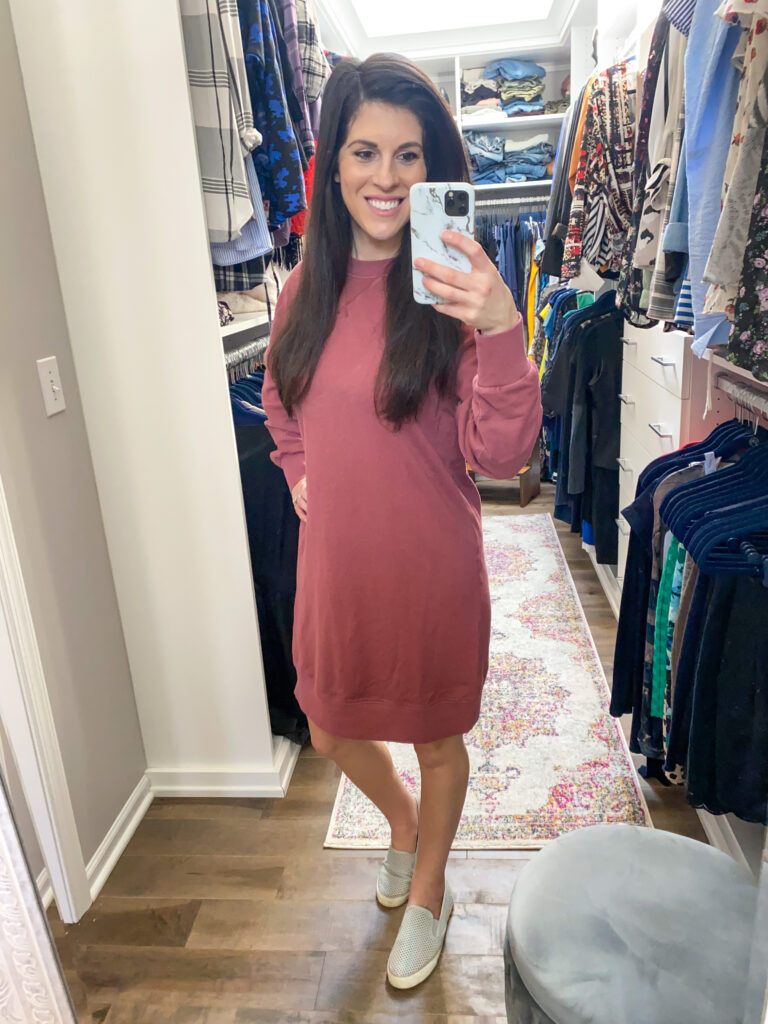 Extra High Waisted
Alright, I'm apologizing now for ever negatively commenting on my mom's jeans in the past. Mom jeans have certainly made a huge comeback. And you know what, I'm ok with it. I don't mind a hight waist straight leg look and switching it up from my skinny jeans 😉 And clearly I get a lot of use out of my oversized sweatshirt.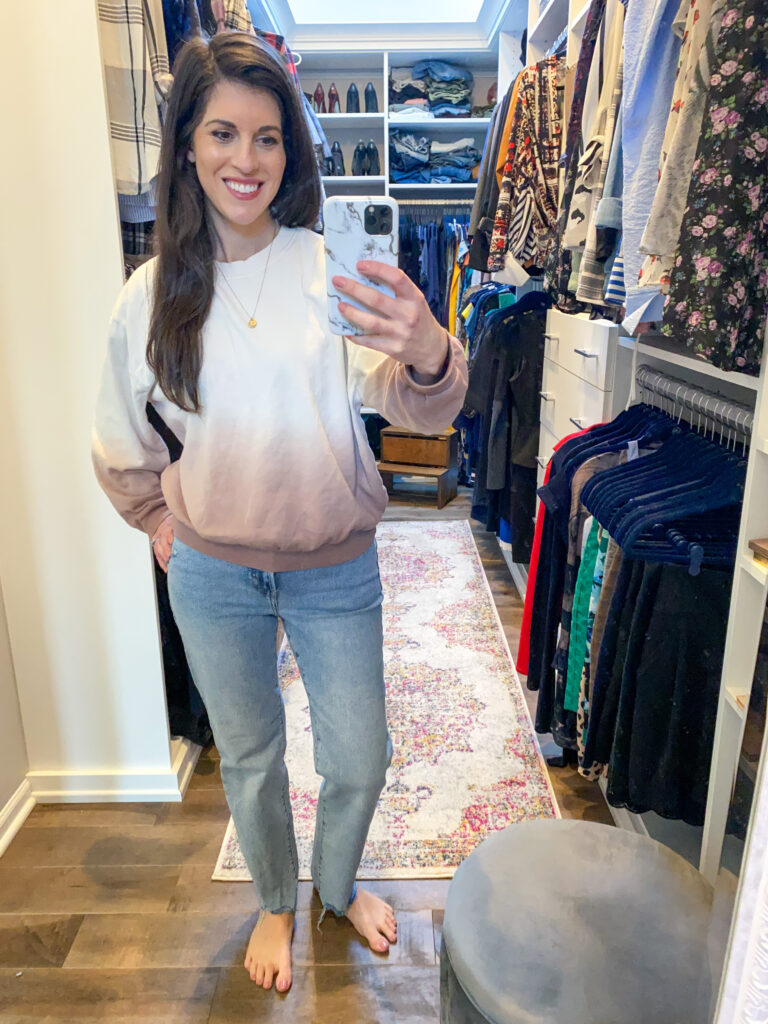 Softspun Cozy Jumpsuit
Getting back to cozy, I could live in this jumpsuit! No really, it's that comfy. And added bonus, it's on major sale right now. I'm not sure my makeshift closet selfies give it justice, but it's really cute. I've always been pretty hippy (you know, like those hips don't lie), so with every jumpsuit I wear, that area is always accentuated on me. I love this with a jean jacket and my soludos are still one of my favorite spring and summer espadrilles to pair it with.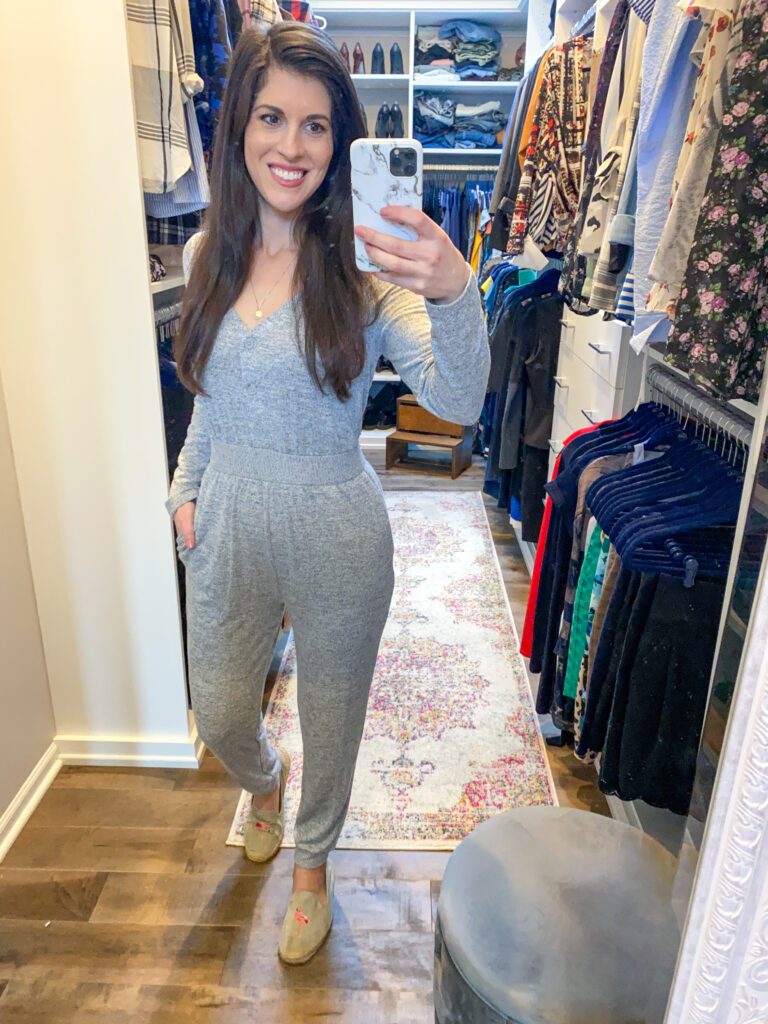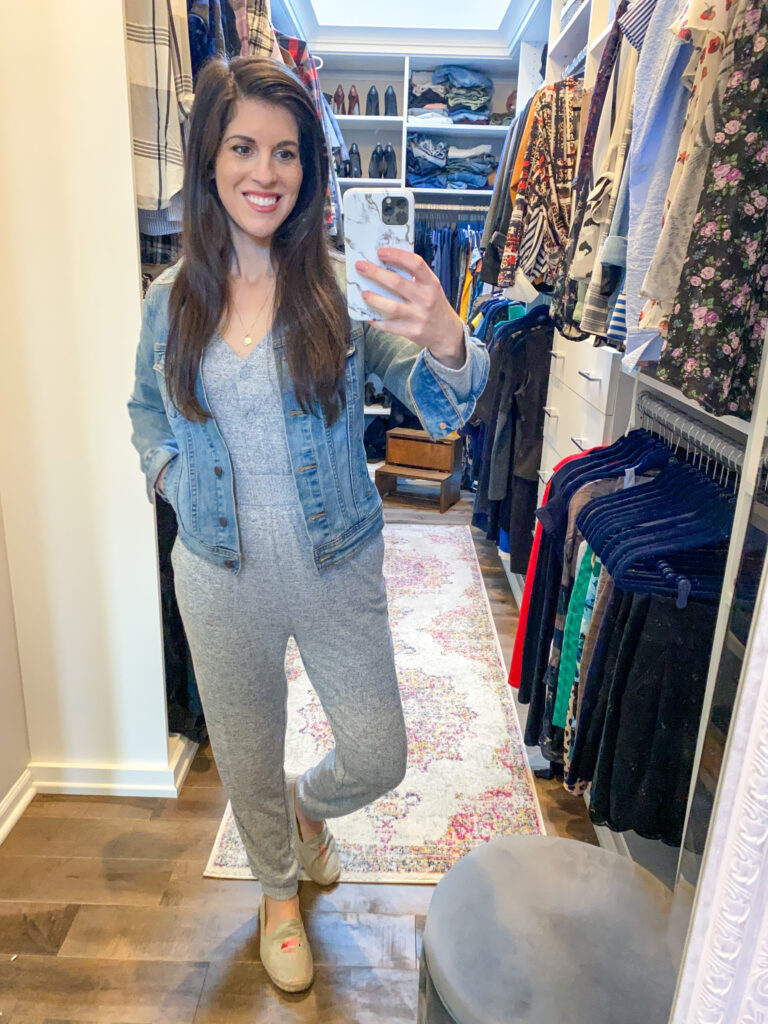 Sunglasses
It's never too early to start thinking about sunnies, right? Hopefully these gloomy gray winter days are behind us and those warmer rays of sunshine will be shining through. I couldn't resist these oversized pink mirrored glasses. I have to say, for cheaper glasses, I was impressed with the packaging and quality of these. I used to spend a lot more on glasses until I realized it wasn't worth it for me.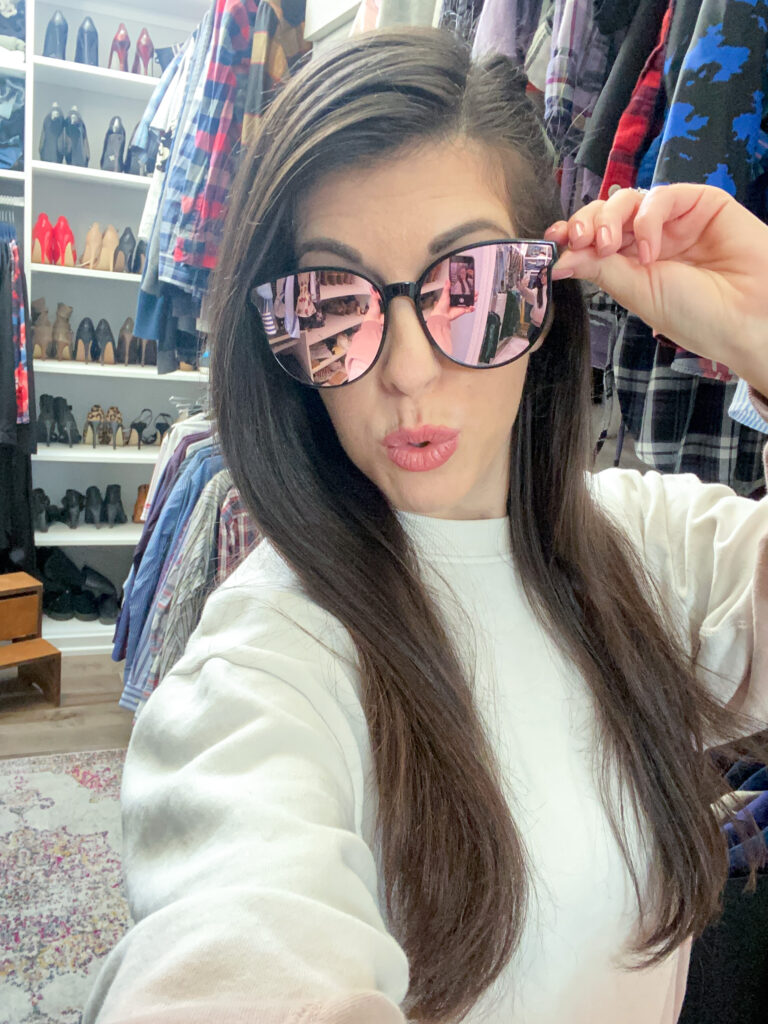 Beauty Finds
I'll admit, I am not a beauty expert and usually keep my daily routine pretty simple. I do do my makeup every day (for the most part) because I enjoy it and it helps me feel put together. I love doing my eye makeup and like using an eyeshadow stick with a little shimmer. This Julep sand shimmer color was perfect for me and what I use as my base everyday.
I know a lot of us have heard about the chemicals and things that are in a lot of our beauty products which we should try to stay away from. I recently did some research and switched up some of products to go with a more natural route. I've been using this Burts Bees Goodness Glows foundation for the past few months. I like the coverage it provides without all the junk that some other foundations have and plan on continuing to use it. I also tried out their eye cream which provides good hydration but I won't say it does wonders for wrinkles. I'm pretty much convinced botox is the answer to that. I have been using Derma.e anti-wrinkle cream for my face at night and do feel a difference with it being smoother.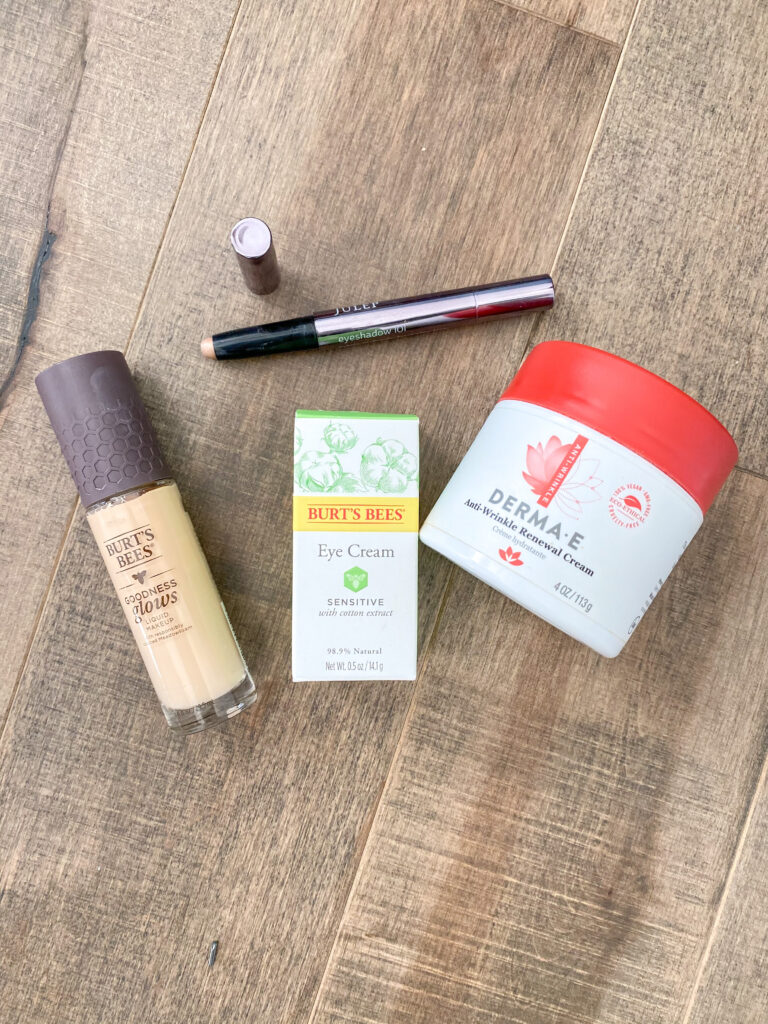 For The Kids
I've already started picking up little things for my boys Easter baskets. I've learned in past years that if you don't grab a lot of this stuff earlier on, the sizes and colors you want are usually gone. I do a lot of the typical things but also throw in some practical things to fill up their baskets. We love these easy flip flops.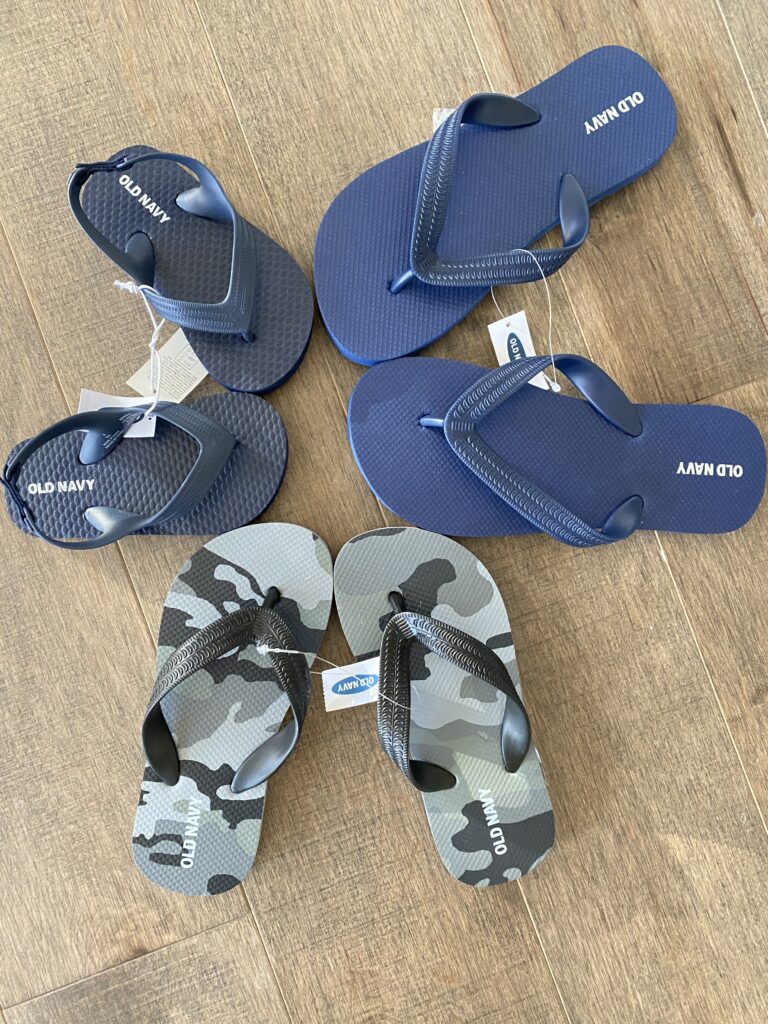 Have you started shopping for spring wear, or anything fun sitting in your cart?