Happy Friday, friends! I hope it's been a good week for you. My, oh my, was it a busy one for us. Why does it always seem that when you wouldn't mind it feeling like a slower week it seems to go by faster.
Anyway, here we are. We'll be enjoying more of a laidback weekend and unwinding from celebrating our little guy. We'll be keeping things small, like we have been, and will be having family over for a little party. You can tune into my insta stories to see the theme we went with and join us for some of the fun!
Let's take a look at some of my favorites from the week…
LOOK WHO'S TWO:
Oh my heart, can time slow down a bit?!? How is my sweet little boy waking up today as a two year old?! It seems like he was just being placed in my arms. He has been such an inspiration to us and the sweetest little blessing.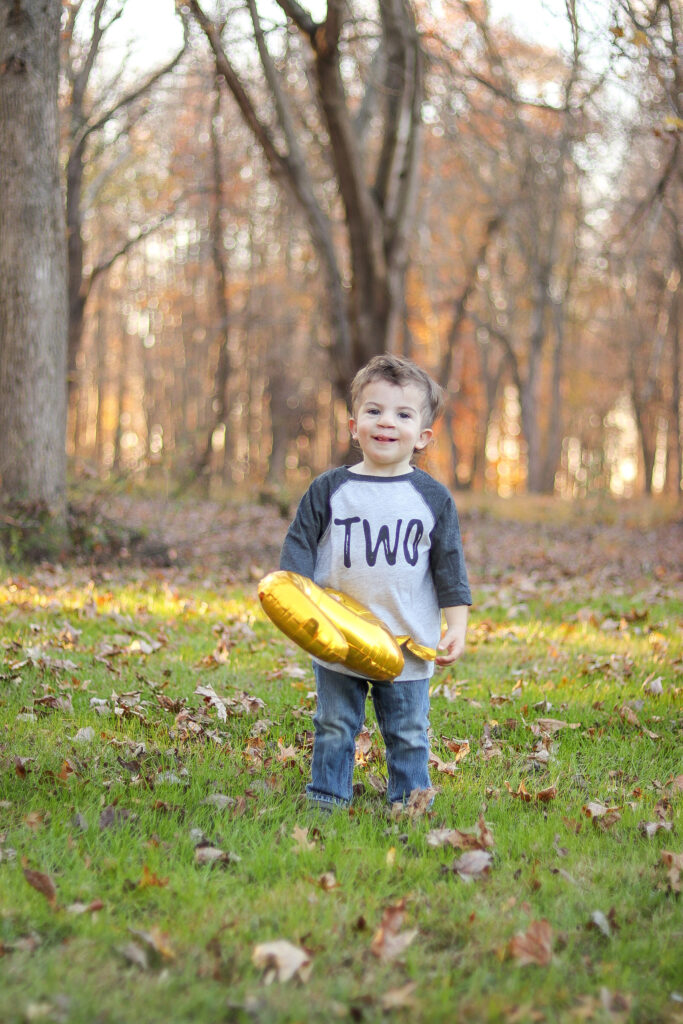 Most of you know if you've been following me for awhile that my son was born with a bilateral cleft lip and palate. If I could go back the past two years and tell my prior self a piece of advice, it would be that your son is going to be amazing and all those moments of worrying and being upset were not worth it. I know that's easier said than done, but looking back, I would go through what I went through with him 10 times over if I needed to.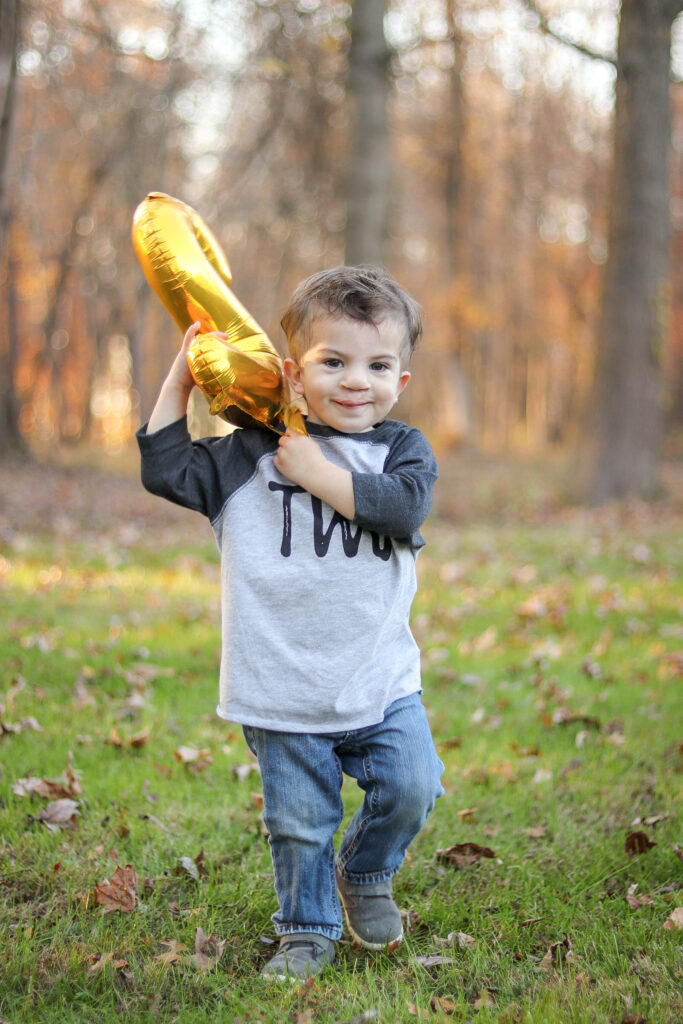 Several of you have reached out and asked, why don't I share more about his cleft journey on here? And to be honest, when I look at my son I don't see his cleft. I see him for the amazing little boy that he is. And while he still has a journey to navigate with future surgeries, I also don't want him to be defined by his cleft. Now don't get me wrong, I'm all for educating others and connecting through this journey, but I also don't think it needs to be his main focus.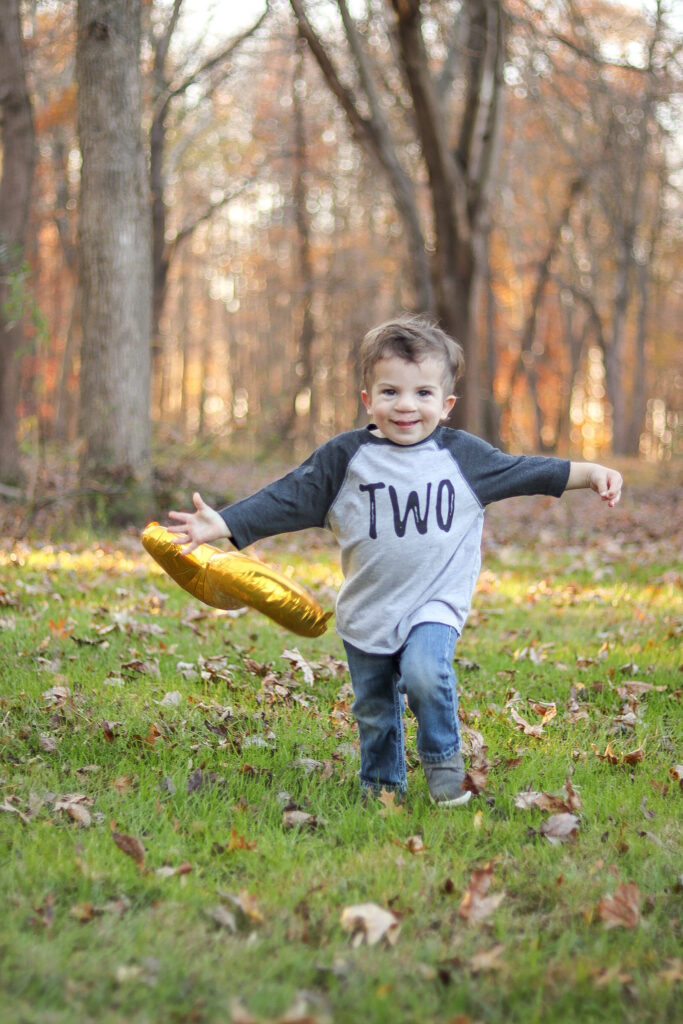 Now, more about my sweet little, C. He has become Mr. independent and is definitely in the, let me do it stage. He is talking a lot now and it's so fun to hear the things he says.
He might be the youngest of three, but he sure lets everyone know who's boss. He loves to tackle is older bothers and rough house with them. He's also a dancing machine and will break it down with some serious moves.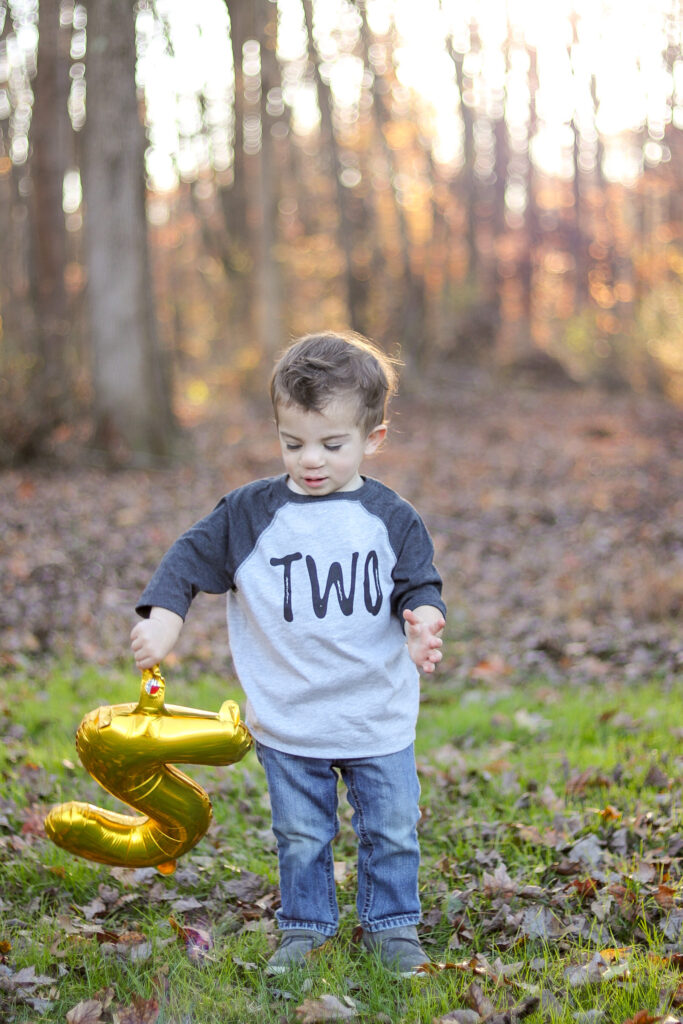 My little guy is a yogurt loving kid and would seriously eat a whole box of yogurt tubes a day if we would let him. He has been my only little one that will throw his food, so that's made every meal time very interesting.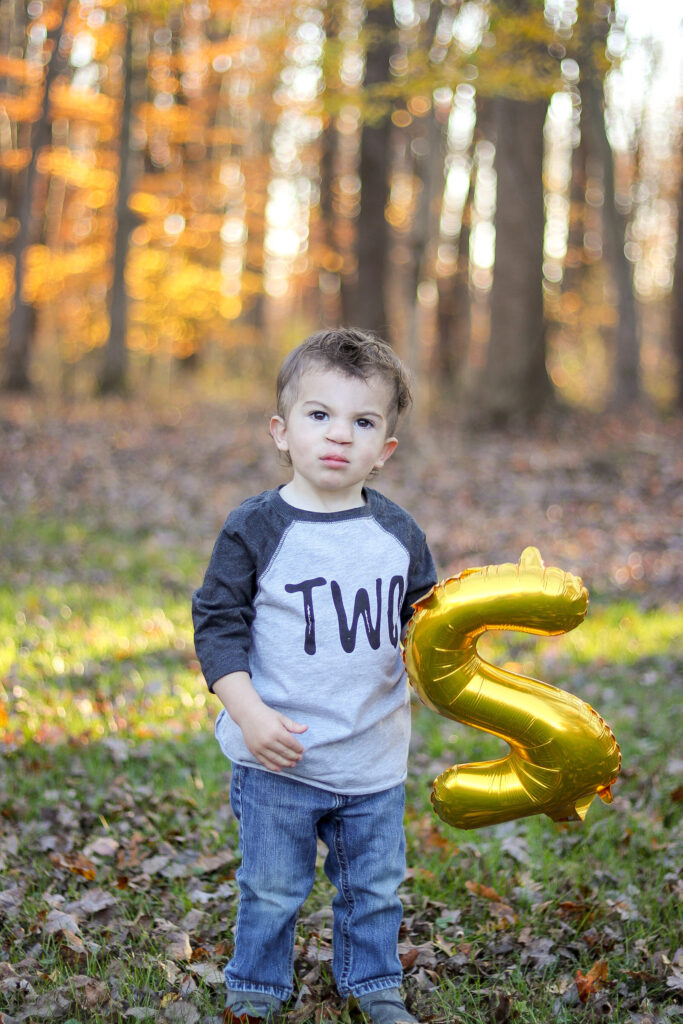 We can't get enough of his sweet smile and big squishy bear hugs. When he enjoys something, he will make sure you know he wants, more, more, more! He also has his stink face look down pat, and we're pretty sure he will let others know not to mess with him when he's older.
Happy Birthday, sweet boy! We love you and can't wait to celebrate you!
AIRSTREAM, HERE WE GO AGAIN:
It's only fitting that since I have three boys I might as well have three Airstreams, right? I realize that's totally not normal, but with Eric and I, I'm not sure much is normal lol. The funny thing is, my oldest did make a comment that we need to keep these so when they're older they can all have one and go camping next to each other. I kind of love that idea.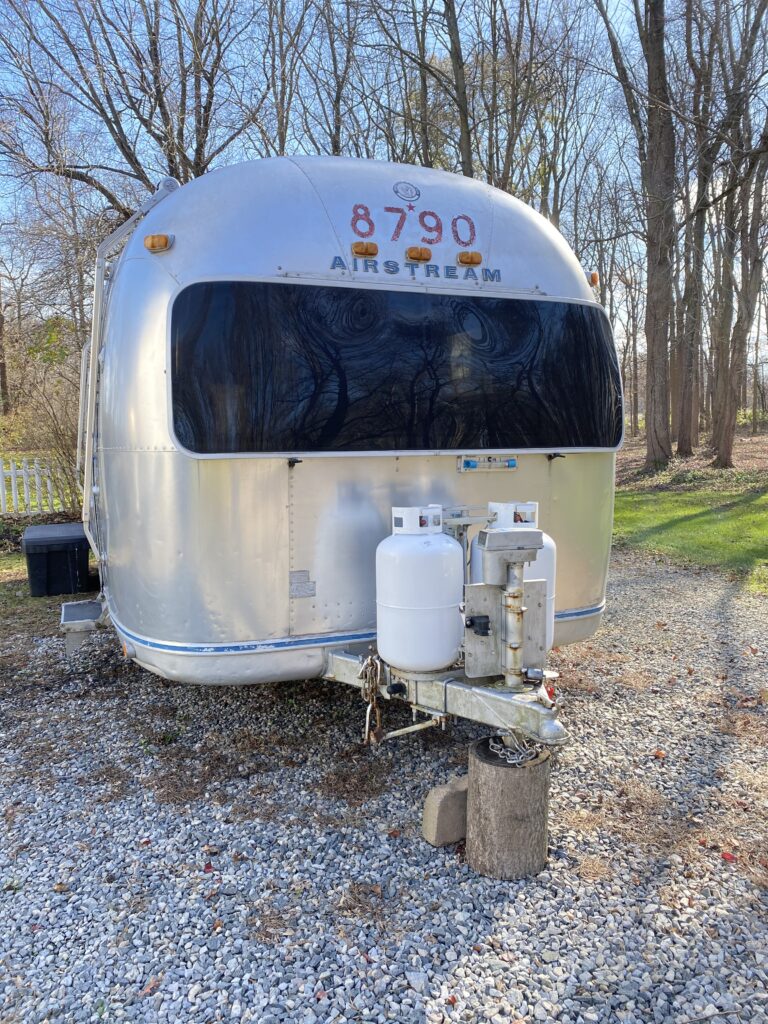 You might remember that at the end of summer we bought a 2nd airstream and have been slowly working on it. That one needs some system upgrades, so it's not as easy as throw some fresh paint in there and add in some cute decor. We were fully aware of that getting into it though.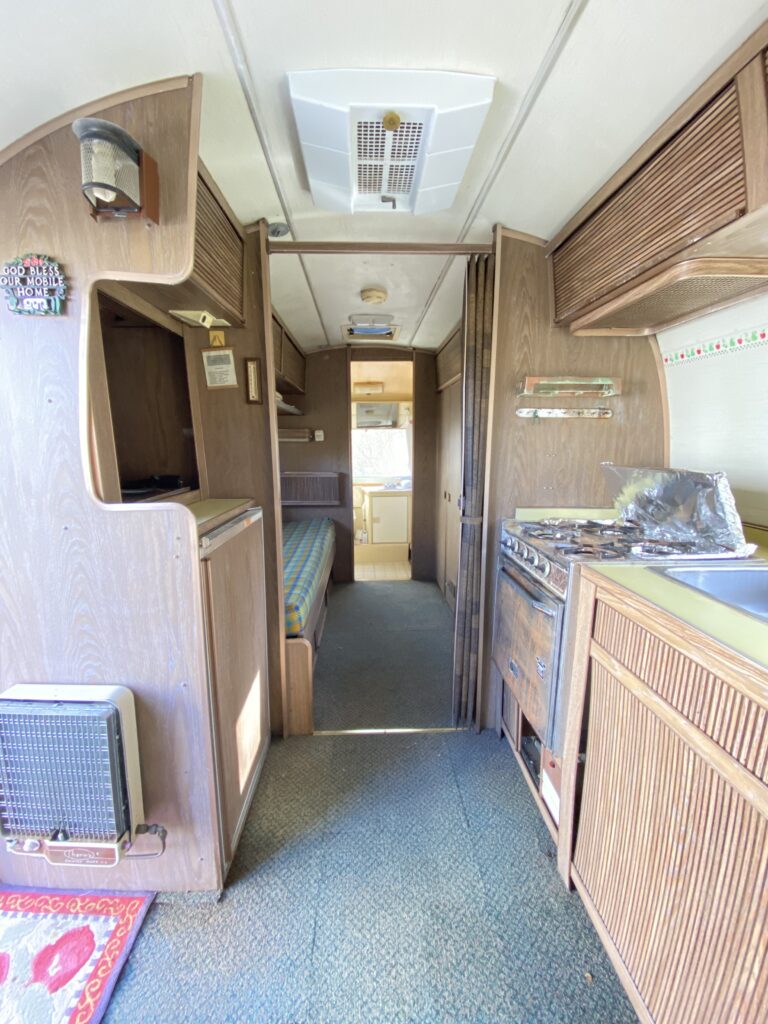 Well, another one came about that was in great condition that was too good not to make a move on. It's a 1973 and we got it from the original owners. Those are always a rare find and the best because you know it hasn't been passed around, tampered with, etc. We plan to keep a lot of the original features from this one while giving it some modern touches.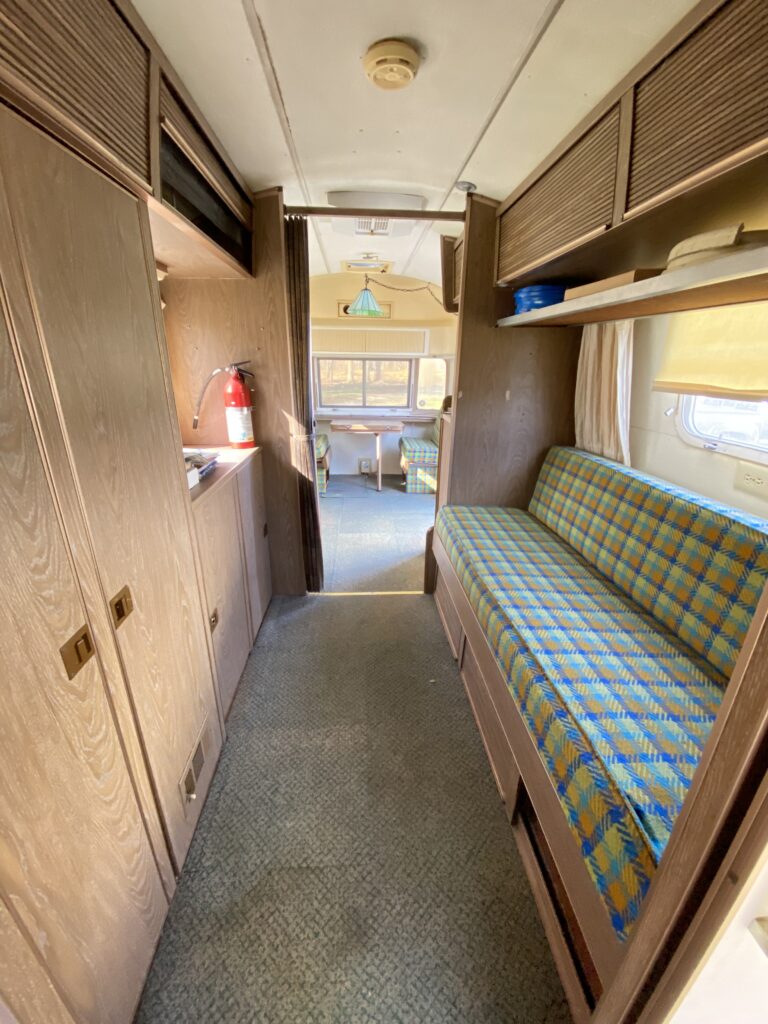 Our goal is to hopefully work on them through the winter (depending on how our weather treats us) and then decide if we want to rent them out over the summer. We have some longterm ideas in mind that we'd love to make happen, if possible, but only time will tell.
FAMILY PICTURES: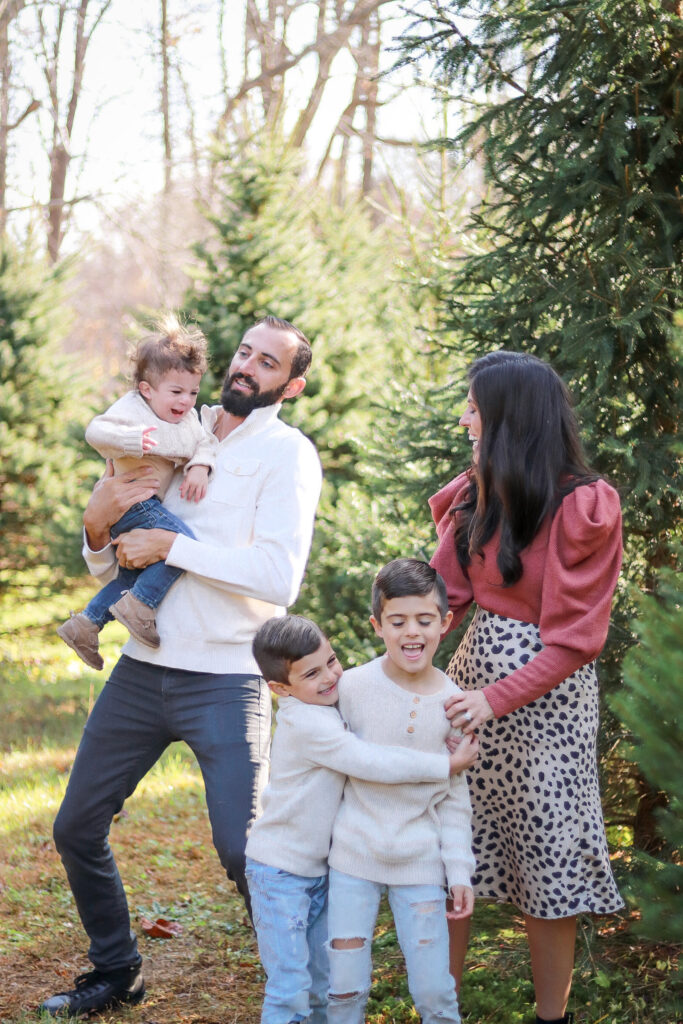 Thank you to everyone who helped me decide what sweater to wear for our family pictures. My sister took our pictures for us, and of course in true family picture fashion, there were some great ones, mixed in with a whole lot of chaos.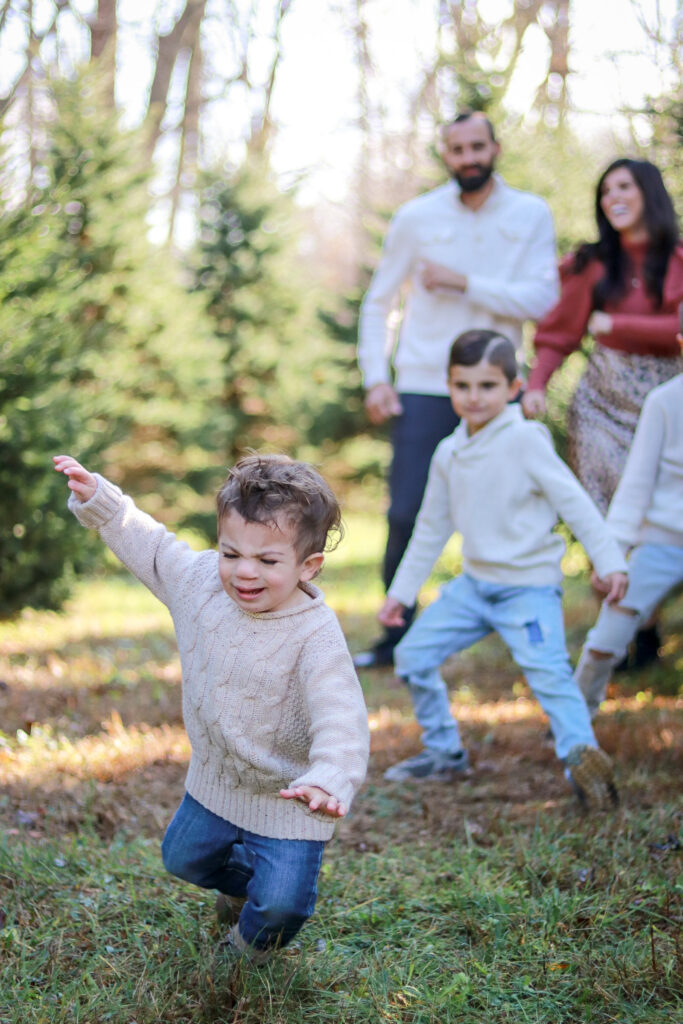 Remember how I mentioned a certain two year old was becoming Mr. independent? Well, he didn't exactly want to be held, smile, or stand still. I mean, he is two, so I can't really blame him. We'll work with what we got. These type of pics always end up being my favorite anyway because they show real life and come with a story.
SAYING GOODBYE TO FALL:
I shared on my stories a view of our fireplace and how I was thinking about starting to decorate for Christmas. I loved having personal conversations with so many of you and got to talk more about your thoughts on decorating. It was interesting to hear what motivates you to start early or to wait. It was really eye opening to hear how many of you feel, and I think it's something I might want to expand on a bit in a future instagram post.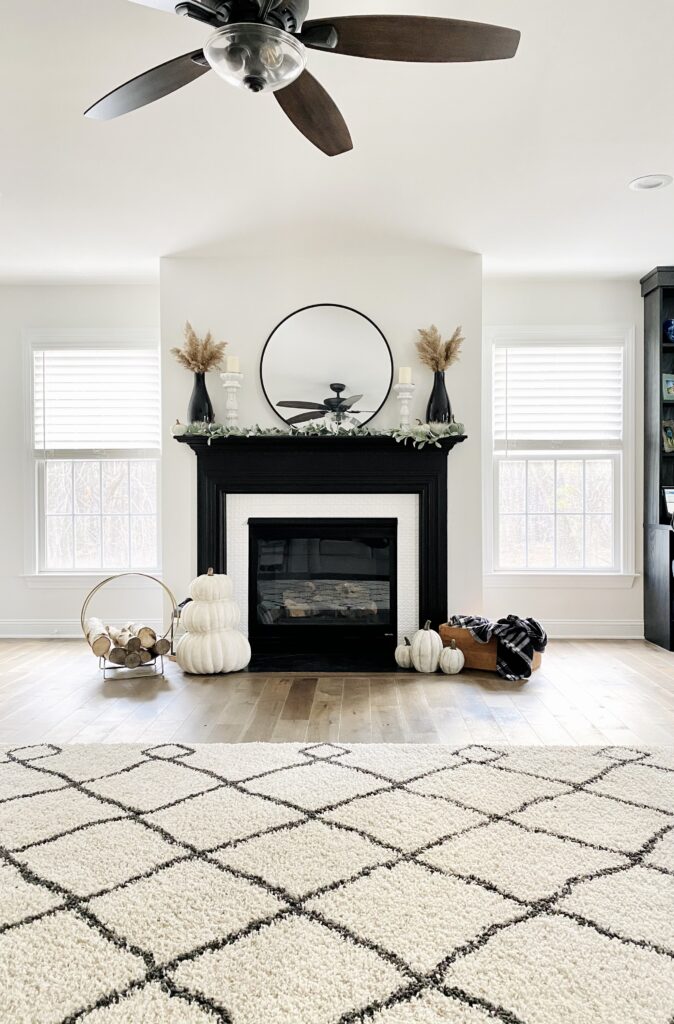 We started sprinkling in some Christmas joy this week, but will be doing our tree Thanksgiving weekend. Since we do a real tree, it just makes sense to wait for that at least. I also think it's so important to focus on what brings you joy and not what others around you are doing.
FAVORITE FINDS:
This section contains affiliate links. Thank you for your continued support and happy shopping.
It makes me happy to know you all have been loving my favorite finds lately, and as always, a huge thank you for those that click on my links and shop through them. My leopard skirt was a big seller last week and it's now back in stock with free shipping. I'm thinking about wearing it for Christmas with a different sweater.
And speaking of sweaters, remember how I mentioned I've been into statement sleeves? Well, I've been taking advantage of the early black friday sales, since most of quarantine I didn't buy anything new for myself. I couldn't resist this ruched sleeve sweatshirt and I'm so glad I didn't. It's super comfy and the fleece lining makes it so nice and cozy. I've never been a big hair clip person and now I'm kind of wondering why that was. I decided to pick these up on a sale and I've worn them almost every day this week. I also went back and ordered a few for friends as stocking stuffers.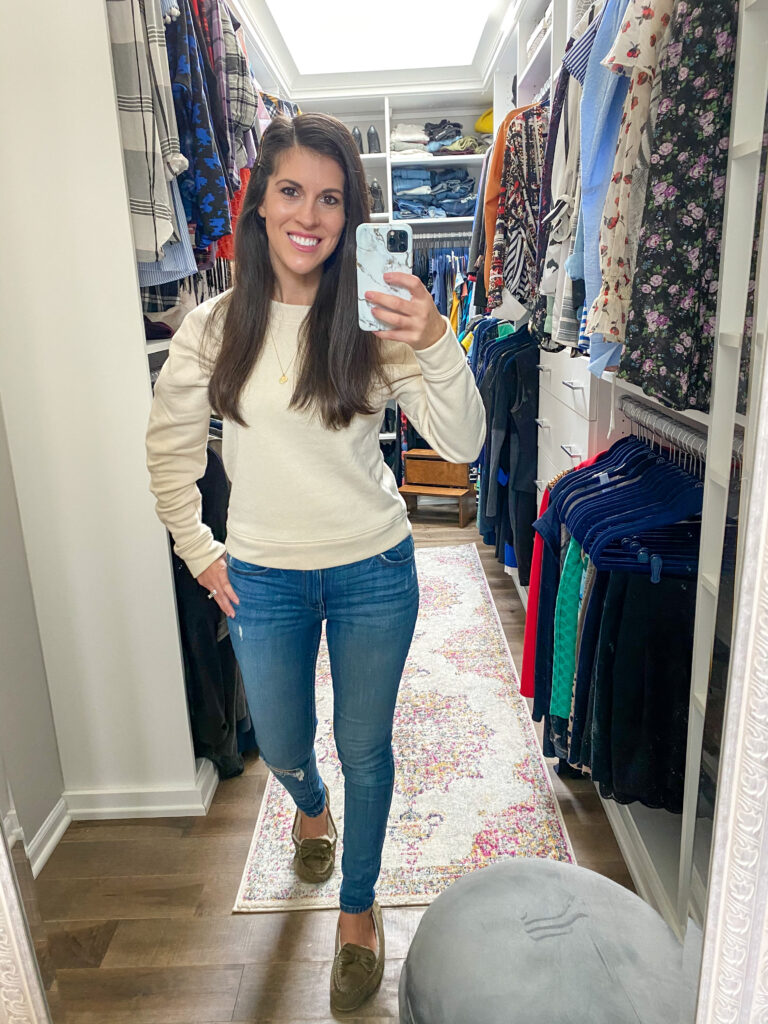 SWEATSHIRT | JEANS | HAIR CLIPS | SLIPPERS
I'm getting ready for our welcome back north pole elf breakfast, and ordered a few things in preparation. My oldest always needs new pjs so I couldn't resist picking up a cheap pair. Our elf always brings the boys a little something, traditionally it has been a gingerbread house kit and a new book. This year he will be traveling with this book and this gingerbread house kit.
I mentioned I wanted to try and make our main living room decor more of Christmas neutrals this year. I picked up this neutral beaded garland and went with these cable knit stockings and pompom knit stockings. I hate to admit it, but an unwelcome critter got into one of my Christmas bins and decided to chew away at some of our stockings. Lucky for them I was planning on getting new ones anyway.
I hope you have a great weekend!