Have you ever considered taking Easter photos with a real rabbit? Sharing one of our favorite traditions and moments captured with our sons and our bunny.
This might be one of my favorite traditions we ever started with the boys! If you're one of the OGs around here (yesss, shout out to my peeps! Haha, get it, Easter, peeps? ok, ok, moving on) then you know we started these live easter bunny photos when the boys were tiny tots and my youngest wasn't even born yet. Oh my word, time flies.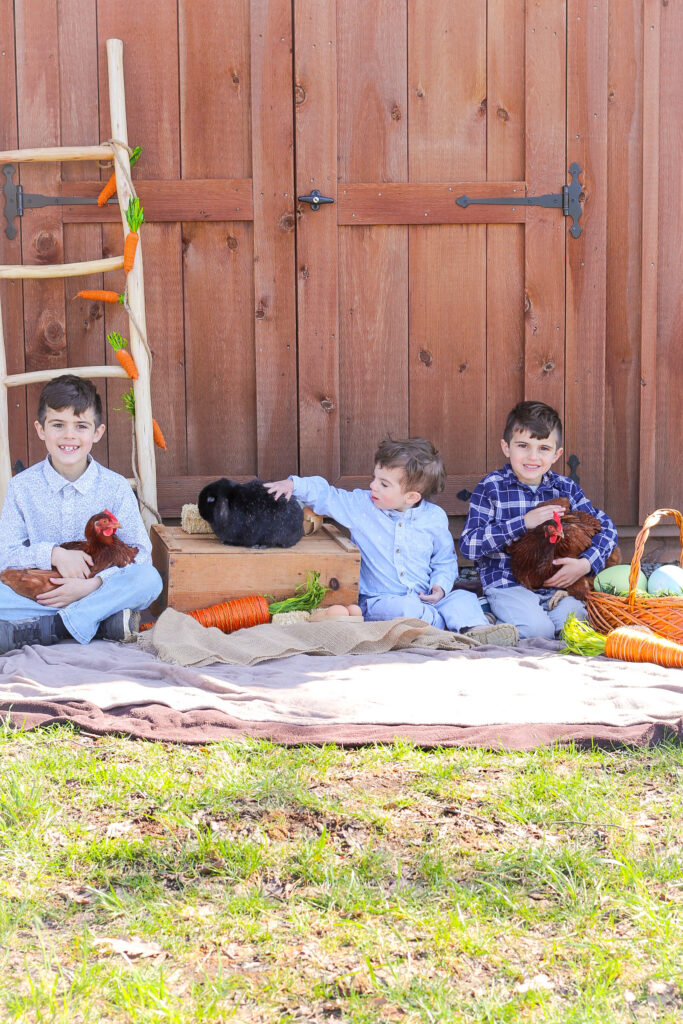 Over the years the hunt for trying to find someone with a real rabbit for us to take Easter pictures with has now turned into us having our own sweet little bunny. Random fact, I used to have a rabbit when I was growing up. I remember it was kind of rambunctious and not the easiest thing to handle. Owning a rabbit wasn't exactly on our family what we'd like to accomplish or have one day list.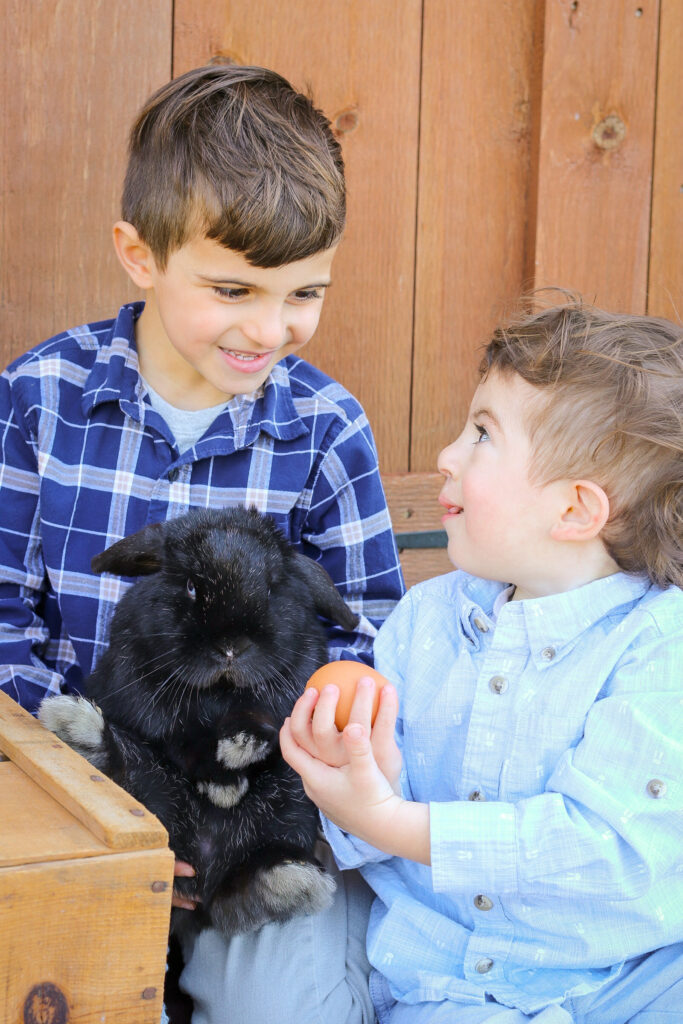 Let's rewind to several years back when our friend Gabby brought over her sweet bunny, ducks, and chickens for the boys to take Easter pictures with. I think that's when all of our hearts fell in love. And I think that might have been my favorite shoot so far.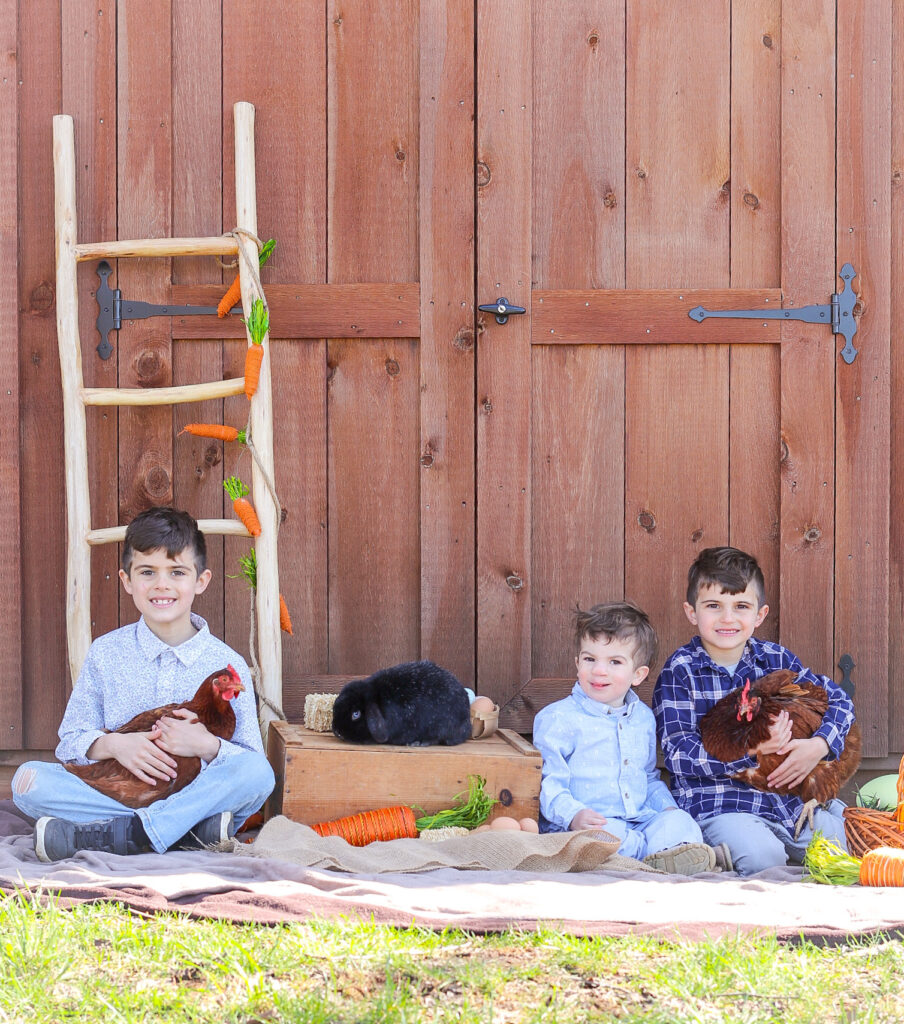 I can still remember my 2nd son being soooo upset when the rabbit went away, and certainly was not a happy camper when the ducks came out. Wouldn't you know, he's now the one who has a rabbit. It must have been bunny love from the start.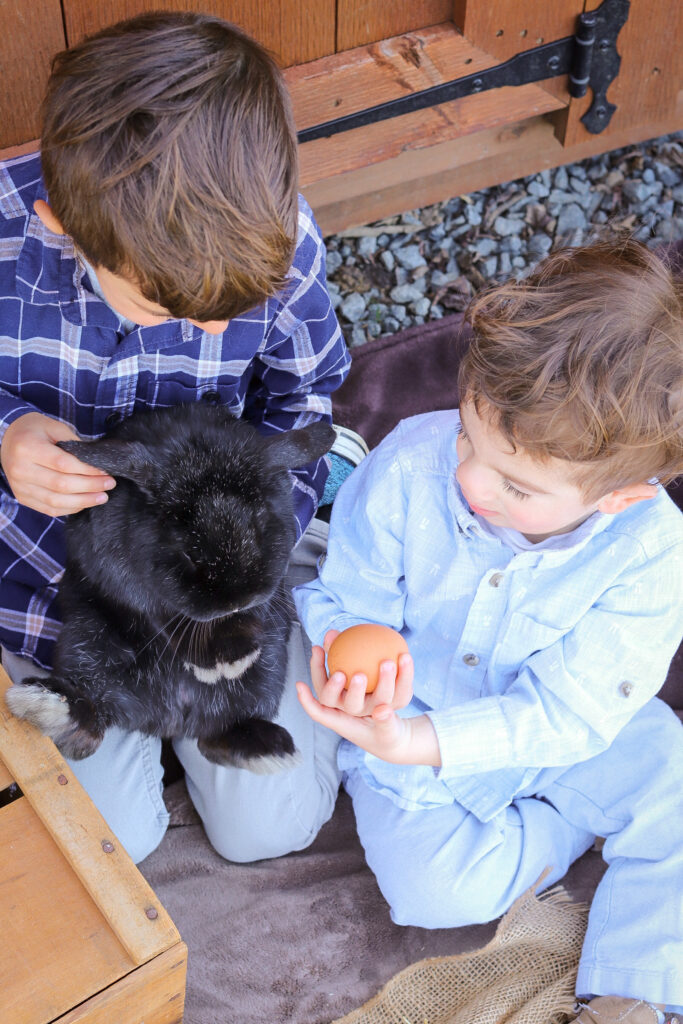 Now, I will say, not all rabbits are the same. Thankfully our sweet Oreo boy falls into the category for adorable and cuddly. If you catch some of my insta stories you might even see him hopping around with us or chilling in our living room.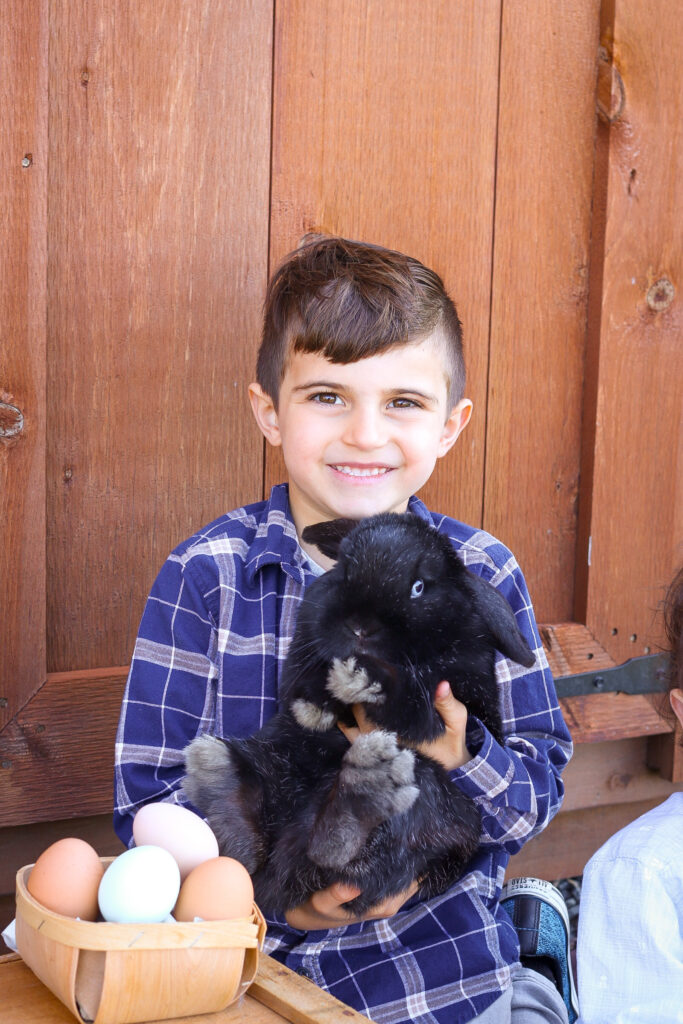 The boys are convinced our rabbit might be the real Easter bunny. I'm thinking I might need to have a little fun with that. They did have a crazy idea the other day though. You know what these boys wanted to do? They wanted to feed him chocolate to see if he would then poop out chocolate. Don't worry, I shot that idea down real quick. He happily snacks on his treats and hay only.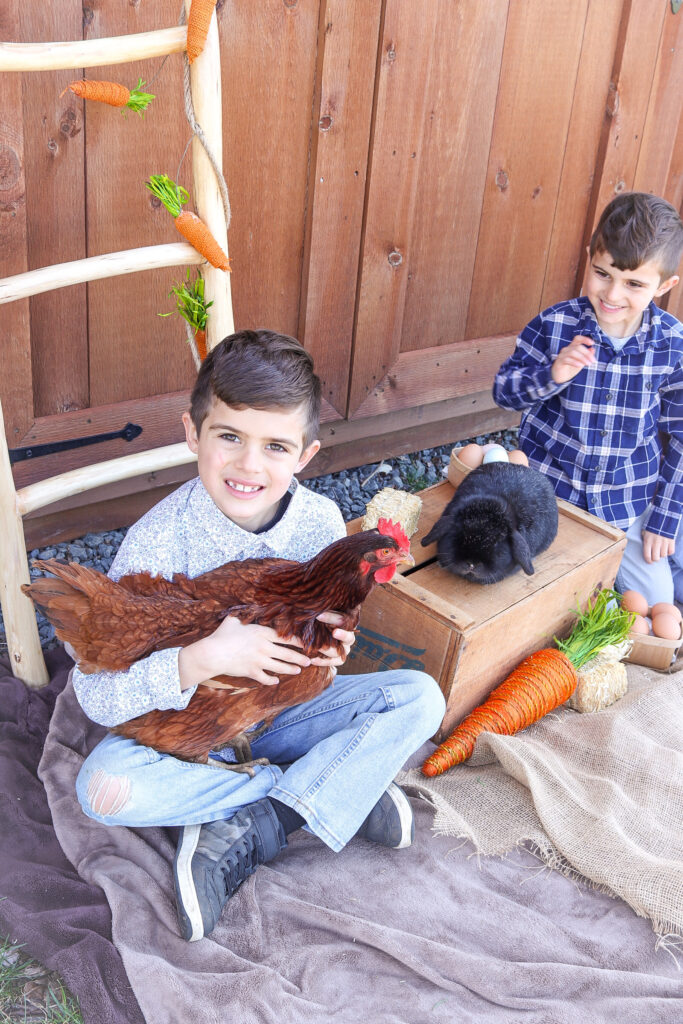 Our neighbor was nice enough to bring over two of their chickens to also take part in the photo fun. I was so proud of the boys who handled them like champs. The hens even flaunted their stuff and were pretty photogenic. Now, chickens, they've been on our list of what we'd like to have one day. Hopefully someday, maybe sooner than later, we'll see how that goes.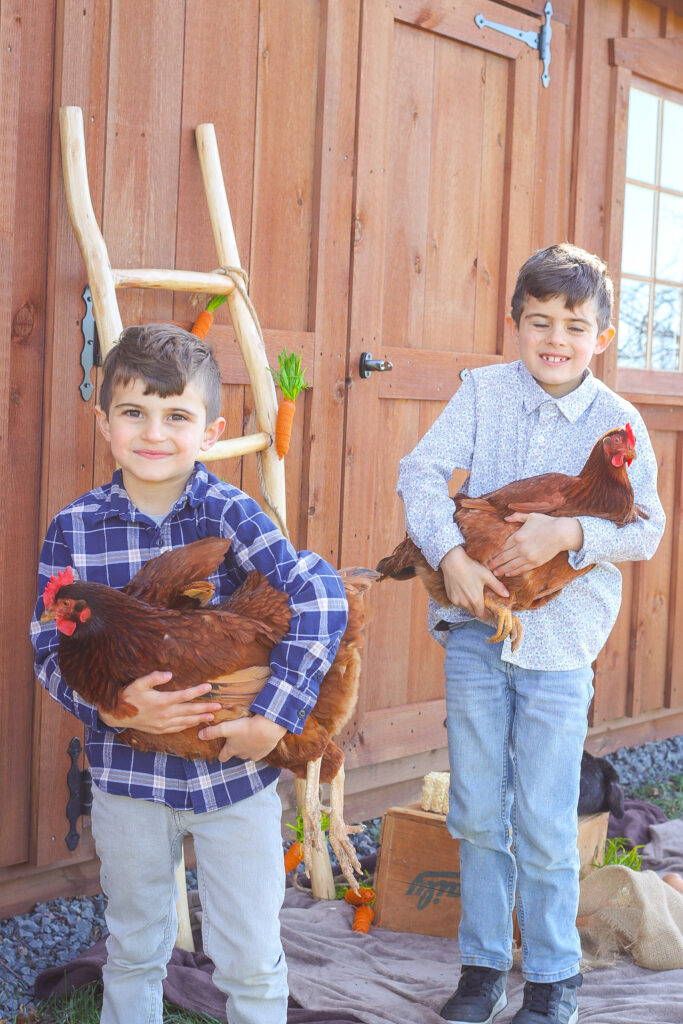 Looking back at pictures from over the years, it's funny to see that all of the boys around the same age have had a fascination with the hard boiled eggs I set out. It's so cute to see they've all gravitated towards the same thing. It must be that brotherly intuition, or hard boiled eggs are really just that fun.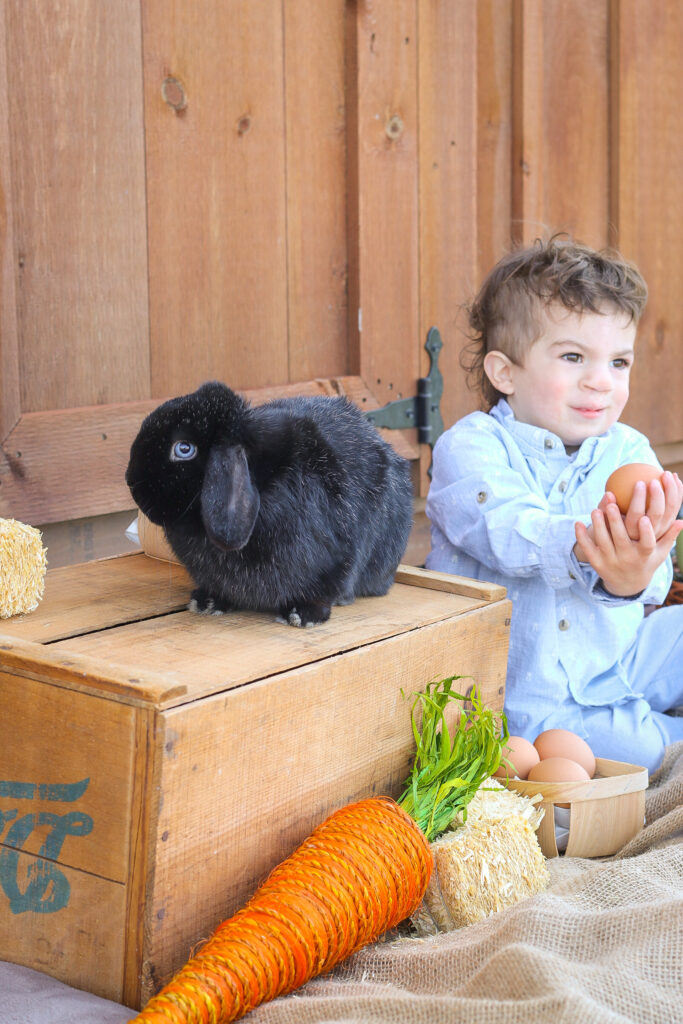 We all know that time can be a thief, but man, I wish there was a way to make it slow down a bit. Last Easter felt out of sorts with the world flipped upside down. I couldn't help but relive moments from C's first Easter and the tiny bundle of love he was. It was before he had any of his cleft surgeries. It feels like a time that's a distant memory now. Reliving these moments had me missing his sweet gummy smile. I also love that he wore the same first Easter outfit as his big brothers. Ok, someone pull me up out of the hole of going down memory lane because I'm basically a pile of mush right now.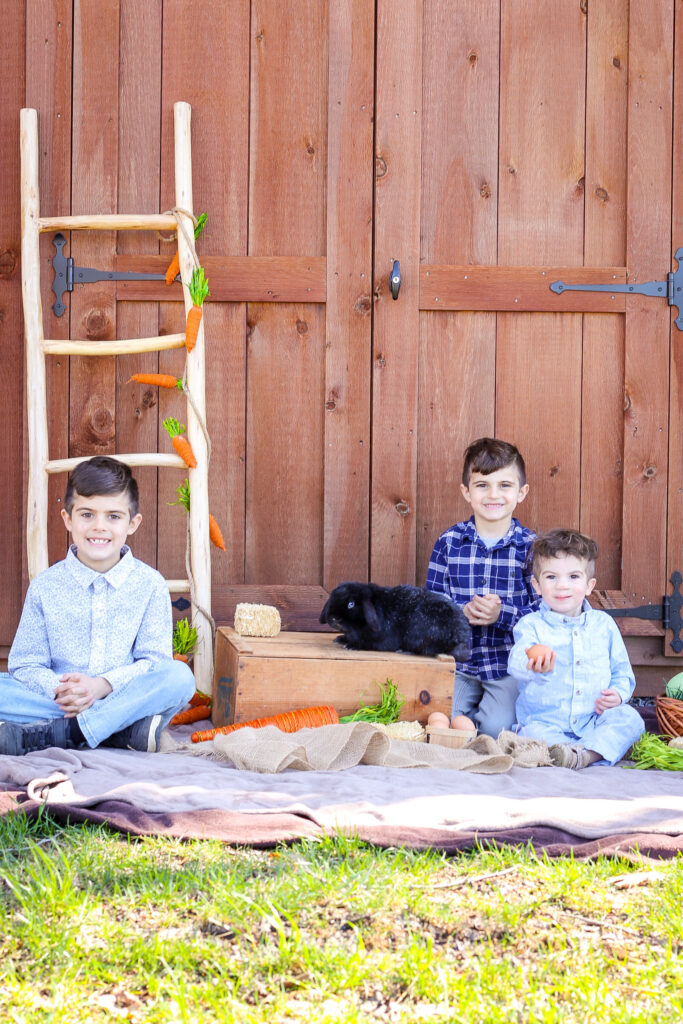 Look at these boys now. Growing into young men, handling animals like a pro, and continuing to steal my heart over and over again.