Happy Friday, friend! Thank you for joining me for some favorites. I hope your week was a good one! I was a little quiet around here this week since we took full advantage of all the outside time. Sorry, not so sorry.
Let's take a look at some favorites from the week…
TAKE THE TIME YOU WON'T GET BACK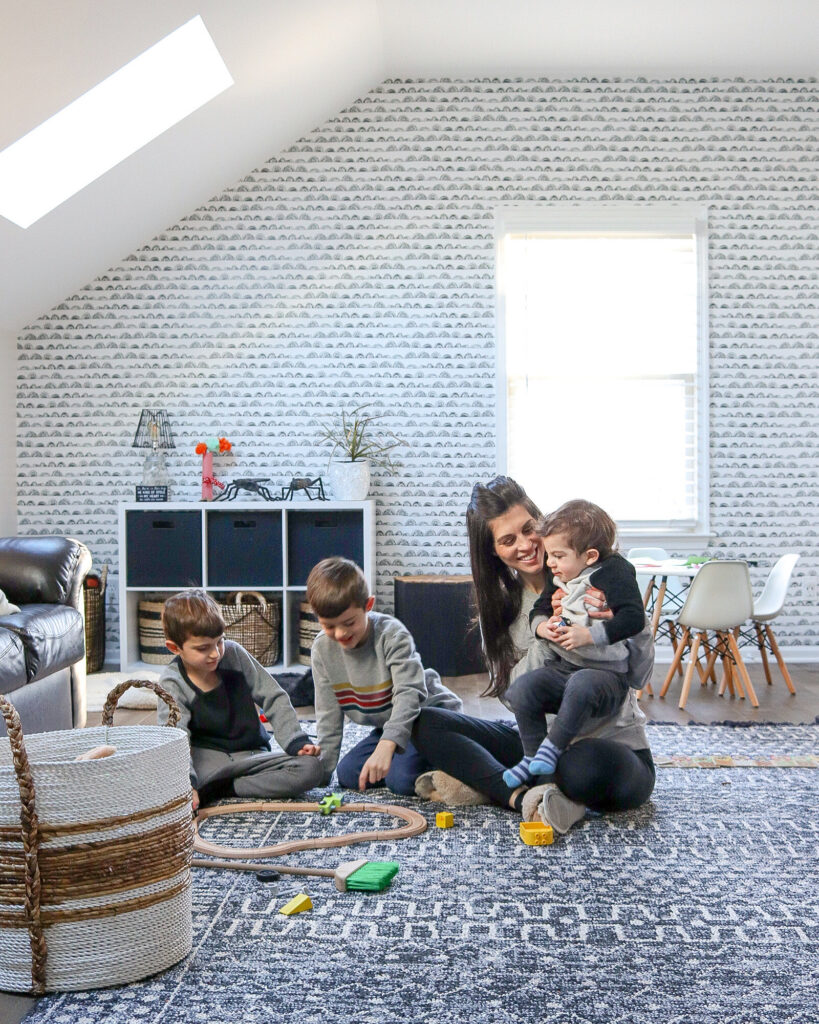 I shared earlier this week on my instagram that recently one of my son's came to me and said, I'm bored. Usually I try to get them thinking creatively, but this time around, one of my first thoughts was, well find something to play with (hello, we have a so many toys). Followed by, what are your brothers doing. We all know that managing motherhood comes with balance. I'm still trying to figure out how to manage it all, and I'm not sure I ever will, but in that moment he needed me. The dishes, laundry, crumbs on the floor, and everything else could wait. Being present to sit and be with him made all the difference. It's not always easy to drop things and be able to give full attention (at least for me it isn't), but taking extra moments to be fully present makes a big difference with my guys and fills all of our cups. I know there will be a time when they don't ask for this (tears), so I'm trying to make it happen more often. I know these are moments I can't get back.
TRICKY FUN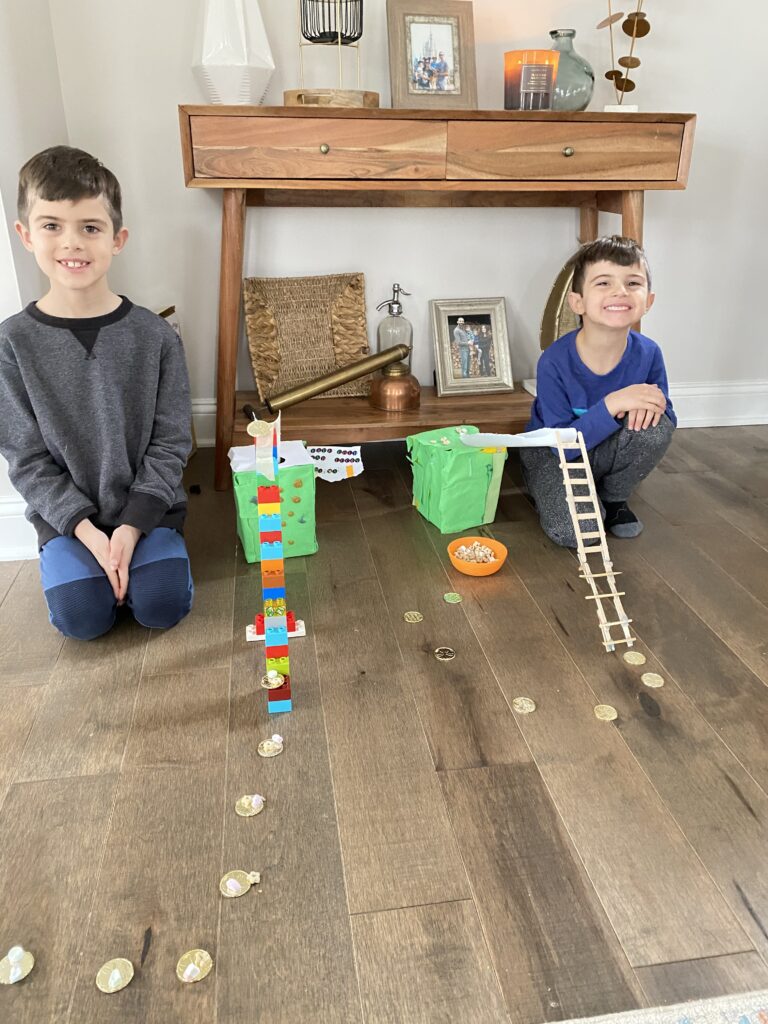 Who else has little leprechauns running around their house causing some tricky fun? My boys are determined to catch one this year and I think their traps are built just to do that.
We're also enjoying our no food coloring green pancakes with our fresh homemade maple syrup. A sure way to tell that it's almost St. Patrick's Day is this pin starts picking up. Of course any pins on Pinterest from my posts are always much appreciated <3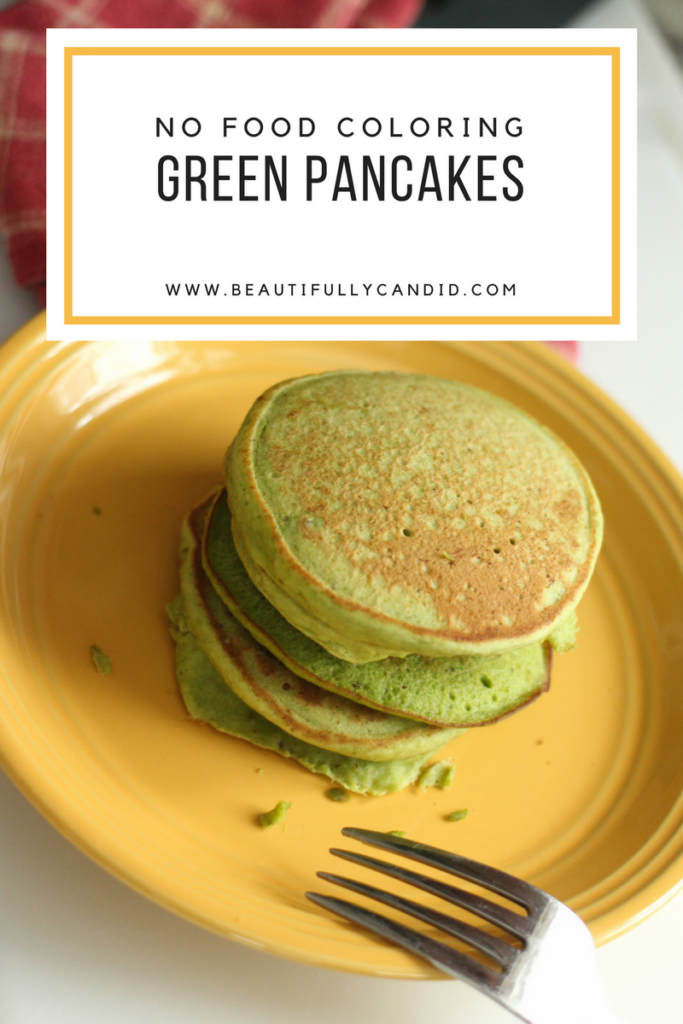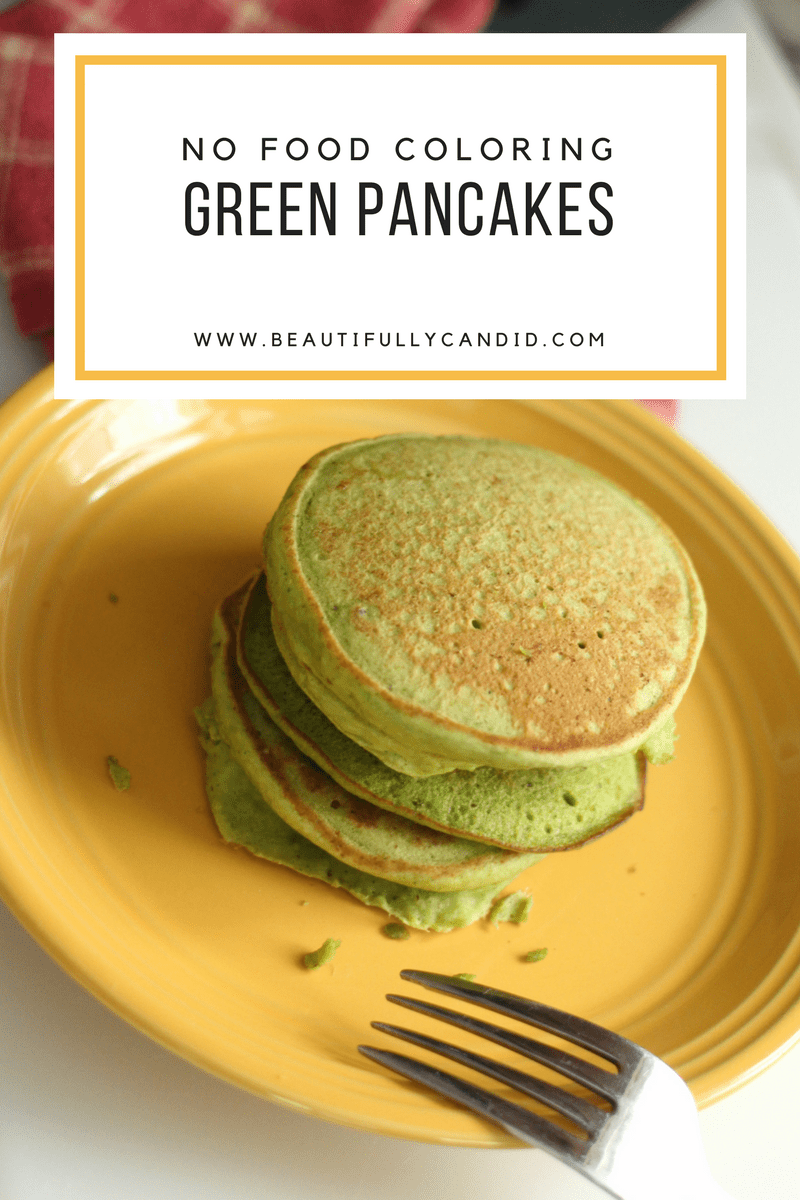 OUTSIDE TIME
I mentioned we spent a lot of time outside this week. The weather was beautiful and the sun was shining bright. It's looking iffy next week, even a day with some snow, so we wanted to make sure we took advantage of what we could. The best part is seeing them smiling and laughing with each other.
SPRING CLEANING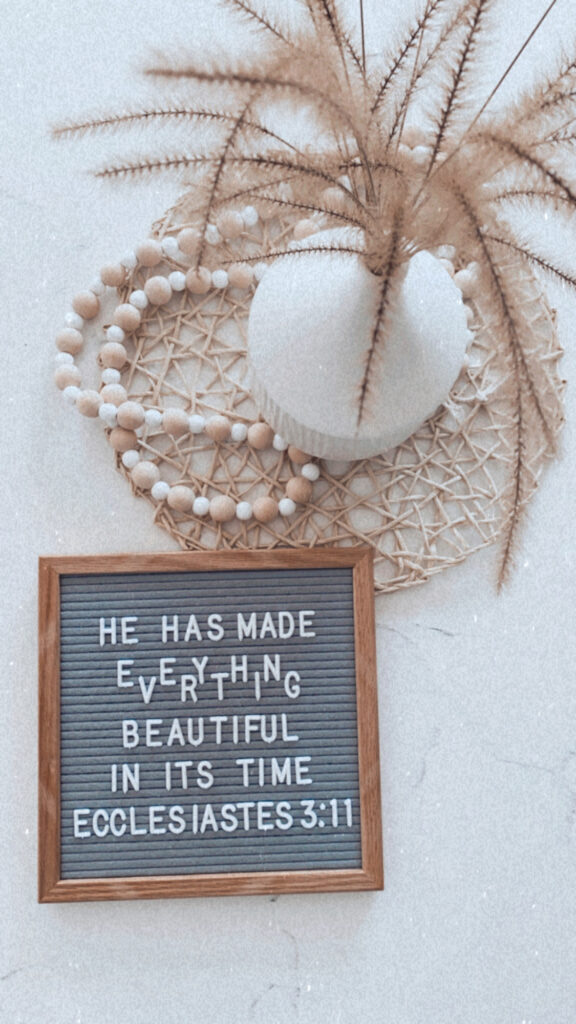 Man I've had the itch to get the house in order. Deep cleaning was in full force and there's still some areas I want to get done. I tackled our kitchen first and it felt so good to focus on some areas that a quick wipe down don't always get. I love, love, love our white kitchen, but let me tell you, it is not easy to keep clean. Especially with kids. I'll be sharing some easy kitchen refresh tips next week so be sure to check back for that!
FAVORITE FINDS
I'm really excited to share my new purchases with you! I've seen a few influencer friends talk about AE jeans recently and I thought I would give them a shot. To be honest, I haven't bought anything from AE since, ummmm, probably high school back when going to the mall was a thing and online shopping was not common. Dinosaur times, right? Ha!
Anyway, you guys, they did not disappoint. I've always enjoyed distressed jeans, destructed jeans, whatever you want to call them at this point. I followed the size guide and went with these stretch mom jeans for the win. I'm wearing a size 2 short. I also love that they have different lengths which makes it super helpful for a shorty like me. They had a lot of great ones to pick from. Of course I had to throw on one of my favorite tees.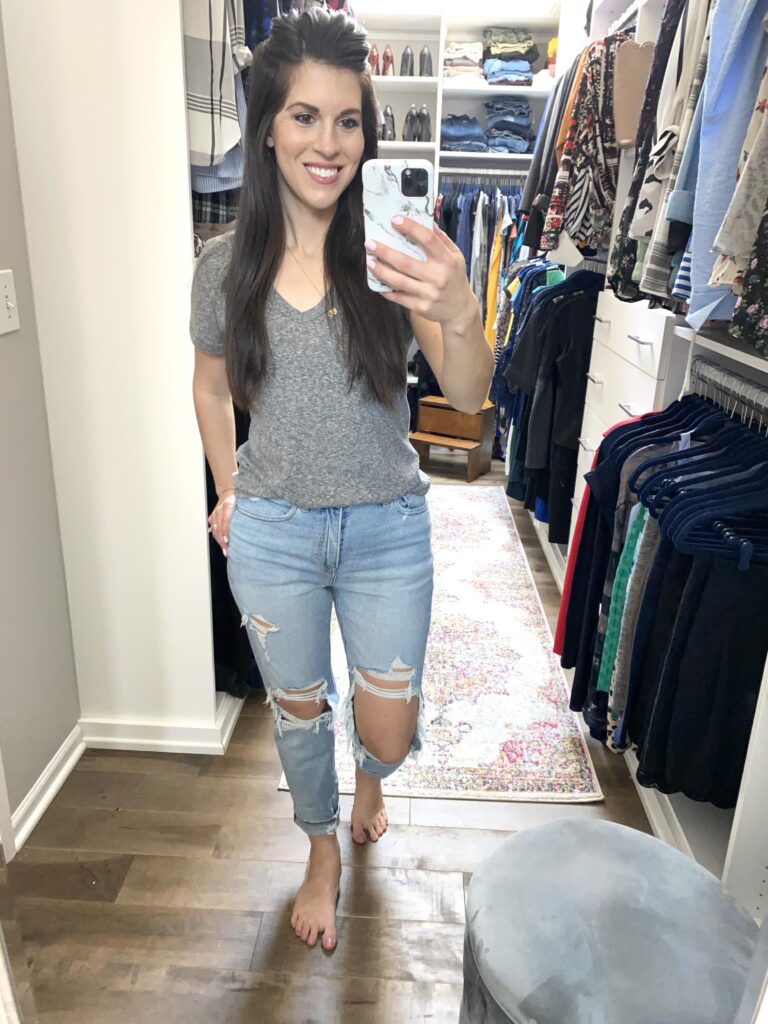 This fleece romper was on a major sale and with the off the shoulder look and the color selection, I figured I would give it a try. I'm kind of obsessed. I went with jupiter brown but also loved dark algae. How fun are those names?!
I also picked up this distressed denim jacket (haha I told you I had a thing for that look) for 50% off. I think it goes really good with the romper and will get a lot of use during the spring, summer nights, and the fall.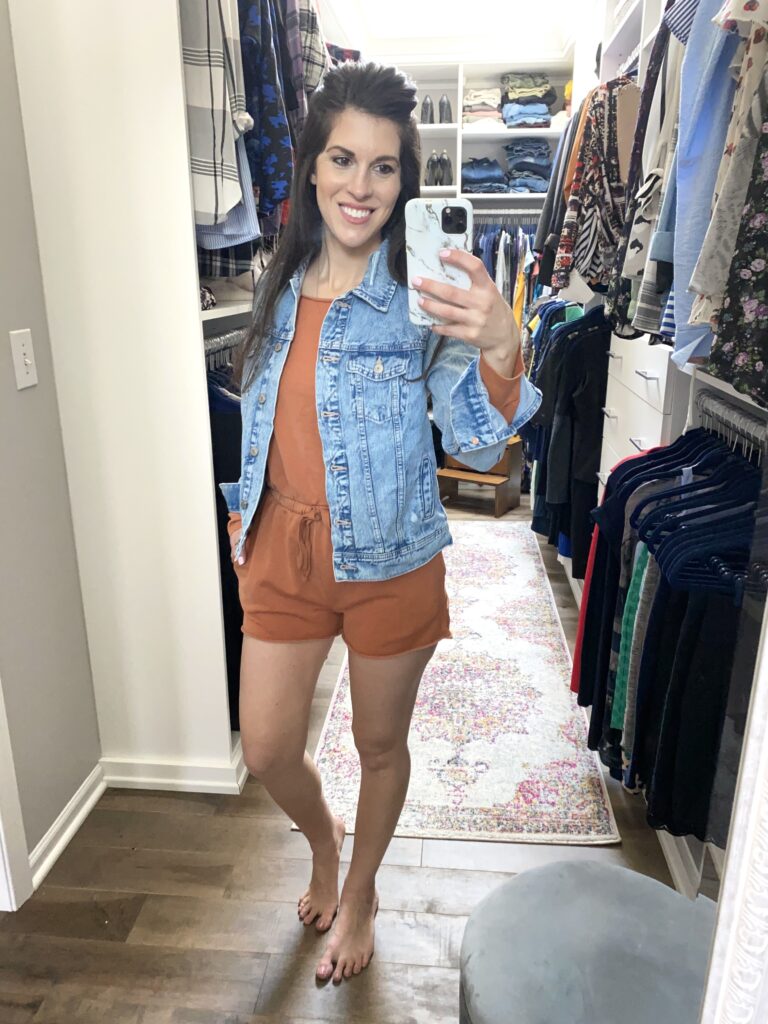 So clearly I'm gravitating towards rompers and jumpsuits. I told you all, I wasn't lying when I said I was living in this grey softspun jumpsuit. I even coordinated with my little man (his sweatshirt is sold out) who was more interested in running away from taking a pic (toddler life, I totally understand), and was on a no pants mission. He's certainly winning and is darn cute while he's at it.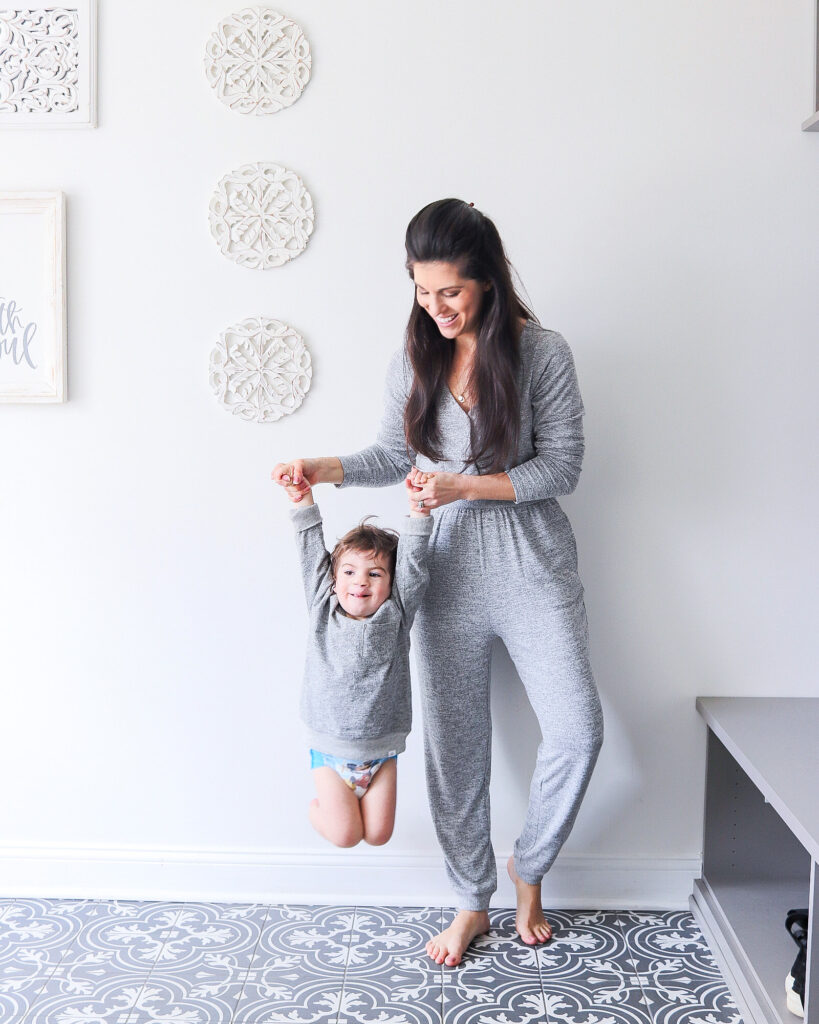 I hope you have a wonderful weekend!